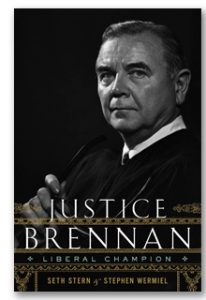 In October, exactly two decades after Justice William J. Brennan Jr. retired from the Supreme Court, Houghton Mifflin Harcourt will publish a new biography of him, Justice Brennan: Liberal Champion, written by journalists Seth Stern and Stephen Wermiel. As they prepare for the book's release, Stern and Wermiel have launched a new blog about Justice Brennan, The Justice Brennan Blog.
In an introductory post to the blog, Stern writes that they hope to highlight the ways the late justice remains relevant today.  In an e-mail, Stern writes that, in order not to get ahead of the book, they are focusing on how Justice Brennan shows up on social media sites. "For someone who retired 20 years ago, there are a surprising number of references," he says.
Stern is a legal affairs reporter at Congressional Quarterly who has written about the Supreme Court in a number of publications. He is a graduate of Harvard Law School, the Harvard Kennedy School of Government and Cornell University's School of Industrial and Labor Relations. Wermiel was the Supreme Court reporter for the Wall Street Journal for 12 years. He now teaches constitutional law at American University Washington College of Law, from which he also has a law degree.
You can pre-order the book from various sellers.