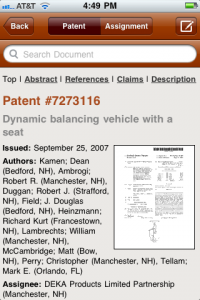 I wrote last May about Apptorney IP, an app that facilitated patent and trademark searching on an iPhone by providing direct links to the appropriate sections of the U.S. Patent and Trademark Office website. Now comes an app that takes that to the next level, enabling more seamless searching of patents and trademarks.
Called Banner & Witcoff's IP Lawyer, the free app from the IP firm Banner & Witcoff provides direct search access to patents and trademarks, as well as to corresponding assignments, without the necessity to connect through a web page.
The app lets you search for patents by keyword, patent number, assignee, inventor or classification, and by keywords or exact phrases. Once you find a patent, you can further search within its text or download a PDF (via Google Patents) of the actual patent images.
In addition to patent and trademark searching, the app includes patent local rules for district courts throughout the United States; the full text of federal IP statutes; various USPTO resources, including chapter 21 of the Manual of Patent Examination and Procedure; the federal rules of evidence and civil procedure; and various other resources.