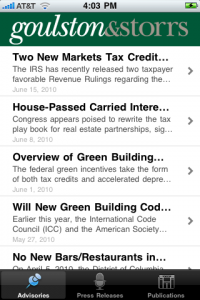 Following on the heels of Morrison & Foerster and its launch of an iPhone app in March, the Boston-based AmLaw 200 firm Goulston & Storrs this week came out with an iPhone app of its own. While the MoFo app had the clever name, MoFo2Go, the G&S app is rather blandly dubbed, Goulston & Storrs News Application.
Compared to the MoFo app, the G&S app is also rather bland in its execution. While the MoFo app lets one view attorneys' bios, explore the firm's offices, follow firm news, and even play a pretty neat game, the G&S app is nothing more than a news feed, with tabs for advisories, press releases and publications put out by the firm.
At least the price is right: free.
[Hat tip: Boston Business Journal.]