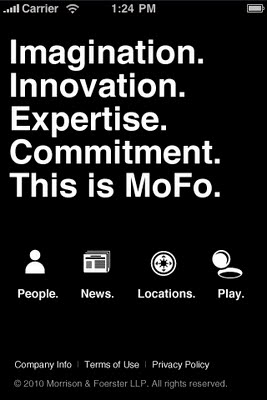 Morrison & Foerster may be one of the largest law firms in the world, but now you can carry it in your pocket, thanks to an iPhone app the firm launched yesterday. The free app, MoFo2Go, provides information and news about the firm, its attorneys and its practice groups.
The app includes four functions:
People, where users can view short bios of the firm's attorneys. Browse a list of attorneys or search for them by name, practice, office location or law school.
News, which provides firm press releases, client alerts, newsletters and articles.
Locations, which provides information about any of MoFo's offices, including addresses, directions, and nearby transportation hubs, restaurants and hotels.
Play, which brings up a maze game. As you complete levels, you are rewarded with "MoFo Factoids."
This app will be most useful to lawyers, clients and others who regularly do business with MoFo.