Way back in 2018, as an increasing number of legal technology companies were launching litigation analytics products, I wrote about the trend in a post on Above the Law, where I posited that it could someday be malpractice for a lawyer not to use analytics.
Now, a survey out today from Lex Machina, one of the original legal analytics companies, concludes that using analytics have become "table stakes" for litigation.
The survey finds that seven out of 10 legal professionals use legal analytics in their day-to-day work, and that 79% believe that the use of legal analytics is required by or expected by their clients.
"The survey results show that legal analytics is an essential, necessary component of effective litigation practice and business development," said Karl Harris, CEO of Lex Machina, which is owned by LexisNexis. "It's heavily expected by clients, and it has demonstrated great value to users in both litigation and business strategy. It's no surprise that two-thirds of respondents indicated they want to integrate legal analytics directly into their workflow."

The survey of 400 legal professionals, which included both Lex Machina customers and non-customers, found:
Usage is widespread, with nearly seven out of 10 legal professionals using analytics day to day.
Users find value, with 99% of users saying they find legal analytics to be valuable.
Non-users perceive value, with 85% of those who do not regularly use analytics saying they believe they are valuable.
Practice is enhanced, with 66% of users believing that analytics makes them better and more informed lawyers.
Clients are expecting it, with 79% of users reporting that their clients require or somewhat expect legal analytics.
There is demand for APIs, with 67% of users wanting to integrate legal analytics with other data within their organizations.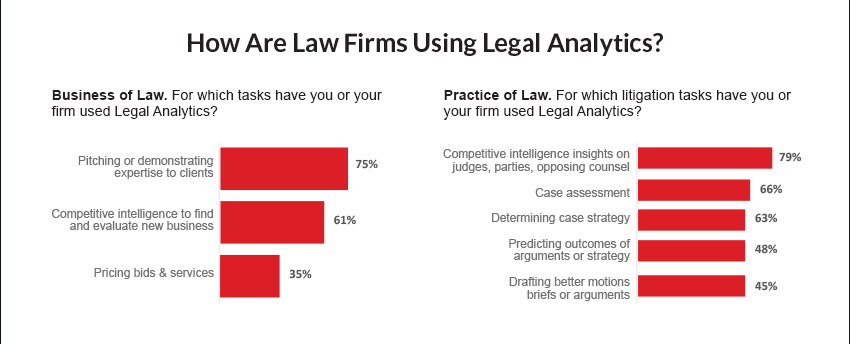 Law firms are using litigation analytics in two primary areas, according to the survey: in the practice of law and in business development and marketing.
On the law practice side, the most common use (79%) is for analyzing litigation data to gain competitive insights on judges, parties and opposing counsel.
Litigators are also using it for case assessment (66%), case strategy (63%), predicting outcomes (48%), and improving briefs or arguments (45%).
On the business side, 75% of respondents said they use analytics when pitching or demonstrating expertise to clients. They also use analytics for competitive intelligence and to price bids and services.