The law practice management company MyCase today introduced MyCase Drive, a feature that provides users with the ability to synchronize folders and documents between their desktop computers and the cloud-based MyCase platform.
Also today, MyCase unveiled a redesigned logo and website, with the goal of making its branding better reflect the product's all-in-one approach to practice management, which will soon also include fully integrated legal accounting, following on its acquisition of legal accounting system Soluno last November.
Read more about MyCase on the LawNext Legal Technology Directory.
The new MyCase Drive feature eliminates the need for users to upload or download documents from MyCase. Instead, files and folders are available within the desktop file explorer. All updates on the desktop are synchronized to MyCase, where they are available to others in the firm.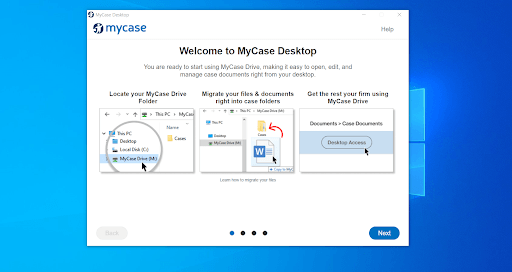 With MyCase Drive, users can save or drag and drop files directly to a case folder and organize those case folders by client, practice area, or stage, all from their desktop.
MyCase is offering a 10-day free trial of MyCase Drive, after which use of the feature requires a user to be a subscriber to MyCase's "Advanced" subscription tier, which is $79 per user per month. Drive includes unlimited storage, which MyCase says makes it an ideal replacement for a service such as Dropbox.
"MyCase is continually innovating and honing its tools to make matter and document management even easier and more efficient for law firms," said Jim McGinnis, CEO of MyCase.
"We leveraged customer feedback and learned that streamlined document management is essential for law firms. In response, we developed MyCase Drive, an all-encompassing, seamless document management solution."

Also today, MyCase introduced a new website and logo.
The website redesign was intended to provide a simpler, user-friendly experience that mirrors the intuitiveness that has always been the hallmark of MyCase's law practice management software, the company said.
The company said its new logo is intended to embody "the character of MyCase's committed team of employees and the company's forward-thinking, all-in-one approach."