A newly published report on spending by corporate legal departments in "megamatters" — any matter having a total spend of at least $1 million — indicates that corporate legal departments are making only minimal use of alternative legal services providers (ALSPs) to reduce costs, even though these megamatters are often the very types of matters where ALSPs could bring efficiencies.
The LegalVIEW Insights report by Wolters Kluwer ELM Solutions is based on data gathered through its LegalVIEW BillAnalyzer product, which the company says is the world's largest body of legal performance data.
The report released today is volume 3 in a series and follows an earlier report that found significant volatility in legal departments' spend on outside legal services, with a third of legal departments experiencing a 90% swing up or down over a five-year period.
Today's report set out to examine the cause of that volatility and found that much of it is driven by spend on megamatters.
In the typical legal department, matters with over $1 million in lifetime spend account for about 61% of total outside counsel spend in any given year, the report found. Further, total outside counsel spend is extremely sensitive to changes in megamatter spend. As a result, changes in total legal spend tend to be driven by megamatters more than by lower-cost matters.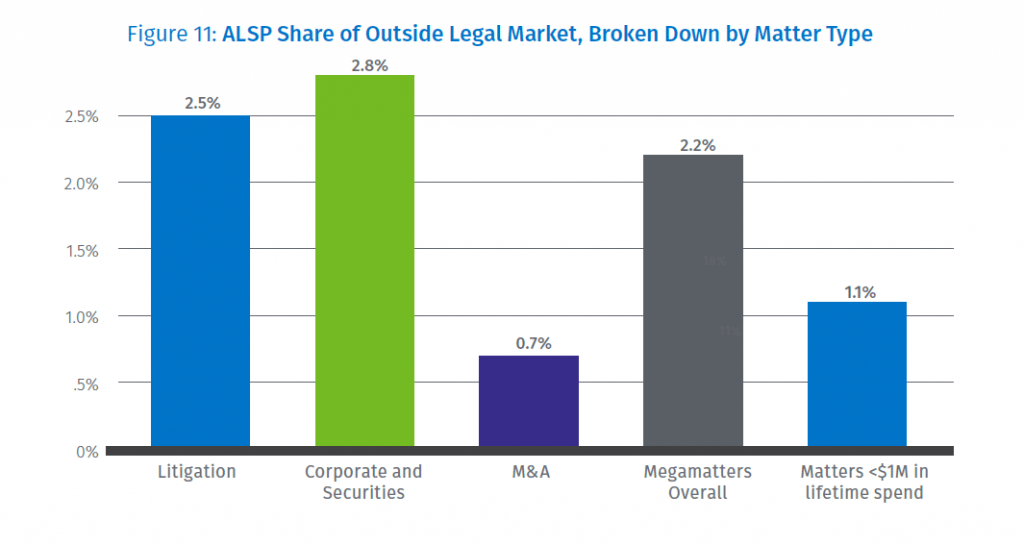 Yet, of the amounts legal departments spend on these megamatters, only 2.2% goes to ALSPs, even though many of these matters involve work such as e-discovery or due diligence that, as the report says, "are the exact kind of process work where ALSPs are strongest."
In smaller matters, legal departments use ALSPs even less — accounting for about 1.1% of spend. That makes sense, given that ALSPs are often better suited to larger matters.
Looking at ALSP's share of the outside legal market by matter type, the report found that ALSPs are most used in corporate and securities work:
2.8% corporate and securities.
2.5% litigation.
2.2% megamatters overall.
1.1% matters under $1 million spend.
0.7% M&A.
Around 32% of all legal department spend is on litigation megamatters, according to the report. And a company's top 10 largest legal matters of any kind typically make up between 20 and 40% of its spend.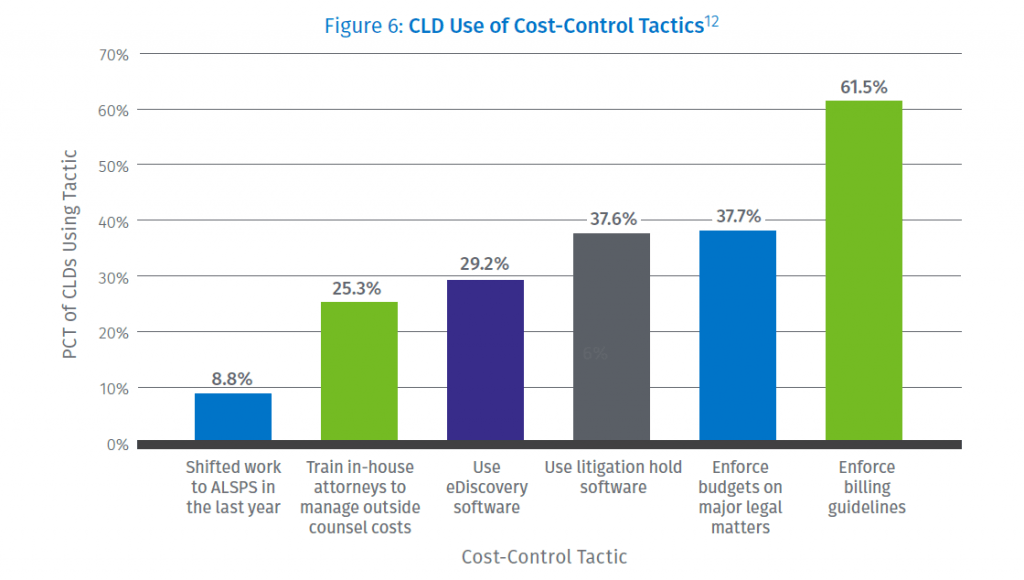 In addition to making little use of ALSPs to reduce costs, legal departments are making little use of other technology and spend options that could help reduce costs. Citing information from the 2019 Altman Weil Chief Legal Officer Survey, the report says:
Just 37.6% of legal departments use litigation hold software, even though more than three quarters agree it makes a significant improvement in efficiency.
Just 29.2% use e-discovery software, and only about 30.3% use ALSPs for e-discovery.
Although 82.5% of legal departments require budgets for major legal matters, just 37.% enforce those budgets.
Only about 15% of legal spend is subject to an alternative fee agreement.
Less than half of legal departments use competitive bidding or RFPs.
About 38.5% of legal departments do not have billing guidelines or do not enforce the guidelines they have.
The report can be downloaded here.