Smith.ai, a virtual receptionist service, today introduced business intelligence tools that enable law firms and other businesses to visualize metadata showing who is calling them, when they call, and what actions were taken with each call.
Users of Smith.ai's receptionist service will now have access, at no additional cost, to a call dashboard that uses graphs, pie charts and tables to visually depict call information.
It shows whether incoming calls were from new leads, existing clients or an attorney or court staff. It also shows when someone is a repeat caller or a caller blocked as spam. (Viewing spam calls is an option that the user can turn on or off.)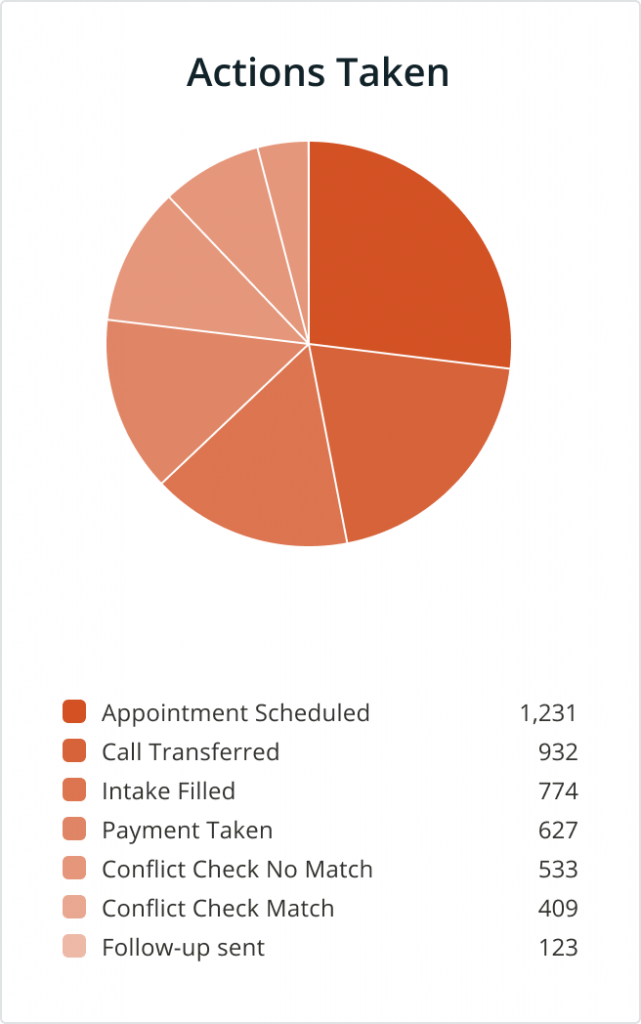 It also shows actions taken with the call, including whether an appointment was scheduled, an intake filled, or a payment taken, or if the call was transferred live to someone in the firm.
Users can view volumes of calls over time by caller type — which they can segment by day, week or month for the current or prior year, providing insights into the weekdays or months in which the firm gets higher or lower volumes of calls.
Users can use drop-down menus to filter information by status, disposition and priority.
The dashboard also provides access to details for each individual call, showing caller information, call summary notes from the receptionist, and metadata on the call.
Aaron Lee, Smith.ai's cofounder and CEO, told me that these data visualization features are unique in the industry. "Our business clients can now immediately see the results they are achieving over time and make precise and timely adjustments based on their call data," he said.
Lee said that this data was previously available to customers, but only in the form of a downloadable CSV file that did not give them the visual overview. Clients wanted a clearer picture of their business development funnel, he said.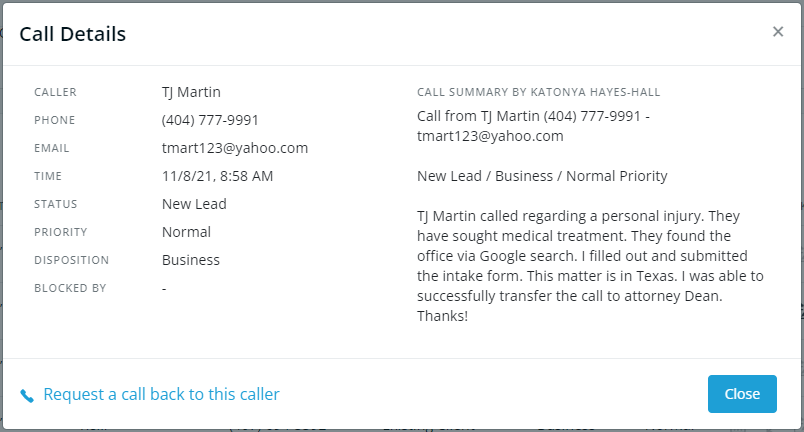 While receptionist services typically charge by the minute, Smith.ai charges by the call (excluding spam calls). For that reason, Lee said, this data enables firms to better see the return on their investment in using Smith.ai, as they are able to compare results per call to cost per call.
In September, Smith.ai announced a partnership with MyCase, the practice management platform, by which MyCase customers are able to outsource call answering to Smith.ai while viewing and tracking call logs directly within MyCase.
Smith.ai also integrates with a number of law practice management, CRM, and other business applications.