At a time when many are predicting a tsunami of eviction cases resulting from the pandemic, the organization Pro Bono Net, in collaboration with several legal aid organizations, has launched TenantHelpNY.org, an online resource designed to help tenants in New York understand their housing rights.
The new site provides resources to help tenants understand their legal rights and connect with volunteer attorneys to obtain legal assistance.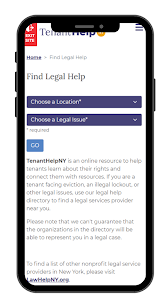 The site also has an Advocate Gateway to provide pro bono attorneys with access to training and advocacy materials, networking with other advocates, and information on pro bono opportunities.
Development of the site was funded by grants provided to six legal aid agencies under the COVID-19 Tenant Legal Assistance Initiative launched last year by New York Attorney General Letitia James.
The six grantees that participated in development of this site are: Erie County Bar Association Volunteer Lawyers Project, Legal Aid Society of Mid-New York, Legal Aid Society of Northeastern New York, Legal Assistance of Western New York, Nassau Suffolk Law Services, and Legal Services of the Hudson Valley.
The new, mobile-friendly site provides tenants with access to:
Plain-language guides for tenants and the general public.
Know-your-rights housing information on the COVID-19 crisis, discrimination, disability inclusion, and eviction process.
A legal help directory to assist tenants in connecting with volunteer attorney programs in their region.
Answers to frequently asked questions about available COVID-19 housing protections.
Pro Bono Net is a nonprofit organization that works in partnership with nonprofit legal aid organizations across the United States and Canada to increase access to justice.