The document technology company Litera has acquired Bestpractix, a three-year-old, Israel-based company whose platform for contract review, negotiation and drafting uses natural language processing and machine learning to provide contract-drafting recommendations based on both a firm's own previously negotiated agreements and on publicly available agreements.
Founded in 2017 by CEO Omer Hayun, a former corporate lawyer, business consultant and NLP expert, and backed by Spinach Angels, an early stage angels group based in Israel, Bestpractix counts a number of Am Law 100 law firms as customers.
Both Omer Hayun and Elad Hayun, CTO of Bestpractix (who is no relation to Omer), will stay on with Litera and continue to develop AI products for the company.
The Bestpractix software analyzes previously negotiated agreements to find clause precedents and provide lawyers with tailored and contextual drafting recommendations. It integrates with Microsoft Word, enabling lawyers to use the software from within the same application in which they are drafting and reviewing an agreement.
That focus on drafting and integration with Word would seem to make Bestpractix a perfect fit with Litera, whose own products work within Word and address the full workflow of drafting and reviewing legal documents and contracts.
"The niche we have is something that most legal software providers are not working on, which is smart drafting recommendations," Hayun told me during an interview yesterday. "This is, I believe, the future of legal drafting software."
"The concept of 'smart' documents is one which we've been focused on for some time, and the acquisition of Bestpractix accelerates our plans for delivering a smarter drafting workflow, where technology is complementing the way lawyers work," said Avaneesh Marwaha, Litera CEO. "We're very excited about the ways in which we see the Bestpractix technology working with existing and future products."
Smart Drafting Recommendations
The problem Bestpractix tackles for lawyers is having to clumsily search for prior clause precedents when drafting an agreement in Word.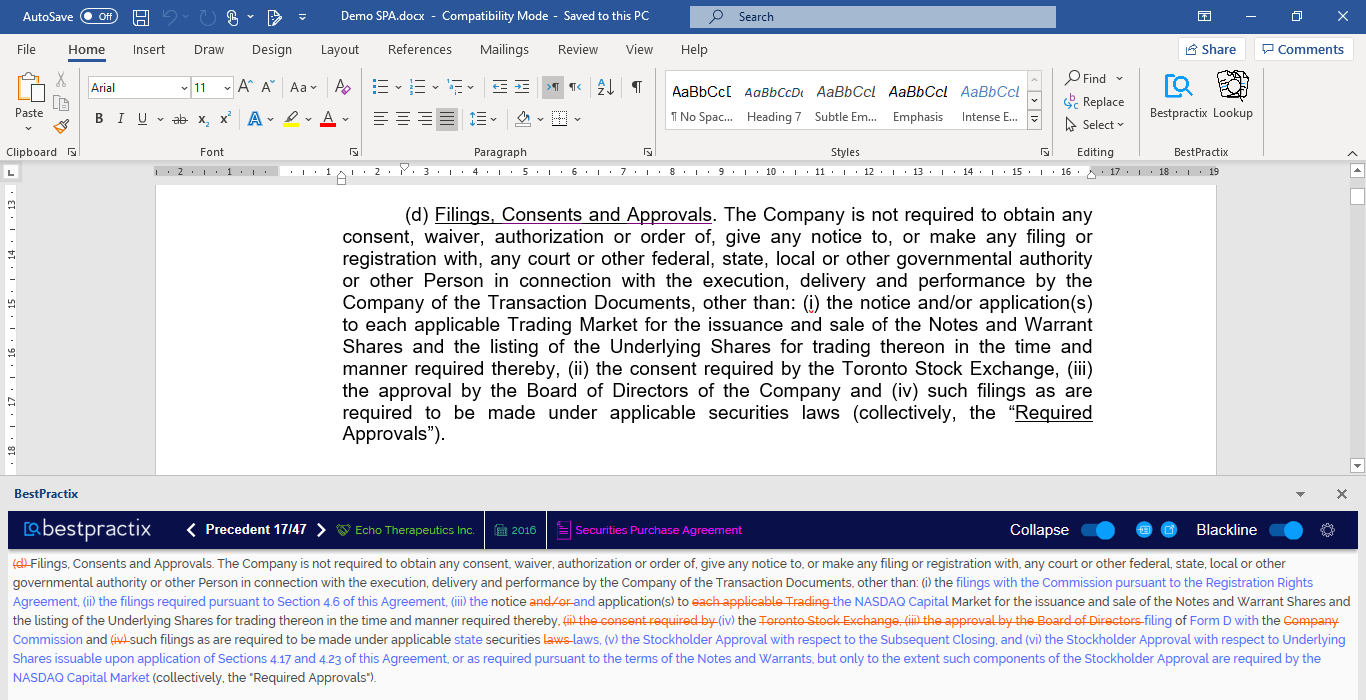 A typical scenario might find a lawyer going through a draft agreement clause-by-clause, then searching for (often from memory) and opening other documents in other windows that might contain precedents for that clause, and then navigating among multiple open windows to compare the language.
Bestpractix does all this for the lawyer, and does it all within the same Word window in which the lawyer is working. It analyzes the entire agreement and then serves up clause precedents that not only relate to the particular clause, but to the context of the entire agreement in which it appears.
The lawyer can scroll through the relevant clauses one at a time and view them in blackline to see how they compare to the clause in the primary document. At any point, the lawyer can click the source button to see the excerpted clause in the context of its entire agreement.
While Bestpractix can rank clauses by relevance, it does not yet recommend any clause as preferred or market standard. "That's not our job," Hayun told me. "That's the lawyer's job." In addition to showing clauses that are relevant, it can also display them by the extent to which they are similar or related.
Bestpractix can analyze either a firm's own documents (by integrating with NetDocuments or iManage), or public documents on the SEC's EDGAR database (or both simultaneously).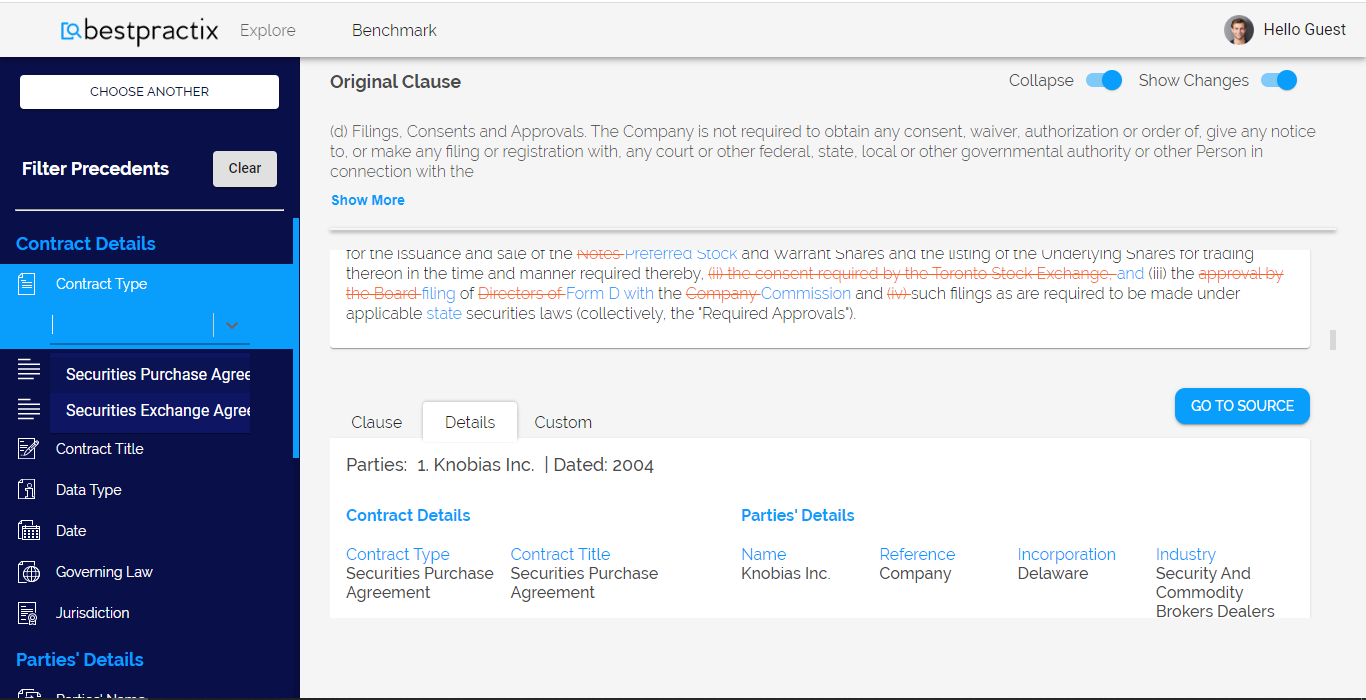 A separate web application, which a lawyer can launch from within Word, provides the ability to filter precedents by various factors, such as contract type, jurisdiction and party name. The web application also provides more details about each clause so the user can quickly see its source and better evaluate its trustworthiness.
"The opportunity which this deal presents us is incredible," said Hayun. "Litera's portfolio is clearly a natural fit from a product perspective, but what really convinced us was their vision for a seamless, integrated drafting experience, and we're excited to be joining the Litera family."