Being announced today at ILTACON is a client-facing app and cloud platform designed to provide law firm clients with intuitive access to legal documents, automated legal forms and agreements, secure messaging, and digital billing and payment.
Called ConnectIVITY, the app is being developed by Connective Counsel, a startup technology company that spun off in 2018 after beginning as an internal project at the midsized Cleveland, Ohio, firm Kohrman Jackson & Krantz (KJK).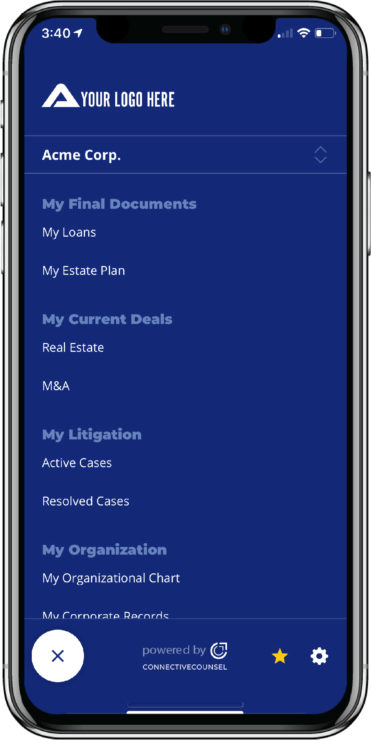 The app is currently in a beta-testing release and will officially launch early in 2020. The company is accepting law firms to participate in the beta, during which the cost of the app is $100 per client per year. Several mid-sized firms are already participating, including KJK.
Attendees at ILTACON will be able to see the app demonstrated in booth 3 of the exhibit hall's Startup Hub.
The company says that the app is designed to complement, not replace,  a firm's document management system. It already integrates with the DMS Worldox, allowing lawyers and staff to select documents within Worldox and upload them to ConnectIVITY for client access.
The company says the app gives clients complete access and control over their legal universe, thereby increasing their satisfaction and helping the firm stand out as technologically innovative. Features will include:
Branding for your firm. Firms will be able to brand both the mobile app and web platform with their name and logo.
Client dashboards. Dashboards give clients insight into the status of their matters and keep them apprised on case information, documents and financial/billing details through push notifications.
Versatile applications. Able to store, assemble, and manage many different types of information, ConnectIVITY can be used to allow real estate clients to view closing binders organized by property or to create a corporate record book with a table of contents. , providing access to the whole cap table, a shareholders list, ledgers and operating agreements. An HR center will provide employee-management tools vetted by labor and employment lawyers.
Billing and online payments with machine learning. The company says that ConnectIVITY will use machine learning technology to transform paper bills into digital and enable payment within the app via a LawPay integration.
Secure messaging. Lawyers and clients will be able to communicate using the app's secure messaging tool.
Contract automation and signing. Firms can have clients complete and sign simple contracts via the app, such as NDAs.
Web access to ConnectIVITY is through a unique URL for each law firm. The app runs on iPhones and iPads.
The CEO of Connective Counsel, Jennifer M. Hart, a former KJK lawyer who left to help launch the company, said that law firms wishing to participate in the beta may email to info@connectivecounsel.com for more information.