A unique collaboration between two law schools and a private company has produced a tool designed to help low-income tenants avoid eviction and seek redress for unsafe living conditions.
The new tool, being unveiled today, is called Hello Landlord, and is designed to help tenants more effectively communicate with their landlords about issues that can lead to eviction.
It was developed largely by law students as part of a semester-long collaboration among the LawX Legal Design Lab at Brigham Young University's J. Reuben Clark Law School, the Innovation for Justice program at the University of Arizona James E. Rogers College of Law, and SixFifty, the tech subsidiary of the law firm Wilson Sonsini.
I have written several posts about BYU's LawX, a program in which law students use design thinking to develop solutions to problems in access to justice. Last year, LawX released its first project, SoloSuit.
For the 2018-2019 academic year, as I reported here last August, LawX joined forces with Arizona's newly launched Innovation for Justice program to explore ways to reduce evictions in their home states. Along the way, they also partnered with SixFifty, which is directed by Kimball D. Parker, who also directs the LawX program.
Yesterday, I spoke with Parker and Stacy Butler, who runs the Arizona program, to learn about what they developed.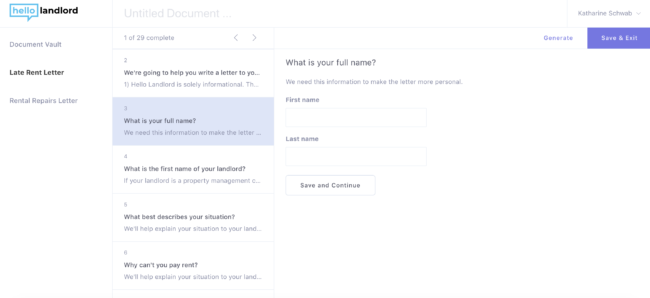 Over the course of the semester, the students observed more than 220 eviction court proceedings and spoke with dozens of stakeholders, including judges, landlords, tenants, social services providers, attorneys and journalists.
By the time a tenant is served with an eviction notice, they concluded, the eviction process in both Arizona and Utah is too rapid and rigid to afford an opportunity to stabilize the rental housing at stake.
For that reason, they decided to focus on building a tool that would help tenants avoid court in the first place by helping them to better communicate with their landlords.
The tool they developed, Hello Landlord, is intended to help tenants with two types of problems — threat of eviction due to inability to pay rent and conditions in apartments requiring repairs or affecting habitability.
In either case, Hello Landlord leads the tenant through a series of guided questions and then generates a letter to the landlord that is designed to clearly explain the tenant's situation and propose a solution.
The tool has both English- and Spanish-language versions, but the ultimate letter is always generated in English. The letter can be produced in either of two formats, Microsoft Word or PDF.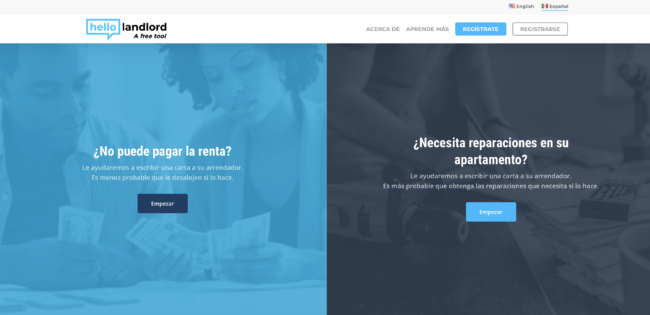 Butler and Parker say they and the students have interviewed a number of landlords in the process of creating this and found that 90 percent say they would be willing to work with a tenant to resolve a matter if they received a similar letter.
"We found that most landlords don't want to evict tenants and are receptive to working with those who proactively reach out," said Parker.
Although designed by students in Utah and Arizona, the tool can be used by tenants in any jurisdiction, Butler said. She noted that the application also includes a library of resources to help tenants understand their rights and the eviction process.
One challenge with a tool such as this is making it known to the tenants for whom it is designed. Parker and Butler say they plan a robust public relations campaign to help make tenants aware of it. They are also working with a number of social aid organizations, legal organizations and courts to help get the word out.
The application will be owned by SixFifty, which is committed to keeping it free forever, Parker told me. It was built on the same platform that SixFifty used to create its recently launched SixFifty Privacy, which I wrote about here.
Bottom Line
Hello Landlord is a simple tool with a specific purpose — help tenants create a letter to their landlords that could open a door to better communications and perhaps keep both parties from having to go through the courthouse door.
The challenge for Hello Landlord will be to reach the tenants who could use it, and also to reach them before their problem ends up in court. And, of course, even if a tenant finds the application and creates a letter, there is no guarantee it will achieve results.
That said, the tool appears to have the potential to keep at least some landlord-tenant disputes out of court. In and of itself, that is a laudable achievement.
It is also laudable that these two law schools are developing courses that encourage students to focus on access-to-justice issues and develop design-learning skills. This is training that benefits the students and that benefits the communities in which they live and will someday practice.
SixFifty also deserves recognition for contributing the money and resources to develop, host and support this product.
I asked Parker and Butler if the two law schools would be working together next year on another project. They will not, but both said they hoped to work together again at some point in the future.