[Editor's note: In a guest post here in August, e-discovery consultants Tom O'Connor, director of the Gulf Coast Legal Technology Center, and Don Swanson, president of Five Star Legal, launched the Microsoft Office 365 eDiscovery Challenge, a survey to determine whether Office 365's e-discovery capabilities are up to the task of handling an e-discovery matter on a limited budget. Today, they present the raw results. In a later post, they will present their analysis and recommendations.]
Our Microsoft Office 365 eDiscovery Challenge survey was conducted over seven weeks using both an online SurveyMonkey tool and telephone interviews. We received a total of 75 survey responses from corporations, government agencies and law firms, with the estimated breakdown of respondents mostly being from corporate legal: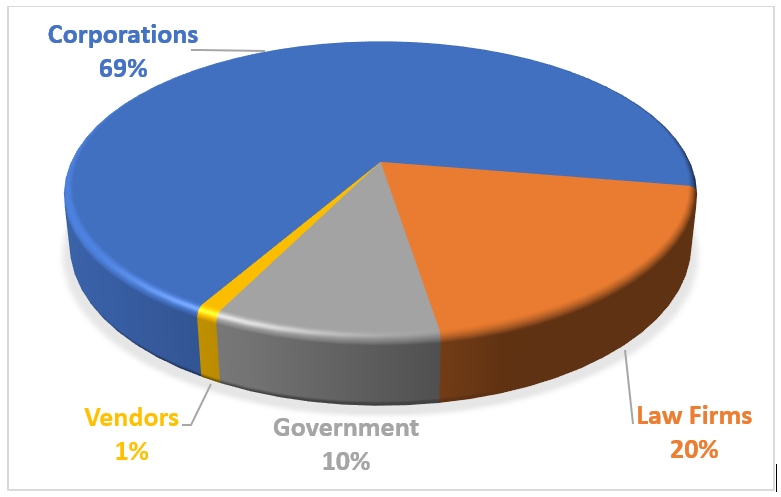 Of all respondents, approximately 30% were attorneys. The remainder were litigation support professionals, paralegals and IT staff. Percentages for individual survey question responses appear below.
What was your first reaction to Microsoft offering eDiscovery features within Office 365?
We are really trying to find out two things here. First, do people even know about the eDiscovery features in O365 and second, if they do know about them, is their initial response positive or negative.

Does your organization run Microsoft Office 365? Version?
Here we are attempting to assess how many people already use O365.
Which EDRM activities can be/have been performed within Office 365 eDiscovery? (check all that apply)
This is designed to reveal a knowledge of functional capabilities of the O365 ED feature. What ED tasks does the respondent believe he or she can accomplish with this new O365 capability? What specific tasks a user with O365 might already be accomplishing. [Note: due to multi-selection responses will total more than 100%]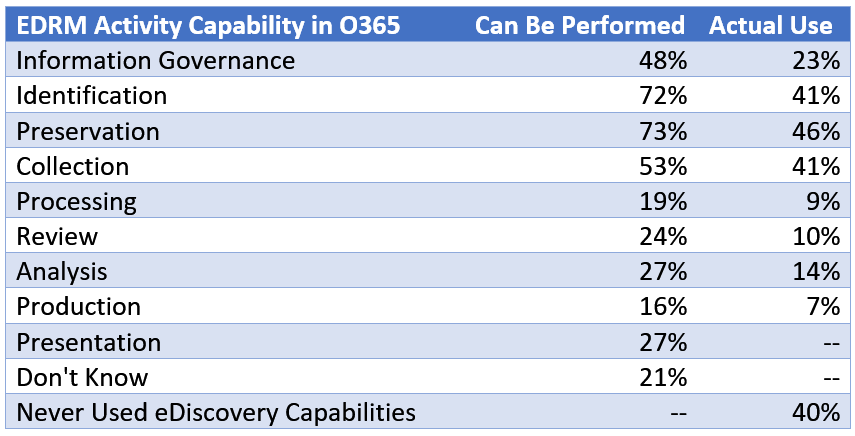 Are Microsoft Office 365's eDiscovery features helpful?
This final question is designed to assess whether respondents feel a need to acquire and use the eDiscovery features of O365.
These Microsoft Office 365 eDiscovery Challenge survey responses will be analyzed, and in early 2019 we will be publishing our findings and observations.  The survey will remain online at https://www.surveymonkey.com/r/M2MS95Q and we welcome your participation there or by contacting us directly.  Don Swanson can be reached at don@fivestarlegal.com and Tom O'Connor is available at toconnor@gulfltc.org.