There are some 113,000 general counsel in the United States, but a statistical analysis being released today suggests that they are surprisingly homogeneous. The typical GC is male, between 35 and 54 years old, probably attended Harvard Law, and is most likely based in California or New York. While GC compensation varies widely, the average, including bonuses, is $408,077.
These are among the findings of The 2019 General Counsel Landscape, a report compiled by the contract-review automation company LawGeex in cooperation with the Association of Corporate Counsel. The report analyzed data derived from a variety of sources, including an extensive analysis of GC's LinkedIn profiles, as well as public filings and other public data sources. The report's compensation analysis uses data from the ACC 2018 Global Compensation Report.
Gender drives the greatest disparity among GC, the report finds. Sixty-nine percent of all GC are men. Among the Fortune 500, 71 percent are men. Compounding that disparity, male GCs are paid 39 percent more than women GCs — an average of $453,625 for men compared to $326,477 for women. Of the 10 top-paid GC in the U.S., just one is a woman.

Perhaps not surprisingly, women and men perceive the situation differently, the report says. Among women in-house counsel, 48 percent say there is "definitely" a gender pay gap. Among men in-house counsel, only 8 percent agree with that.
At the same time, the report finds that the Fortune 500 have ramped up their hiring of women GCs in the past year, with 43 percent of the 46 GC job vacancies filled by women.
The report does not provide numbers on racial diversity among GC. However, it says that diversity is being introduced slowly into the profession, broadening opportunities for finding the best legal talent. The report quotes Elisa Garcia, general counsel at Macy's and formerly regional counsel for Latin America for Philip Morris International, who says her Spanish-speaking background gave her an advantage. "Frankly, my being a Latina woman has actually helped me because of the Spanish language skills, and not just the language skills, but the cultural skills and my ability to work within the region."
With regard to compensation, the report finds that the average pay for a GC is $408,000, including base salary and bonuses. But compensation varies widely, with the bottom 5 percent earning $110,000 or less, the top 5 percent earning $1.25 million or more, and the top 0.1 percent earning over $4.75 million. On average, GCs at biotechnology firms earn the most, with average compensation of $847,305.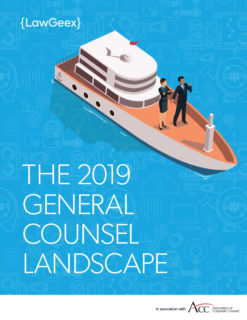 In drawing its statistical portrait of the typical GC, the report found:
The average pay for a GC is $408,000, including base salary and bonuses.
63 percent are age 35-54 and 29 percent are 55 and over. Notably, 8 percent are under 34.
3 percent of GCs have master's degrees in business administration.
The top state for GCs is California, where 13 percent are located. Second is New York, with 10 percent of all GCs.
New York is also where GCs are paid the most, topped by the two highest-paid GCs, Morgan Stanley's GC Eric Grossman, who is paid $6.95 million in salary, and Laureen Seeger, head of the legal department at American Express, who is paid $6.7 million.
The industry with the most GCs is finance, with 17 percent, followed by government, tech and manufacturing, each with 10 percent.
On average, every company with 1,000 employees or more employes a GC. But about 10 percent of GC work at companies with 10 or fewer employees.
15 percent of GC attended one of the top 14 law schools. Among the Fortune 500, 35 percent attended one of these schools.
Overall, GCs are taking on greater levels of leadership and managerial responsibility within their companies, the report says. Further, the job of GC is often a stepping-stone to a higher role within a company, including CEO.
The full report is available for download from LawGeex.