When last I checked in with the practice management platform PracticePanther last March, it had just taken a "large" private equity investment. At the time, CEO David Bitton told me that the company had seen exponential growth over the prior year, doubling its customers. Since March, the company has rolled out a number of new features and integrations. I recently spoke with Bitton to catch up on the latest news.
He started by telling me that the company continues to grow. It has tripled its staff this year, to 50 employees. The PracticePanther software is now being used in 172 countries, thanks in part to the software being offered in multiple languages. It also has an API (application programming interface) that makes it fairly easy to set up integrations with other applications for lawyers.
Here is a recap of the major new features and integrations that PracticePanther has introduced in recent months.
Integration with Lawmatics
A product I've been meaning to review but haven't yet is Lawmatics, launched earlier this year by Matt Spiegel, the lawyer who founded the practice management company MyCase and was its CEO until its acquisition by AppFolio in 2012 and then its general manager until 2015. Lawmatics is an innovative platform for law firms that automates client relationship management (CRM), client intake and marketing.
Now, Lawmatics is directly integrated with PracticePanther. With the integration, a firm can use Lawmatics' to market to potential clients, follow-up with leads, and finalize the retention. Then, once the client retains the firm, all of the information that had been entered into Lawmatics on the new client can be sent to PracticePanther to automatically create an associated contact and matter.
Dedicated Outlook Plugin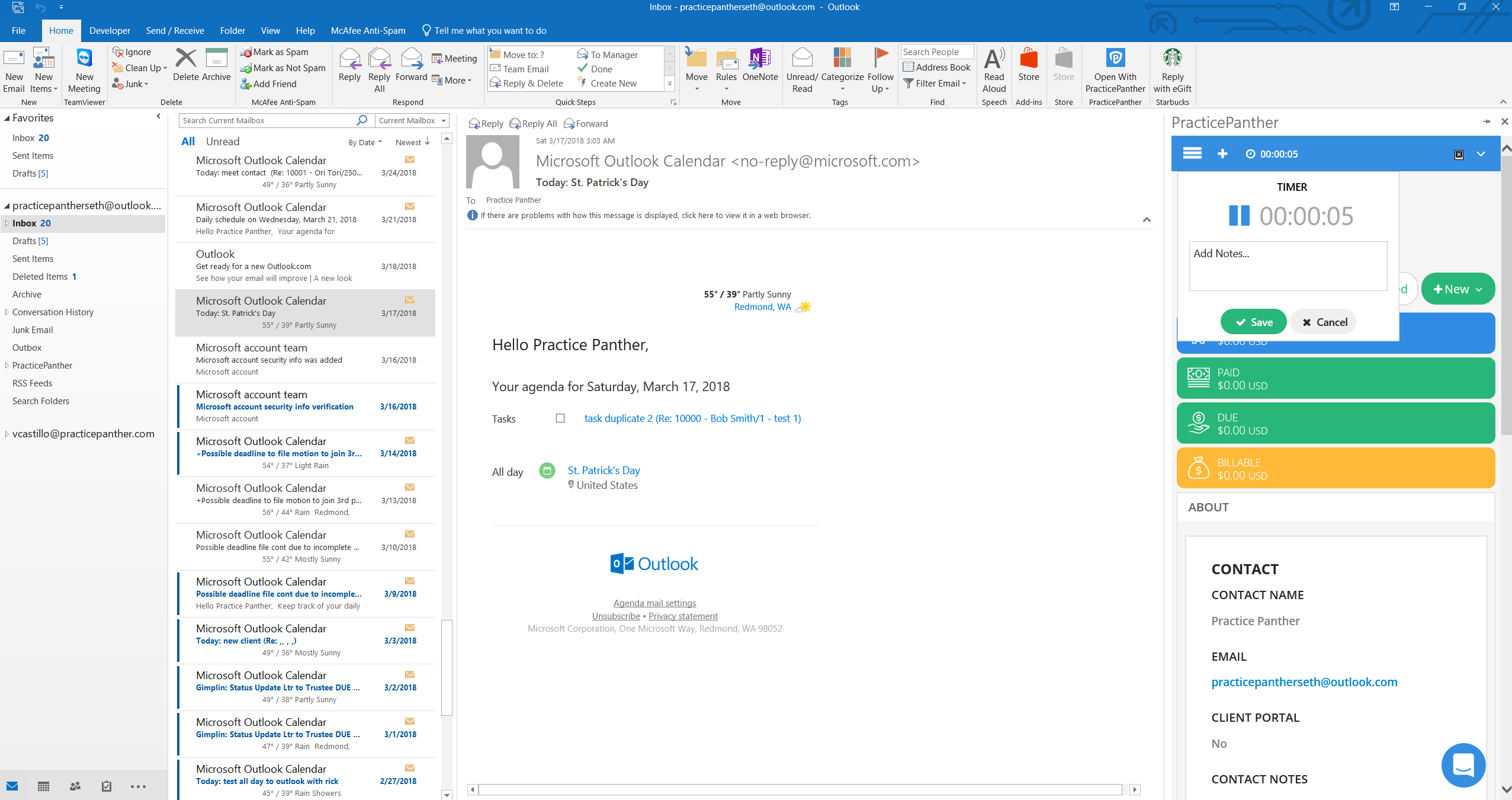 As of this writing, this plugin was awaiting final approval from Microsoft and was expected to become available within a week or two. It will let users log-in to PracticePanther from within Outlook, where they will be able to see details about contacts and matters, add contacts to PracticePanther, log emails to PracticePanther, and track time for matters.
Dedicated Gmail Add-On
A Gmail add-on allows a variety of interactions between Gmail and PracticePanther. Once it is installed, then whenever you open an email, a PracticePanther panel opens to the right of the email. If the sender or anyone else included in the email is already in your PracticePanther contacts, you will be able to see that in this panel and also see the person's full information from within PracticePanther. If they are not, you can click the add icon and a form appears with all the PracticePanther fields to add the contact's information.
The add-in also lets users save emails directly from Gmail into PracticePanther or save them to a specific matter on PracticePanther. The add-in also lets users create new tasks and time entries from within Gmail.
Integration with Tali

I've written a number of times about Tali, the voice assistant that lets you log billable time via Amazon Alexa or Google Home. With this integration, users can now use Tali to either record time or log time through voice commands.
To log time with Alexa, for example, a lawyer would say, "Hey Alexa" to activate the device, then continue, "Tell Tali to log an activity for the Smith matter." The device then asks the lawyer to describe the matter, to which the lawyer might answer, "Prepare for deposition."
The information is stored in Tali, where it can be associated with matters in PracticePanther. From there, specific entries can be exported to PracticePanther or the "Sync All" button can be selected to push all unsynchronized entries to PracticePanther.
Custom Invoice Templates
PracticePanther users now have the ability to create multiple customized invoice templates. In addition to a default invoice template — which firms can use as is or customize to their liking — firms can now create as many additional invoice templates as they want. In particular, firms can construct the layout and fields in an invoice to adapt it to a particular practice area or case type. Thus, a firm could opt to have a different invoice format for each of its different practice areas.
Invoice customization also provides options for setting different defaults for payments, such as to always use trust balances to pay a particular type of invoice, for taxes, and for specific fields to include on the invoice.
Flat Fee Billing
In addition to adding billable time entries and expenses, users can now also add billable flat fees. Users can log flat fees upon completion of the services, rather than have to wait until the billing stage. Users can also log a discount and have it appear on the subsequent invoice. Flat fees can be logged to specific attorneys for reporting purposes.
A second option allows users to log multiple flat fees in a single operation.  This is done through a new "Multiple Flat Fees" page within PracticePanther, where the flat fees can be logged for different clients and matters and attributed to different attorneys.
Payment Plans
Panther Payment Plans is a feature offered in cooperation with the payment processing platform LawPay. It lets firms securely save a client's credit card on file, and then automatically charge them a fixed amount against bills or retainer payments on a daily, weekly or monthly basis.
Restricted Login
With this feature, law firm administrators can restrict the ability of employees to log in to PracticePanther to specific IP addresses. This could be used, for example, to prevent certain employees from logging in outside the office or from a home computer. Only those with administrator credentials can set these restrictions.
Auto Suggest for Tasks and Events
Now, when a task or event is created within a matter, PracticePanther will auto-suggest names of attorneys or paralegals to whom the task should be assigned, based on those names having been previously associated with the matter.