Last week, I attended ILTACON, the annual meeting of the International Legal Technology Association, where I met with a number of legal technology companies for briefings on their latest news and products. Yesterday, I posted the first of a four-part roundup of those companies. Here is part 2. More tomorrow.
Every year at ILTACON, ILTA honors one company as Innovation Solution Provider of the Year. This year, for the second year in a row, that honor went to iManage, the document and email management platform.
It is quite a success story. Three years ago, after being acquired by HP in 2011, iManage was able to break free of the turmoil that engulfed HP after its purchase of Autonomy turned into a fiasco. The iManage leadership was able to buy out the company and its business from HP, and iManage's original co-founder, Neil Araujo, became CEO. In 2010, it launched iManage Cloud, and last year, it acquired UK artificial intelligence company RAVN Systems.
At ILTA, I met with Araujo, who told me that iManage Cloud has seen 100 percent growth year over year, with more than 500 firms now using it. The company overall has seen 25 to 30 percent growth during this period. In every major geographic region in the world, the company has 70 percent or more share of the large firm market, and in Singapore, it's 90 percent.
"The fundamental axiom that's driving us is that if technology is playing a bigger role in the practice of law, then some vendor had to step up that has the capital and vision to make that happen," Araujo said. "We've been on that journey to not just manage documents, but transform how law gets practice."
At ILTA, iManage announced two new products:
iManage Drive, an add-in module for iManage Work that enables professionals to manage documents inside iManage Work as easily as if they were in a local drive. It appears like a local drive in Windows Explorer and Mac Finder, allowing users to drag-and-drop, delete files and perform other file operations in a familiar environment.
iManage Work 10.2, the latest version of iManage's document and email management application, with new features, new supported platforms and enhanced search capabilities. Most notably, it has new integrations with Apple Macs and Google Gmail and new email filing features on the iPad.
Development of iManage, Araujo said, is focused on four pillars: improving the user experience, improving the ownership experience, optimizing security, and using artificial intelligence to create a man-machine partnership that better classifies and analyzes data.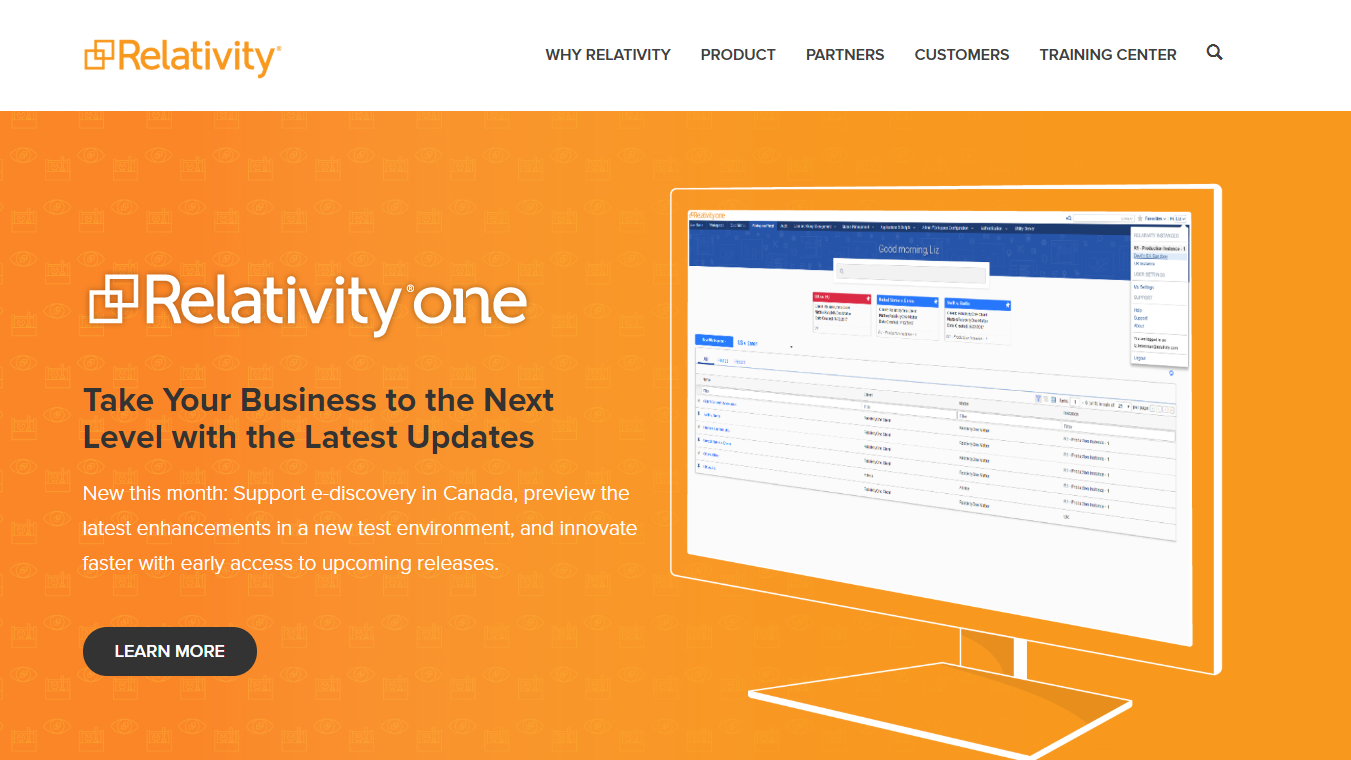 Among e-discovery platforms, Relativity is the 800-pound gorilla. It dominates the market and has done so for years. But two years ago, many industry observers were scratching their heads over the company's launch of RelativityOne, a SaaS version on Microsoft Azure of its seemingly ubiquitous on-premises product. After all, many of Relativity's channel partners hosted Relativity, and those partners seemingly accounted for a good chunk of the company's revenue.
But a fair number of those partners have since adopted RelativityOne, according to Shawn Gaines, director of product and community marketing, and David Horrigan, discovery counsel and legal education director, whom I met with at ILTACON. So far, 28 customers are using RelativityOne. Of those, 20 were Relativity customers who moved to the cloud version, and 12 of those 20 were channel partners. Some legacy customers are using a hybrid of both products to facilitate their transition to the cloud.
In addition, global firm Allen & Overy just last week signed a contract to use RelativityOne throughout its 44 offices worldwide.
RelativityOne is commercially available in the U.S., Canada, UK and Hong Kong. It will be available later this year in Brazil and Germany, and next year in Australia.
Meanwhile, the company has no plans to abandon its on-premises product, Gaines said. But a lot of development is focused on enhancing and optimizing the cloud product.
No doubt, all of this will be on the agenda when Relativity convenes next month for its annual user conference, Relativity Fest, which takes place Sept. 30 to Oct. 3 in Chicago. And for more on Relativity and e-discovery in general, check out its new podcast, Uncivil Procedure.
[Disclosure: David Horrigan formerly worked for me as a reporter and editor when I was at ALM in New York.]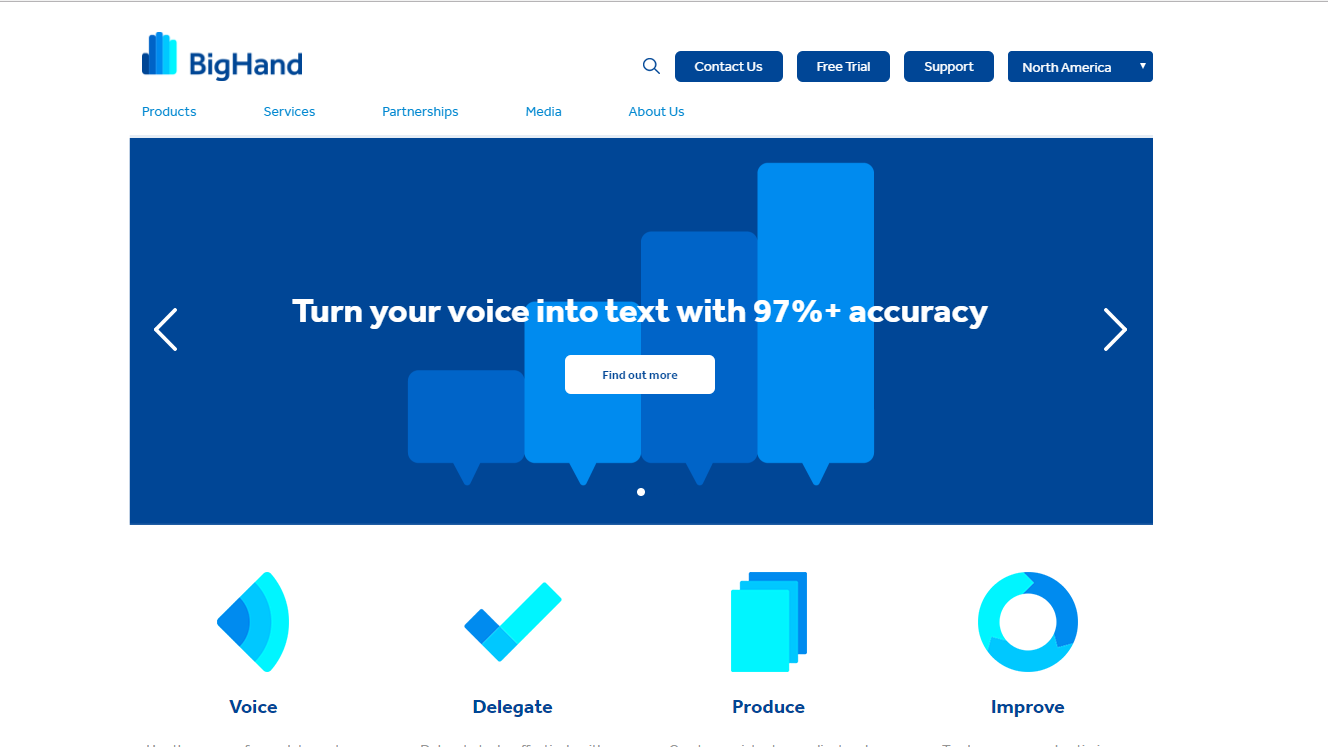 I first wrote about BigHand, a company that offers dictation, voice recognition and voice productivity products, four years ago. Since then, it has continued to grow, according to Eric Wangler, its president, with whom I spoke at ILTACON. It is now used by some 200,000 professionals across 1,950 organizations.
Yet the business faces a challenge, he acknowledged, in that younger lawyers are less likely to use dictation. While dictation remains the lion's share of the business, BigHand has been building out its offerings to address a wider range of workflow issues, all aimed at helping law firms become more efficient and productive.
To that end, it recently acquired two technologies to expand its capabilities, BigHand Evaluate, a matter pricing, budgeting and tracking product, and BigHand Quantum, a financial business intelligence product. BigHand picked up both of these products in April when it acquired DW Reporting, a provider of business intelligence and matter pricing for the legal sector.
Wangler discussed a survey BigHand commissioned from legal management consulting firm Altman Weil on how law firms handle administrative support work. It found that while law firms place a high priority on improving the efficiency of their administrative support staff, they lacked the data and information to make informed staffing decisions.
With its recent acquisitions and continued expansion of its core product, BigHand's mission is to help firms better address these workflow, operational and staffing issues, Wangler said.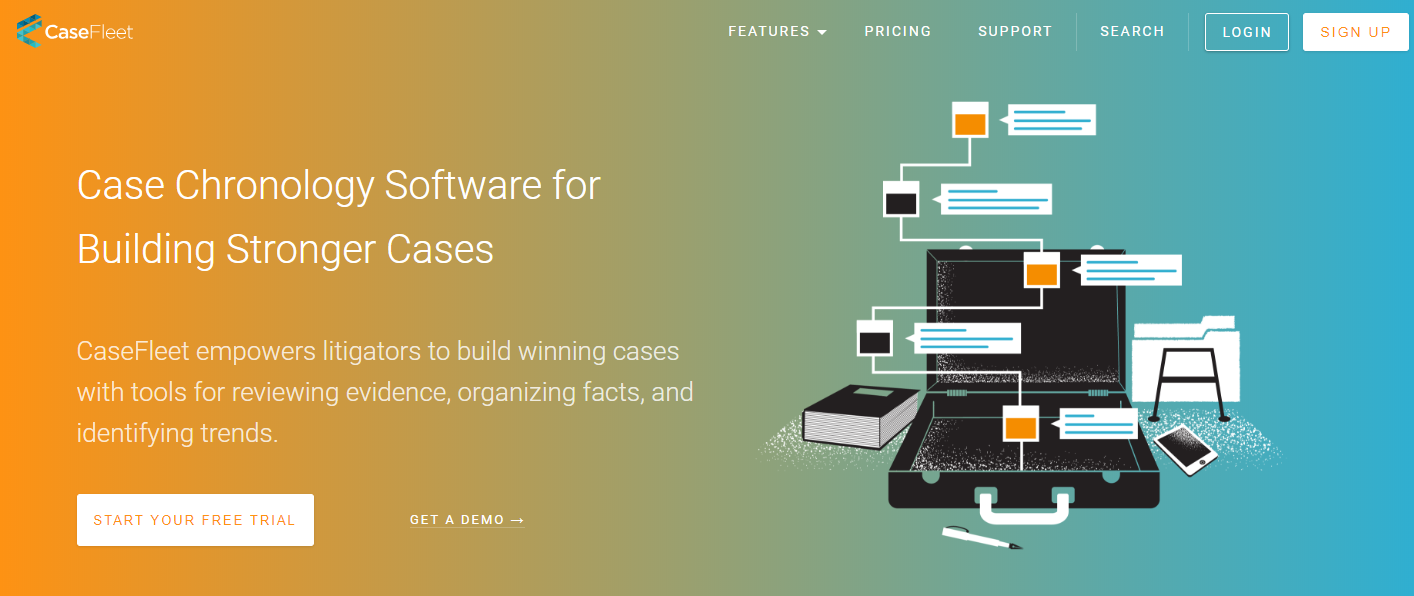 CaseFleet is a cloud-based case management software for litigators that builds a chronology to organize case facts and track key deadlines. It uses data visualization to organize all relevant case details and help lawyers hone in on relevant information or trends.
At ILTACON, I met with Jeff Kerr, the former litigator who is the company's CEO and cofounder. He said that 2018 has been a year of further building out the platform's capabilities. Among its newest features:
Full text document search, enabling users to find keyword matches in the text of thousands of documents.
Document reviewer, allowing attorneys' first review of a document to be their last by preventing them from having to re-read the same documents when preparing for motions or trial. Instead of simply creating a new annotation or bookmark from text within documents, users can create facts and add them directly to the case chronology, with each fact linked to the exact location in the document that proves it.
Claims and issues outline, which both outlines the claims of a case to help attorneys structure their chronology and links important details and issues to the claims.
CaseFleet has provided me with access to a demo account, so watch for a more detailed review of the product.