Last week brought news that BigHand Inc., a provider of voice productivity and workflow software, had acquired Esquire Innovations Inc., a maker of legal document automation and productivity tools used to create, format and compare documents and remove and manage document metadata. For me, that news served as a nudge, since I've been meaning to write about BigHand for some time now.
So what is BigHand and what the heck is "voice productivity"? Basically, BigHand is a digital dictation system, with an enterprise version for larger firms and a cloud-based version for smaller firms of up to 25 lawyers. But as the "productivity" part suggests, it is more than a dictation system – it is also a system for managing dictation and transcription workflow and for making that workflow more efficient.
A firm would purchase BigHand as a replacement for its legacy tape-based dictation system or standalone digital system. With BigHand, the firm gets:
A smartphone app on which lawyers can record, submit and track dictation. (Versions are available for Android, iPhone and BlackBerry, with a Windows version in the works.) This can also be done from the desktop.
The ability to integration existing analog or digital dictation devices.
A dictation workflow system that delivers, prioritizes and assigns dictation to support staff.
Speech recognition (using Dragon NaturallySpeaking) for first-pass transcription.
Typical Workflow
How would this work in practice? Here is a typical scenario: 
The attorney opens the BigHand app on her smartphone. She can immediately see the status of all the jobs she has submitted. To dictate, she simply presses the record button. She can listen back to the recording, edit it, and insert additional audio at any point. The app also allows her to insert a photo to accompany the dictation – perhaps of a business card or a receipt.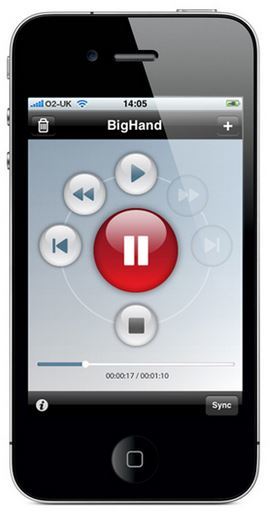 Once she is ready to submit the dictation, BigHand asks her where she wants to send it. Firms can customize up to 10 options here, but a typical set-up might allow the attorney to send it to her own secretary, to a typing pool, or through speech recognition, with or without proofing. The attorney can also designate the job's priority or set a calendar date by which it must be completed.
When the job is done, its status on the app changes from "pending" to "complete" and BigHand sends the attorney an email with the document attached. An attorney could be at a meeting, dictate something, and have the finished document returned before ever leaving the meeting.
On the support-staff side, when the attorney sends a file, a pop-up notifies the staff that a new job has been submitted. The staff can see a list of all dictation in the queue. BigHand integrates with several document-management systems, so a dictation can easily be dropped into a letterhead or other template.
As items are completed, BigHand automatically moves them into a completed items folder. Firms can customize the folders and also set up shared folders, such as for litigation matters. The attorney is notified and can approve or reject the work at that point.
Other Features
If the file is sent through speech recognition, then the support staff can review the speech-recognized text as they listen to the recording. BigHand can play the recording Karaoke style, meaning it shows all the text and highlights each word as it is played, or streaming style, in which it adds words to the screen as they are played.
As the staff person corrects mistakes, the system learns from those corrections and thereby becomes better at recognizing the attorney's voice. Each attorney has his or her own voice profile on the system, as well as separate profiles for mobile or desktop. The system will also learn from corrections made by the attorney.
While both attorneys and support staff have slightly different interfaces into the BigHand system, there is also another interface for the office managers. They can see every pending job and follow its workflow. They can also manage workflows to accommodate vacations, workloads and the like. Office managers can generate various reports.
Versions and Pricing
BigHand is available in both an installed enterprise version for larger firms and a cloud-based "Professional Edition" for smaller firms. The major difference between the two is that the cloud version does not include speech recognition. BigHand expects to add speech recognition to the cloud version sometime this year. Another difference is that the cloud version limits the number of workflow-routing options.
Both versions can be customized in many ways, both on a firm-wide basis and also by attorney.
BigHand, which was founded in 1996 in London, focuses primarily on the legal market. Of 185,000 users worldwide, 150,000 are in the legal market. In the United States, its customers are almost exclusively within the legal market.
The cost of BigHand's cloud-based Professional Version is $240 per year/per license, with both attorneys and support staff requiring their own licenses. The cost of the Enterprise Version depends on the number of user licenses, modules and features required. (Speech recognition is an added module.) Volume discounts are generally available.
Bottom Line
BigHand offers obvious advantages over tape-based dictation systems. There is no need to worry about delivering or losing tapes. There is no need to regularly replace dictation systems. Work is transferred in real time and managed in real time.
For lawyers, BigHand's mobile integration should be a boost to productivity. For firms, it should enhance enhance their efficiency and cut administrative overhead. For support staff, it should make their workflow more balanced and orderly.
Even for attorneys (like me) who do not use dictation, having the app on a mobile device makes it convenient to use it to manage tasks, give themselves reminders, keep notes or send instructions to a secretary.