Thirteen years ago this week, in 2005, I sat down in a recording studio in front of a fancy boom microphone, donned a bulky pair of Sony headphones, and waited for the cue. Then I was connected to my new cohost, Newport Beach, Calif., lawyer J. Craig Williams, and recording the first episode of our new podcast. Little did I imagine we'd still be doing it all these years later, making it the longest continually running podcast in law and one of the longest running of any kind.
Last night, after 586 episodes (by my count) of that podcast, I recorded my final one, even as I launch a whole-new podcast of my own, LawNext.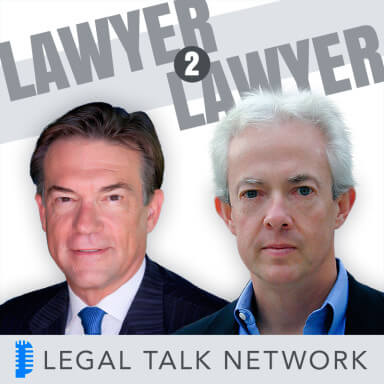 We originally called the show Coast2Coast – both for our west coast/east coast split and for our divergent political perspectives – but later, due to the little matter of a cease-and-desist letter from the eponymous paranormal radio show, we changed it to Lawyer2Lawyer. (Hey, at least we were getting noticed.) Our first show was posted on Aug. 31, 2005. Our guests for that first show were Mike Greco, who had just taken office as president of the American Bar Association, and Erwin Chemerinsky, then a professor at Duke Law School and now dean of the University of California, Berkeley, law school.
The idea for the show had come from two Boston-area veterans of broadcast news, Lu Ann Reeb, a former TV news director and producer, and Scott Hess, a news photographer. They had founded the Legal Talk Network to record video and audio interviews with legal professionals and proposed that Craig and I – who both then blogged for the now-defunct Law.com Blog Network – team up to host a weekly podcast about current legal events and news.
Podcasts by lawyers were rare then. Among them were Denise Howell's Bag and Baggage (the predecessor to Howell's This Week in Law), Evan Schaeffer's Legal Underground, Evan Brown's InternetCases, and rethink(ip). But, as I recounted in a 2015 post, podcasting by lawyers took off between 2005 and 2007, only to hit a spell of inertia around 2007. (We interviewed some of these "pioneers of legal podcasting' in a 2010 show.)
I kept at it for one simple reason: It was fun. I never made a penny from podcasting. But every week (and later every second week) I got to have interesting conversations with fascinating people about issues and events that were at the forefront of the news. The Supreme Court. School shootings. Terrorism. Animal rights. Privacy. Weed. Sports law. Better Call Saul. Gender rights. Immigration. Uber. Revenge porn. Lawyer depression. The billable hour. It's hard to come up with a topic we didn't cover. Probably my favorite show was about open source software and beer — not for the topic so much as for the fun of recording it onsite in a Denver brewery.
And the guests. From Bryan Garner to Boups the Beerman. From consumer advocate Erin Brockovich to tobacco whistleblower Jeffrey Wigand. From Making A Murderer lawyer Dean Strang to Joseph Salvati, a man who spent 30 years in prison for a murder he did not commit. Former 9th U.S. Circuit Court of Appeals Judge Alex Kozinski was on our show at least four times before he retired amid allegations of inappropriate sexual conduct.
In one show alone, we had four legendary trial lawyers: Mike Papantonio, Howard Nations, Thomas Girardi and Fred Levin. Another legendary trial lawyer, F. Lee Bailey, was on our show three times (on cross-exam, Whitey Bulger, and Roger Clemens). Still another trial-lawyer legend, Gerry Spence, pronounced on our show, "Lawyers disappoint me." Five of the top Supreme Court reporters appeared on our show: Marcia Coyle, Lyle Denniston, Amy Howe, Tony Mauro, and David Savage. We even had a lawyer who, at 101, was still practicing law. I could go on and on and on.
In 2013, the Legal Talk Network changed hands, sold to legal marketing and software company Lawgical. CEO Adam Camras, CTO Trent Carlyle, Executive Producer Laurence Colletti, and the rest of the top-notch Lawgical team have continued to expand the network with new shows and industry alliances. They even talked me into picking up cohosting duties on a second show, Law Technology Now, with my good friend Monica Bay (which I am also now leaving).
The anchor, the keel, the workhorse, the rock of our show over the years has been Kate Nutting. She came on board as our producer just months after we started, and she remains our producer today. She makes sure we have top-notch guests, juggles everyone's availability to scheduling recordings, researches each topic and prepares discussion points, and generally holds it all together. Without Kate, this show would never have survived this long or achieved the quality it did.
By now you're probably thinking, "OK, Bob, if it was all so good, why are you leaving?"
The short answer is: To start my own podcast, LawNext. And why did I want to do that? Several reasons:
My interests evolved. My greatest interest these days is innovation in law, law practice and legal technology. My new show is laser focused on innovation and entrepreneurship.
There are only so many hours. Time would not allow me to both start my new podcast and keep doing the old one.
I wanted to be nimbler. If news breaks today, I want to be able to record a podcast this afternoon or tomorrow morning and have it posted within a day.
I wanted to be more hands-on. The Legal Talk Network people are great – so great, in fact, that they do all the work. I wanted to get my hands dirty, to get a better feel for the production and marketing, in addition to the recording.
I wanted to make some money. After 13 years of podcasting pro bono, I wanted to see if I could make a little money from it, selling advertising and sponsorships.
I wanted to own it. I'm really not sure who owns Lawyer 2 Lawyer. But it had long ago slipped away from feeling like something I had ownership of. With LawNext, I have something I can take ownership of.
I wanted to work with my son. Perhaps the best part of my new podcast is that I'm working with my son, Ben Ambrogi, who is my producer and engineer.
Even after 13 years as a podcaster, this new podcast is very much a learning experience. We've had to test any number of recording applications, research hosting sites, and figure out the best equipment. And even then, we've had glitches I'd rather not discuss. But we learn from each mistake, and we'll get better over time.
But most of all, it's fun. With each new episode, we watch the stats to see how many listens we'll get. It's a bit addicting, and there's certainly a rush when the downloads spike. The Legal Talk Network folks say Lawyer2Lawyer was their most downloaded show. It will be a long time, I suspect, before I get this new show to those numbers. But I'm committed to trying.
I can't sign off the Legal Talk Network without expressing my deep and heartfelt thanks to everyone who has been part of that over the years. I thank Lu Ann Reeb and Scott Hess for getting me into this in the first place and for remaining good friends over the years. I've already said my thanks to Kate Nutting. I thank Adam Camras for convincing me to stay aboard after he bought the company. And no praise is enough for Laurence Colletti, a tireless and talented lawyer-turned-producer who makes LTN run day in and out.
And there's Craig Williams, my partner in podcasting. Surprisingly, I'd never met Craig before we started the show and have met him in person only a couple times since. But I can't imagine having been paired for 13 years with a better cohost.
Although our starting premise was that we came from different political persuasions, we agreed far more than we ever disagreed. As in any long-term relationship, there were times when he irritated me – injecting a question that seemed to throw the discussion off kilter or taking the conversation in a direction away from where I wanted it to go. But that unpredictability was a big part of what made the two-host format work. While I came at it with the background of a journalist, he was ever the trial lawyer, insightfully challenging and prodding. Over time, the 3,000 miles between us disappeared and our styles somehow synchronized.
Both Lawyer2Lawyer and Law Technology Now will continue on quite ably without me. Meanwhile, I look forward to this new chapter in my own podcasting life. I hope some of you who followed my former shows will continue to follow me at LawNext.