Frustration is the story of many a legal technology startup. A lawyer frustrated with the shortcomings of existing products sets out to design a better one. That is the story behind LEA, a new case-management platform designed specifically for criminal lawyers.
Its developer, Kevin Hogle, an Irvine, Calif., lawyer, told me he was unable to find a practice management platform that met the needs of a criminal law practice. After reviewing several of the systems on the market and finding them inadequate, he decided to build one himself.
While other companies claim to have criminal modules, he said, they are rudimentary and don't cover the issues a criminal lawyer needs for a comprehensive intake system. In addition, several platforms require integration with third-party systems for intake, resulting in a process that does not fit together well.
A public defender for eight years before starting his own law practice, Hogle set out to build a platform that gave him what he knew he needed when handling a criminal case. Released last month, LEA attempts to do that by automating standard workflows and enabling lawyers to create datasets of all pertinent information.
Hogle describes three areas in which LEA (short for Legal e-Admin) is different than other platforms: client retention, client intake, and case management.
Client retention. Because criminal clients often make hiring decisions over the course of a phone call with a lawyer, LEA is designed to make it quick and easy for the lawyer to finalize the retention in just a few steps. When a call comes in, the lawyer can create a new case with a click. The system then leads the lawyer through the initial questions to ask. If the lawyer has previously represented the client, the system will automatically link the lawyer to information about the client's prior cases.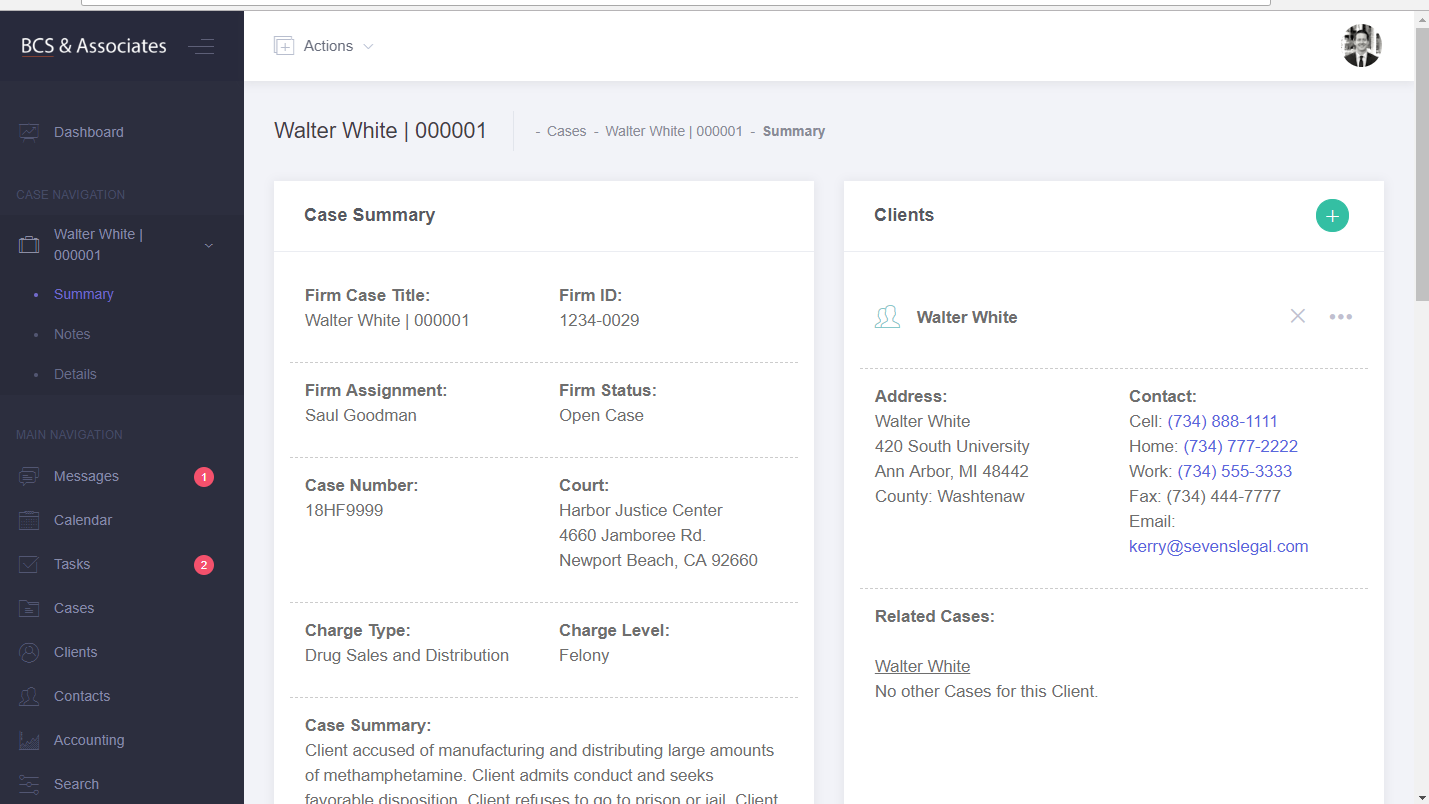 If the client decides to hire the lawyer, it takes just a few more steps for the lawyer to generate a fee agreement, get the client's electronic signature, set up billing (including a payment plan), charge the client's credit card for the initial fee, update the lawyer's accounting to reflect the payment, and calendar the arraignment date. Once you collect the client's information, the system auto-populates the retainer agreement, the credit-card form and your accounting records.
Client intake. A key issue Hogle wanted to address with LEA is intake, believing that one-size-fits-all software doesn't work for criminal lawyers. "The intake process is really specific to criminal cases," he said. He has designed LEA to walk a lawyer through all of the essential data that needs to be collected for a criminal matter or a DUI case.
During intake, a menu on the left side of the screen prompts you to enter information about the incident. For a general criminal matter, prompts ask about the court, prosecutor, bond, co-defendants, charges, sentencing exposure, personal and medical background, drug or alcohol abuse history, immigration issues, a description of the incident, potential defenses, statements made to police or others, details of the arrest and any searches, witnesses, criminal history, and more.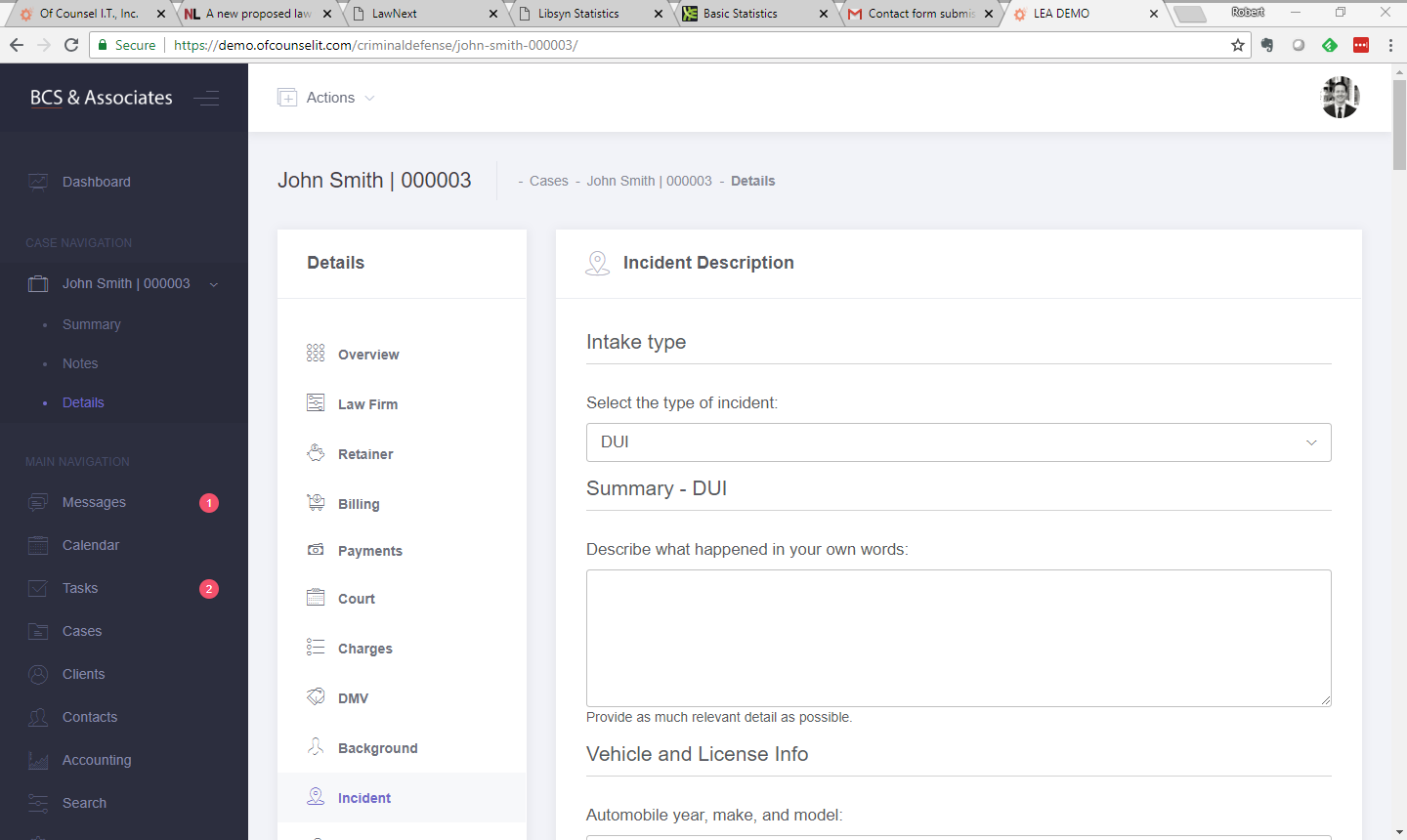 For a DUI matter, LEA uses a different set of prompts. These ask about the vehicle, registration, driver's license, injuries, trip details, driving conditions, other passengers, statements made, field sobriety tests, blood-alcohol tests, and more.
"With criminal cases, everyone has a story," Hogle says. His intake system, he believes, helps the lawyer gather all the information needed to thoroughly understand that story.
Case and calendar management. In terms of general case management, LEA includes standard features that you would expect in a practice-management platform, including calendar management, task management, contact management and file management. It also has simple accounting.
LEA's calendar can synchronize with both Google Calendar and Microsoft Outlook. But its Google Calendar integration offers one unique capability I've not seen before, tailored to lawyers in the courtroom.
If, while in court, the lawyer needs to create a calendar event for a case, the lawyer can do this without having to open LEA. Instead, by creating the event in Google Calendar and including the case number anywhere in the Google Calendar entry, LEA recognizes the event as related to that case and automatically adds it to the LEA case calendar.
This gives you a unique method to never have to log into the software while in court to update your calendar, Hogle said.
Price and Other Info
A monthly subscription to LEA is $49 per user. That price includes custom branding of the platform for your firm, unlimited storage, integrated credit card processing, and Google/Microsoft integration.
One thing LEA does not yet have is support documentation. However, Hogle has developed this himself and says he will be responsive to customer inquiries and issues. In fact, he says that if a customer wants a specific feature built or changed, he will try to help with that.
Hogle also acknowledges that the accounting system is weak. He hopes to address that in future development and, specifically, to add financial reporting.
Three other features in development will allow integrations with outside service providers. One will integrate with an appearance company, so that if an attorney needs to find another attorney to cover an appearance, that will be done through the platform. Another will connect attorneys representing DUI clients to a company that sells proof-of-financial-responsibility insurance. A third will connect attorneys to investigators, allowing them to submit investigation requests and receive results all within the platform.
Hogle let me try out a demonstration version of the platform, prepopulated with dummy case and client information. I am not a criminal lawyer, but it seems to me that the intake questionnaires were thorough and would be helpful to a lawyer. Even without documentation, the platform is easy to use and fairly intuitive to learn.
The only speed bump I hit was in figuring out how to switch the intake questionnaire from a general matter to a DUI. (It's on the incident description tab, where you select the type of incident from a drop-down menu.)
Hogle practices in California and is focusing his initial marketing on lawyers there, but he said that the platform can be used by attorneys anywhere. As noted above, if customization is required, he is willing to work with a lawyer on that.
Meanwhile, through the company he founded to develop LEA, Of Counsel I.T., Hogle is already working on developing practice management systems for two other legal verticals — personal injury and estate planning.
At his website, you can watch a video that shows more information about LEA or request a personal demo.