[Editor's note: We might just have to designate e-discovery consultant Brett Burney as our official roving correspondent. After posting his coverage yesterday of the Summit on Law and Innovation at Vanderbilt Law School, today we have his report from the Annual Corporate Legal Operations Institute.]
If you haven't heard, allow me to introduce you to the emerging role of the corporate legal operations professional. If you're a lawyer and plan to do any legal work for a company or corporation, then you'd be well-served to learn about this influential and evolving responsibility.
The role was in the spotlight last week in Las Vegas at the Annual Corporate Legal Operations Institute hosted by the Corporate Legal Operations Consortium, otherwise known as CLOC. There were certainly legal operations professionals in attendance, joined by a couple thousand colleagues from general counsel, in-house legal departments, eDiscovery professionals, law firms, and wide array of others who were simply curious to see what all the excitement was about at this young but quickly growing consortium.
Legal Ops
Over the past several years, more and more corporate legal departments have either hired or explored the idea of hiring a legal operations manager/director. The goal of the role appears to focus on aligning the activities of the legal department into a core business function of the company.
There still doesn't seem to be a standard, agreed-upon definition of "legal operations" since the responsibilities cover a wide-range of areas including the general efficiency of legal work, cybersecurity, privacy, compliance, eDiscovery, policy management, and definitely the streamlining of relationships between the corporate legal department and outside counsel and service providers. As one observer at Above the Law put it, legal operations apparently covers "every aspect of running a legal department except for the dispensing of actual legal advice."
It occurs to me that some law firms have gone down a similar road in hiring a chief administrative officer or chief operating officer, but legal operations in corporate legal departments appears to delve a little deeper into the processes and workflows rather than just administrative duties. In one panel, the general counsel described the role of the legal operations professional as a "chief of staff" for the legal department.
This was John Schultz, chief legal and administrative officer and corporate secretary in the Office of Legal and Administrative Affairs at HP Enterprise, who went on to state how his legal department focuses on the three "E's" of Excellence, Efficiency, and Economy. When he first hired his legal operations professional, he thought the role would mainly revolve around efficiency, but quickly realized how integral that role positively and invaluably impacted their excellence and economy.
Based on a recent report from LawGeex in association with CLOC, it appears that only about 21% of Fortune 500 companies have a legal operations role, but it has certainly grown rapidly over the last few years and that number is absolutely expected to grow rapidly in the next few years.
Time for CLOC
Christy Burke, writing for Legal IT Professionals, said that the CLOC Institute was "fresh, relevant, and accessible" with a "universally positive" atmosphere. I completely agree with Christy – there was a palpable excitement everywhere in the Bellagio hotel and it wasn't just because of the blackjack tables.
Institute attendees came prepared with serious inquiries, curious about what others were doing in their organizations, and looking for significant solutions to the issues they deal with. Whether it was in a session, at a party, or in the exhibit hall, people were buzzing and excited to learn and soak in what they could. I wasn't sure if this was just because the CLOC Institute was something new and fresh, or if the excitement was genuine enough to have staying power. Time will tell.
And while all of this was fantastic, I share the reservations of my friend Stephen Embry, who has been practicing at a large law firm for several decades. In his TechLaw Crossroads post, Stephen remarked that "the gap between what people at CLOC are doing, saying and advocating and what most outside law firms are really doing is so broad, so vast and so deep, I'm starting to think it can never be bridged. Sure, there are a few law firms that get it. But most don't. And most don't want to." Like Stephen, I also observed that there were few attendees there from large law firms at a place where their corporate clients (or potential clients) were eager to learn about any efficiencies that attentive law firms were willing to offer.
It Ain't Just About the Tech …
One of the most refreshing experiences was the broader focus of the educational sessions at the CLOC Institute. In the Thomson Reuters piece "Rise of the Legal Department Operations Manager," Connie Brenton highlighted the importance for legal operations professionals to "develop strong relationships with general counsel staff and cross-functional colleagues, both inside and outside the legal department," which I interpret as the necessity for polishing up your people skills.
Ms. Brenton just happens to be the director of legal operations at NetApp, and one of the founders of CLOC, so it's no surprise that there were sessions at the Institute that went beyond the meat and potatoes logistics of running a legal department. For example, on the last day, there was a two-hour session called "Projecting Credibility and Confidence," featuring Cara Hale Alter of the communication training firm SpeechSkills. It was interactive, inspiring, and helpful. We don't usually see those kinds of sessions at legal-related conferences.
In fact, I found most attendees were not in Vegas to simply see what was new, or what options were available in the market. Attendees specifically pressed exhibitors on how they could use their technologies and services to be more efficient, and how to better utilize the tools they already owned to accomplish their goals. By the end of the Institute, I started thinking of this as corporate legal "optimization" rather than "operations" just because that seemed to be the focus of everyone I spoke with.
Law firms as Vendors?
An interesting quirk in the CLOC Institute exhibit hall was the number of major law firms that had a booth. Most of these appeared to be selling a product that they had developed, whether it was an app or a workflow platform or an additional service of some kind.
This caught my attention because law firms aren't usually in the business of creating and selling products – they're supposed to focus on legal services. But there in the exhibit hall they were standing shoulder-to-shoulder with eDiscovery vendors and contract management providers, giving away swag and talking to whoever walked by. But who are their target customers? Law firms have their own built-in potential customer base for products with their existing clients, and it's not like other law firms are going to use another law firm's product.
Ultimately, it was just a little difficult to tell if law firms purchased booths simply because they wanted to be visible to current and potential clients, or if they are truly getting serious about building products to take to market. Time will tell.
The Tick-Tock of CLOC
There was no denying the excitement or the energy in Vegas at the CLOC Institute. And there's no denying the commitment of everyone I spoke with that the role of legal operations is necessary, pivotal, and here to stay – they believe that CLOC is the right place for them to ensure an efficient legal team now and for the future.
I got caught up in the excitement, and I am keenly interested to watch how the role of legal operations evolves and more specifically how technology is utilized and assimilated into that position. It's not about the technology, it's about how people use the technology. And if legal operations is best situated to effectively employ technology to achieve the goals of efficiency and scales of economy, then it's a success.
---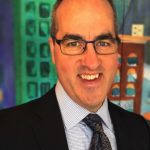 When lawyers need help navigating their eDiscovery questions, they call Brett Burney. Brett works with law firms and corporate legal departments to recommend document review tools, streamline their eDiscovery workflows, and keep litigation costs low. Brett's website is www.burneyconsultants.com and you can download the free eDiscovery Buyers Guide he authored at www.ediscoverybuyersguide.com. Email Brett at burney@burneyconsultants.com. Follow him on Twitter at @bburney or connect with him on LinkedIn.