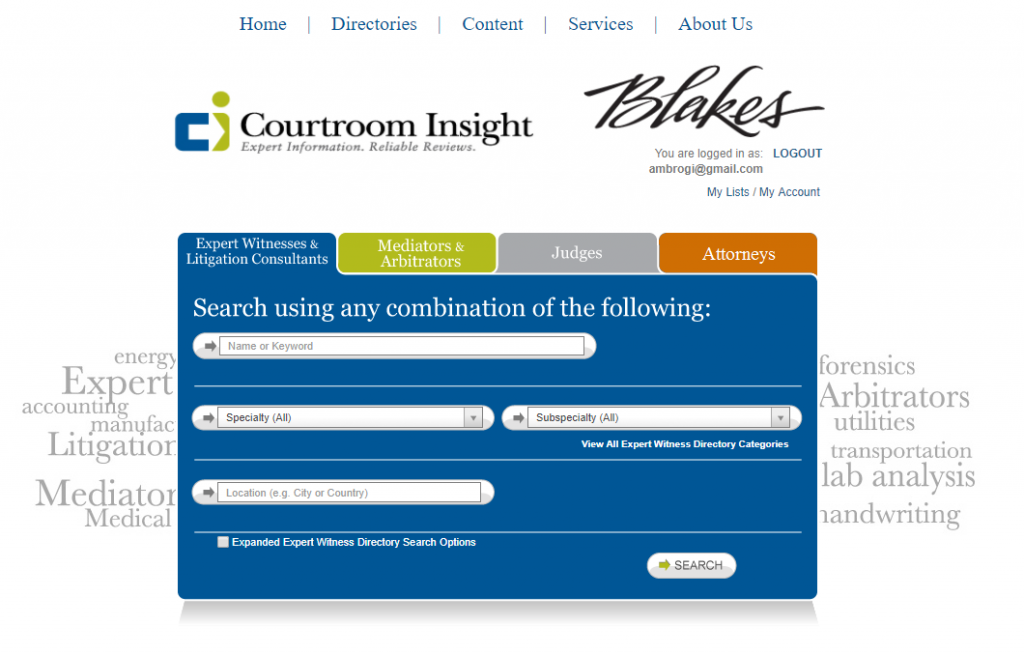 When Courtroom Insight launched in 2010, its focus was on being a kind-of Yelp for rating and reviewing expert witnesses and arbitrators. The idea, as I explained at the time, was for lawyers to provide reviews of experts and others, offering "honest feedback, including constructive criticism when warranted." In the years since, Courtroom Insight has slowly moved away from that model, as it found that lawyers were reluctant to share reviews publicly, but that they did want to share such information among their colleagues within their own firms.
Now, Courtroom Insight is making that pivot official, going from a public rating site to a platform for law firms to privately share knowledge and mine data about experts. The platform will allow firms to build on Courtroom Insight's extensive collection of expert profiles, reviews and information by adding their own proprietary information.
To be clear, it has already been providing its platform in this way — and already counts among its customers firms such as Littler, Ogletree Deakins, Pillsbury, Schulte Roth & Zabel, and Sheppard Mullin — but now the company will focus 100 percent on this private platform.
The idea is to address a problem common in many law firms. Although they regularly use expert witnesses, they have no system for maintaining a historical record of the experts they've used or of sharing their experiences with and research about experts with others in their firm.
"We want to capture everything within a firm about an expert and marry that to everything we have," CEO Mark Torchiana told me last week.
In addition, Courtroom Insight is adding new expert witness analytics. These analytics will provide insights on the types of cases in which experts were retained, their appearances by jurisdiction and judge, the parties and attorneys that have retained them, and the top experts used by opposing counsel.
Firms that use the platform will get access to the expert profiles Courtroom Insight has already compiled — some 108,000 to date with more regularly added. But now firms can flesh out these profiles with their own research, reviews and information, and also add new profiles. Any information a firm adds about an expert remains private and proprietary to that firm — it is not shared with other Courtroom Insight customers.
(If the firm adds a previously unlisted expert, the basic details of the listing — the expert's identity, area of expertise, etc. — populates across the system, but nothing else the firm adds is shared outside the firm's system.)
Courtroom Insight further enhances its profiles with data and supplementary content obtained through integrations with partners including Daubert Tracker, Docket Alarm, Expert Witness Profiler, Fastcase and The TASA Group. Thanks to these integrations, when viewing the profile of an expert, you can also see court opinions that reference that expert and view a history of any Daubert challenges of that expert and how they turned out. Other integrations are in the works, Torchiana said.
In addition to providing a custom platform for firms, Courtroom Insight can also export data feeds to firms' internal systems. This takes the entire database, including the firm's custom content, and delivers it back to the firm so they can surface it on their own intranets, portals or other such systems.
Once firms subscribe to Courtroom Insight, users can search for experts using a variety of parameters, including name, location, specialty and subspecialty. Users can narrow searches to see only experts who their firm has used in the past or who lawyers in their firm have rated or recommended. Courtroom Insight helps firms assemble this data on which experts they have used by mining not only its own database but also other sources of litigation and docket data.
Experts' profiles show any public reviews they've received as well as any reviews added from within the firm. Another tab within the profile shows any judicial opinions that discuss the expert, with a snippet of relevant text and a link to the opinion's full text. Another tab lists Daubert challenges to the expert and similarly links to related court opinions or docket information, when available. A "Research" tab shows documents pertaining to the expert that have been added by the firm or that are available through external sources. (Some of these external documents must be purchased separately from the Courtroom Insight subscription.)
Courtroom Insight also includes profiles of arbitrators, mediators and judges. It currently has profiles of some 13,000 arbitrators and mediators.
Courtroom Insight in currently being sold to law firms only on an enterprise-wide subscription basis.