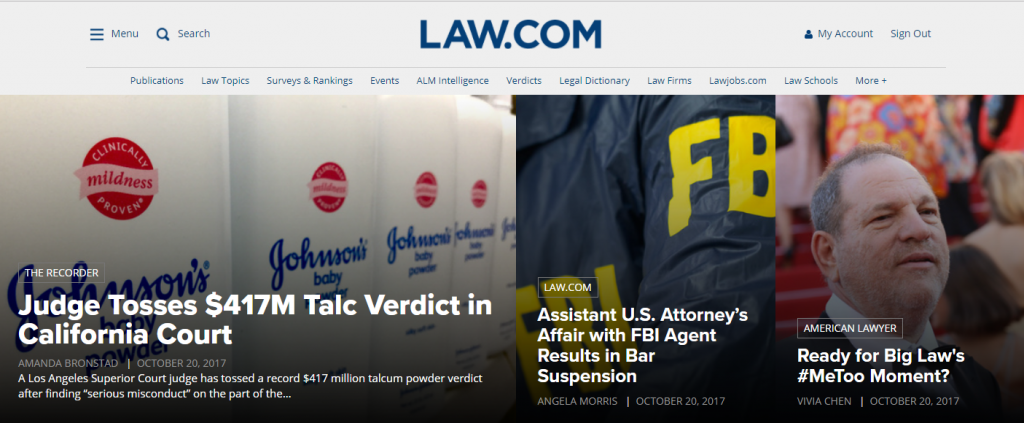 The legal and business publishing company ALM today launched a new digital platform that unites its 18 U.S. legal brands — including The American Lawyer, Corporate Counsel and The National Law Journal — under the common Law.com URL.
ALM says this follows from its launch last year of its global newsroom, a reorganization of its editorial staff by themes rather than by publications, and provides a scalable infrastructure that is the next step in its digital evolution, providing a platform for rapid execution of innovation going forward.
"The way I often describe the new experience is that the new Law.com platform is like a home with 18 different front doors," Richard Caruso, vice president & general manager, Legal Media, at ALM told me in an email. "Each door is familiar to the people who enter through that door, just as our current publication brands and experiences are familiar to the readers of those publications. But, the content that can ultimately be accessed by all is housed within the same four walls."
The idea, ALM says, is to connect readers to its content in ways other than through any particular brand or publication. Readers will be able to access content by topics, areas of law and industries from across ALM's various legal publications, receive alerts for each, preview suggested or relevant content and learn more about ALM's other sister brands.
At the the same time, ALM's publications will retain their separate identities. Each publication's home page can be entered directly or found via the navigation bar on the main Law.com page. Now, for example, The American Lawyer is "The American Lawyer Powered by Law.com" and its URL is law.com/americanlawyer.
The new platform has been built with mobile in mind, ALM says, and has a fully responsive design for a better experience on mobile devices.
Subscription options and pricing will remain unchanged. With a free digital membership (registration required), a reader has access to five articles from across the ALM network of U.S. legal brands, excluding premium content such as Supreme Court Brief and Litigation Daily. Corporate Counsel and Legaltech News are entirely free with registration.
Regarding paid subscriptions, readers have the option to subscribe to individual brands or to a Law.com all-access subscription. If someone subscribes to just one publication, the subscriber will have unlimited access to that publication's content and will also have access to five articles each month from across ALM's U.S. legal network. With a Law.com all-access subscription, a subscriber will have unlimited access to all content from across the ALM network of legal brands.