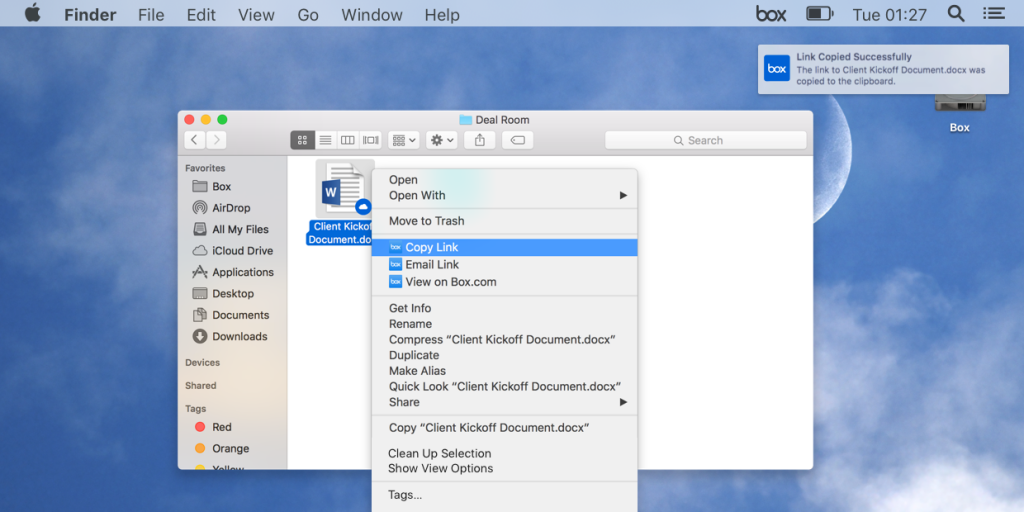 The cloud-based content-management company Box is today releasing a new desktop application that is designed to help law firms and other enterprises more easily transition to cloud content management and sharing.
Called Box Drive, the application is targeted at enterprises of any kind that still rely on internal network drives for accessing and working with files. Box Drive installs on your computer to provide the look and feel of a traditional network shared drive, while allowing full, secure access to all files stored in Box, as well as to Box's productivity capabilities such as finding and sharing files and creating and editing documents.
The idea is to make it easy for businesses to move all their files to the cloud but still have the familiar feel of instant desktop access.
"Box Drive combines infinite access to the cloud with an intuitive, natively integrated desktop experience that is familiar to hundreds of millions of people today in enterprises all over the world," Aaron Levie, Box cofounder and CEO, said in a statement."Not only will Box Drive make collaborating on content easier than ever before, it also signals the beginning of the end for expensive network file shares.With Box Drive, enterprises can accelerate their move to the cloud, enhance security, and significantly reduce IT costs."
The application uses a familiar file finder interface that is natively integrated into Windows Explorer and Mac Finder so users simply click to open their Box Drive folder to get access to all of their content on Box. All work done on the desktop — such as creating a new document or editing a PDF — is aved back to Box, where it is easily available to colleagues or team members.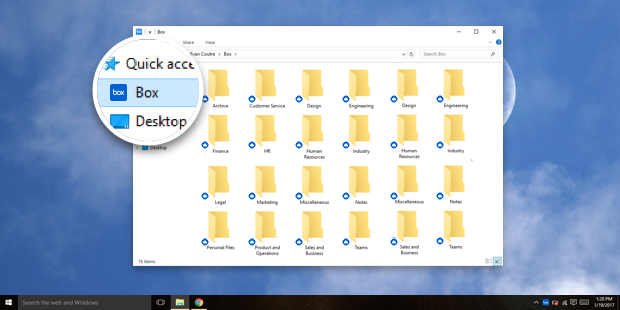 Some of you may already be familiar with another Box application called Box Sync. I have this on my computer and use it to synchronize files between my computer and Box.
Box Drive is quite a bit different, Rand Wacker, VP and head of product marketing at Box, told me yesterday, in that Box Drive mounts itself on your computer as a network drive so you have full access to everything in your Box account. Box Drive does not synchronize copies of Box files down to your computer, but rather gives you on-demand access to files stored in Box.
I asked Wacker about some law firms' continuing fear concerning the security of cloud file management. He said that Box meets every security standard required by every industry mandate, including HIPAA, FINRA and FedRAMP compliance. Customers also have the option to manage their own encryption keys through a feature called Box KeySafe, so neither Box employees nor third parties can access your content.
The Box Drive application is being released today in what the company is calling a public beta. Later this year, the final version of the application will be released with the added ability to select folders on Box for offline availability.