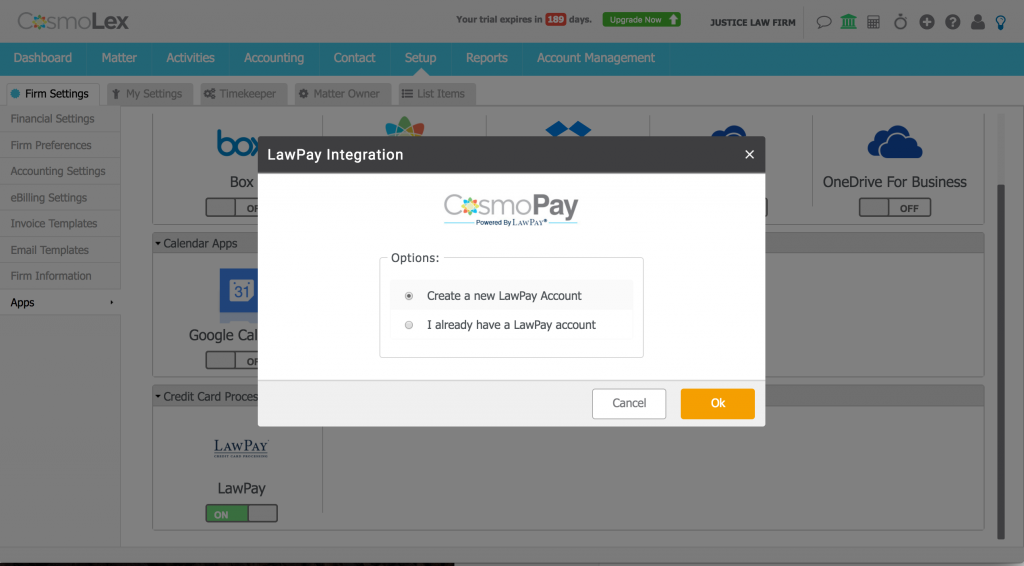 CosmoLex, the cloud-based practice-management platform, today announced the release of a new credit card processing feature, CosmoPay, that eliminates the need to pay a separate subscription for credit card processing services through LawPay.
Now, any CosmoLex subscriber who opens a new LawPay account within CosmoLex will have the monthly LawPay fee covered by CosmoLex for as long as the subscriber remains an active LawPay user. Current LawPay account holders will also be able to take advantage of the new benefits of CosmoPay by contacting their CosmoLex account manager, the company said.
Subscribers will still have to pay LawPay's per-transaction fees, which are typically 1.95 percent plus 20 cents. But they will no longer have to pay LawPay's monthly subscription fees, which range from $5 to $20 a month.
For users of CosmoPay, the entire process of charging clients, getting paid and reconciling with bank accounts all takes place within the CosmoLex system.
"With CosmoPay, we are removing yet another barrier for smaller law firms, making it easier than ever for them to get paid," CosmoLex CEO Rick Kabra said in a statement. "This is something all our users will immediately benefit from."
Last year at Above the Law, I wrote a column, Practice Management Pricing Gets Murky, in which I talked about credit card processing charges as examples of how subscription pricing for practice management systems can sometimes be difficult to sort out up front. While several practice management platforms offer credit card processing, what you pay can differ quite a bit.
With CosmoLex, for example, if you wanted credit card processing, you had to pay both CosmoLex's $49 monthly subscription plus LawPay's subscription. Today's announcement is good news for CosmoLex customers, because it eliminates the need for the separate LawPay subscription.
As I wrote in my Above the Law column, other companies handle this differently. Clio, for example, offers LawPay integration, but covers the cost of LawPay only for subscribers who have its upper-tier price plans. MyCase, at $39 per month, includes its own, integrated credit card and e-check processing service.