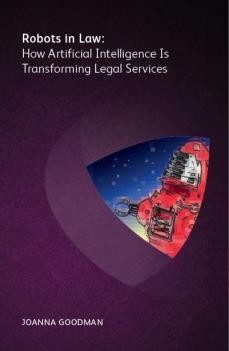 Armies of robot lawyers are on their way to steal our jobs. We've heard that from no less a source than The New York Times. But the truth is far more nuanced, as Joanna Goodman relates in her new book, Robots in Law: How Artificial Intelligence is Transforming Legal Services.
Goodman, a London-based journalist who covers legal technology and other topics, has written an informative overview of the state of artificial intelligence in law today and of where it may be heading in the future.
The takeaway from the book is that AI will not replace lawyers — at least not anytime soon — but that it will most certainly change law practice, and that if lawyers are to remain relevant, they must adapt. And adapting starts with understanding AI and its potential applications in law.
For that, this book is a good place to start. I've published a more in-depth review for my column this week at Above the Law. Read it here: This Week in Legal Tech: Book Review of 'Robots in Law.'