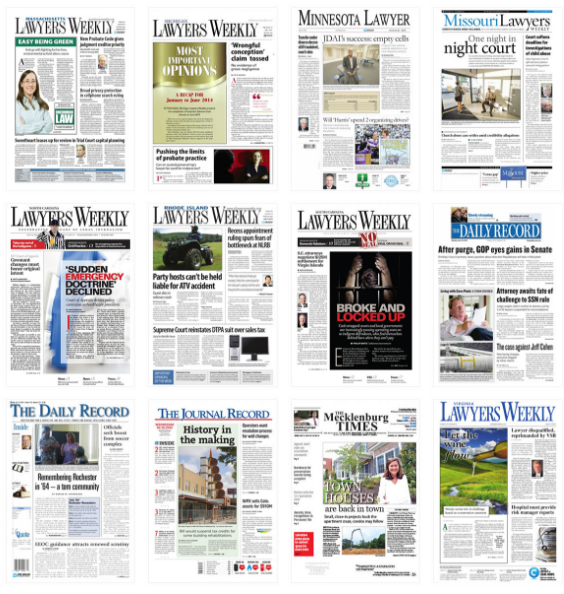 Thirteen regional U.S. legal newspapers are among a group of newspapers that have been acquired by SoftBank Group Corp., the Japanese multi-national that also owns Sprint and that is known for its investments in the technology industry.
SoftBank has purchased GateHouse Media, a company that owns over 500 weekly and daily newspapers, the Boston Business Journal reports. GateHouse owns BridgeTower Media, the subsidiary it formed in August 2016 after it acquired The Dolan Company, a publisher of legal and business newspapers all across the U.S., in December 2015.
BridgeTower's legal newspapers include all of the Lawyers Weekly newspapers — which includes papers in Massachusetts, Michigan, Missouri, North Carolina, Rhode Island, South Carolina and Virginia — as well as Minnesota Lawyer, The Daily Record in Maryland, The Daily Record in New York, The Journal Record in Oklahoma, The Mecklenburg Times in North Carolina and the Wisconsin Law Journal.
BridgeTower also publishes several business, construction and real estate newspapers.
The head of BridgeTower's legal division, Stephen Lincoln, is a longtime legal publishing executive who was formerly chief operating officer at Today's General Counsel and who held several leadership roles at ALM, including publisher of both The National Law Journal and the New York Law Journal.
Kirk Davis, the CEO of GateHouse, told the Boston Business Journal that he did not anticipate much changing for the GateHouse Properties.
(Full disclosure: I serve as executive director of and lobbyist for the Massachusetts Newspaper Publishers Association, whose membership includes many GateHouse newspapers, and, earlier in my career, I was an editor and publisher for both Lawyers Weekly and Dolan Media.)