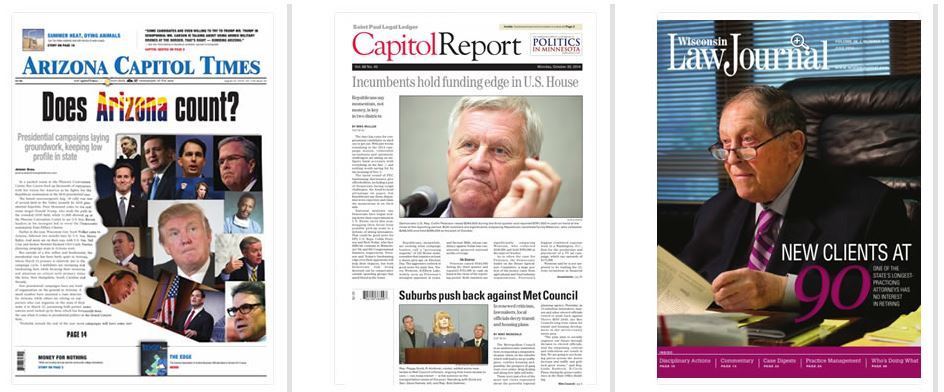 In the relatively small world of legal news publishing, this is an interesting and potentially big development. The Dolan Company, publisher of legal and business newspapers all across the U.S., was acquired this week by GateHouse Media, a New York-based newspaper company that publishes some 109 daily newspapers and 200 paid weekly newspapers, in addition to free newspapers, shoppers and specialty and niche publications and websites in 27 states.
Among the legal newspapers Dolan publishes are the Lawyers Weekly papers in Massachusetts, Michigan, Missouri, North Carolina, Rhode Island, South Carolina and Virginia; The Daily Record in Baltimore; Minnesota Lawyer; The Wisconsin Law Journal; and The Daily Record in New York.
Early in my career, I was the editor of both Massachusetts Lawyers Weekly and Rhode Island Lawyers Weekly (as well as of the now-defunct Lawyers Weekly USA), before they were owned by Dolan. Later, I worked for Dolan for a year as interim publisher of its Idaho Business Review in Boise. I am also loosely connected to the GateHouse chain through my work as executive director and lobbyist for the Massachusetts Newspaper Publishers Association. GateHouse owns a number of newspapers in Mass. and several GateHouse executives sit on the MNPA's executive board.
One thing the two companies have in common is that both recently emerged from Chapter 11 bankruptcies. GateHouse filed under Chapter 11 in September 2013 and reemerged from the prepackaged bankruptcy in November 2013. Dolan filed under Chapter 11 in 2014 and had its prepackaged reorganization plan approved in June 2014.  Under the plan, the formerly public company became privately owned by a group headed by Bayside Capital Inc.
Why Would GateHouse Want Legal Papers?
The acquisition by GateHouse is interesting in that I think of GateHouse as primarily a publisher of general-circulation newspapers and not of vertical or B2B papers. That raises the questions of why GateHouse would want these legal papers and what it will do with them.
One answer to why can be found in GateHouse's announcement of the deal, where Michael Reed, president of GateHouse's parent company, New Media Investment Group, said:
We are pleased to announce the agreement to acquire the Dolan assets and see a tremendous opportunity to leverage its publications and subscriber base across New Media's footprint. In addition to the valuable content Dolan provides to its readership base, we believe their subscribers, which are predominately service oriented business owners, are the ideal customer for our fast-growing digital services business, Propel Marketing.
So part of the plan is to sell digital marketing services to the law firms and businesses that subscribe to or advertise in Dolan's publications. GateHouse started Propel Marketing in 2012 to provide digital marketing services such as website design and SEO to its advertisers.
Another part of the answer comes from Kirk Davis, CEO of GateHouse. In a statement given to New Orleans City Business, Davis said he believes Dolan's publications offer a focus on local and regional markets that reflect an emphasis on community publishing similar to the newspapers GateHouse operates. "We see significant potential for both companies as we share experiences, products, and new revenue growth strategies."
What Does This Mean for Legal News?
GateHouse has received criticism from some corners for reducing staff at newspapers and centralizing certain operations. Earlier this year, Boston-area media critic and journalism professor Dan Kennedy said:
GateHouse has a well-earned reputation for cutting staff and compensation, although that hardly makes it unique. The larger story is that its executives clearly believe it can be the last local-newspaper chain standing by centralizing every part of its operations that aren't strictly tied to local news.
At the same time, as The Boston Globe recently noted, GateHouse is bucking the trend of the newspaper industry and becoming a newspaper growth story in the digital age. It has done this, in part, by being savvy about digital media and by centralizing certain operations, such as page design.
Those two elements — operational efficiencies and digital savvy — could provide a much-needed shot in the arm to some of the legal newspapers it just purchased. Even though these papers have been commonly owned, they have remained largely independent in how they operate. There is no doubt room for them to share and centralize various editorial and production functions and perhaps thereby free up more resources for reporting.
Also, some of the Dolan papers have been woefully unsavvy about digital media and, in particular, social media. Some of them retain a rigidly impermeable paywall around all of their content — walling themselves off not only to potential new subscribers, but also to becoming part of the "conversation" about legal news and events that takes place on blogs, Twitter, LinkedIn, Facebook and the like.
For example, the paper where I once worked, Massachusetts Lawyers Weekly, has — to its credit — launched blogs and a podcast. However, inexplicably, it limits access to its blogs to paid subscribers of its newspaper. (I've corrected an earlier version of this post, which said its podcast was also behind the paywall.) Thus, rather than engage a broader audience through these media and generate buzz about the content, it is locking the door and hiding the key.
My hope, then, is that digital-savvy GateHouse will help bring these legal newspapers into the digital age in a way that opens some of their content and thereby enriches the broader legal community's understanding of legal news and legal issues. At the same time, greater efficiencies in how these papers operate could perhaps free up some of their budgets for more reporting.
Of course, only time will tell how this will turn out. However, the Dolan company has been in a state of semi-limbo over the last couple years. Perhaps its acquisition by a company with a strong interest in community newspapers will end up as a benefit to the community that is the legal profession.