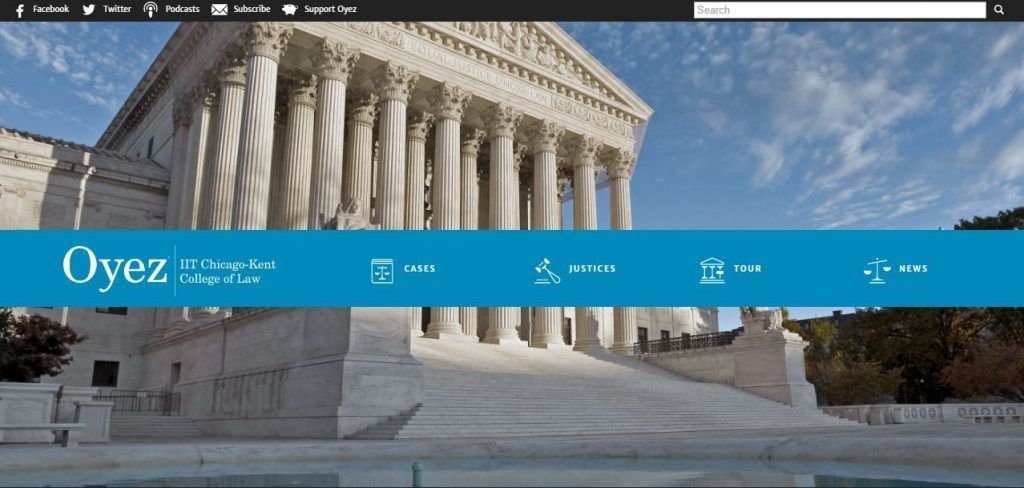 In 1996, Jerry Goldman, then a professor at Northwestern University, assembled a few dozen recordings of Supreme Court arguments and made them available through a website originally called The Oyez Project. Today Oyez, as it is now known, has grown to become the authoritative source for all of the Supreme Court's audio since the court first installed a recording system in 1955, as well as an extensive archive of related resources. But with Goldman retiring this month from Chicago-Kent College of Law, where Oyez is now run, the site's future was in question.
That question has now been answered as the Legal Information Institute at Cornell University Law School, the legal resource site Justia, and Oyez announced that Oyez will move to the LII as its new home, with infrastructure and technical support from Justia, which had already been quietly supporting the Oyez site for several years.
"I couldn't be more pleased to know that Tom and his folks at LII will be the stewards and curators of Oyez," Goldman told me yesterday during a phone call that also included LII Director Thomas R. Bruce and Justia cofounder Tim Stanley. Both Goldman and Bruce gave Stanley credit for his role in orchestrating the move.
"I think this will be good for Oyez," said Stanley. "The LII has lots of good tech and editorial people. I also personally like that it's going over to an academic nonprofit group. I think that to keep it open and available is really important."
Because Justia was already providing the site's infrastructure, there will be no dramatic immediate changes. No date has been set for the formal changeover from Chicago-Kent to the LII, but all agreed that they hoped to have it done before the start of the court's term next October.
Goldman will be compensated for his work in building up and maintaining the site over the years but he would not reveal the terms. "It has worked out just fine," he said. "It's a private arrangement and I'm pleased to say everybody seems happy with the result."
Bruce said that LII has not had enough time to develop a specific game plan for how it will integrate and use Oyez. He said that for anyone who is currently participating in Oyez, such as students at Chicago-Kent who write for it, he would love for them to continue. For the short term, he will be focusing on making the transition as painless as possible and on building up a team at LII.
"Do we have a list of specific projects in mind?" said Bruce. "Not really. Are there a million things that we can do? Yes. Are there ways that we can use it to up our game in terms of our own Supreme Court resources? Absolutely."
Goldman may remain involved in the site, but on a more-limited basis. "If Tom and Tim think I have something to offer, great." One project he'd like to work on is producing a true virtual reality tour of the Supreme Court building.
A key goal going forward will be to open participation in Oyez to a broader number of institutions.
"At least some of the plans that Tim and Tom and I have discussed will really open up Oyez to lots of institutions and other players to enhance the core materials that stem from the mothership at Cornell," Goldman said. "I think that's really a great idea."
"We've come to recognize over the last few years the kind of function that we have as a convenor for the efforts of others," said Bruce. "This is a very big sandbox and there's a lot of room for people to play in it. We tend to ask ourselves, 'OK, how can we make this more useful for the profession, who can we find who can make good use of this for the audiences that are not the audiences you would normally think of for this material?'"
Oyez currently gets about 23 million page views a year and about 5 million unique visitors, Goldman said.
Oyez currently has two full-time employees. They will continue during the transition period but Goldman indicated they may wish to move elsewhere and the transition is completed.
Oyez was originally housed at Northwestern before moving to Chicago-Kent in 2011. Its development over the years has been helped by grants from the National Science Foundation, the National Endowment for the Humanities, FindLaw, Justia and others.