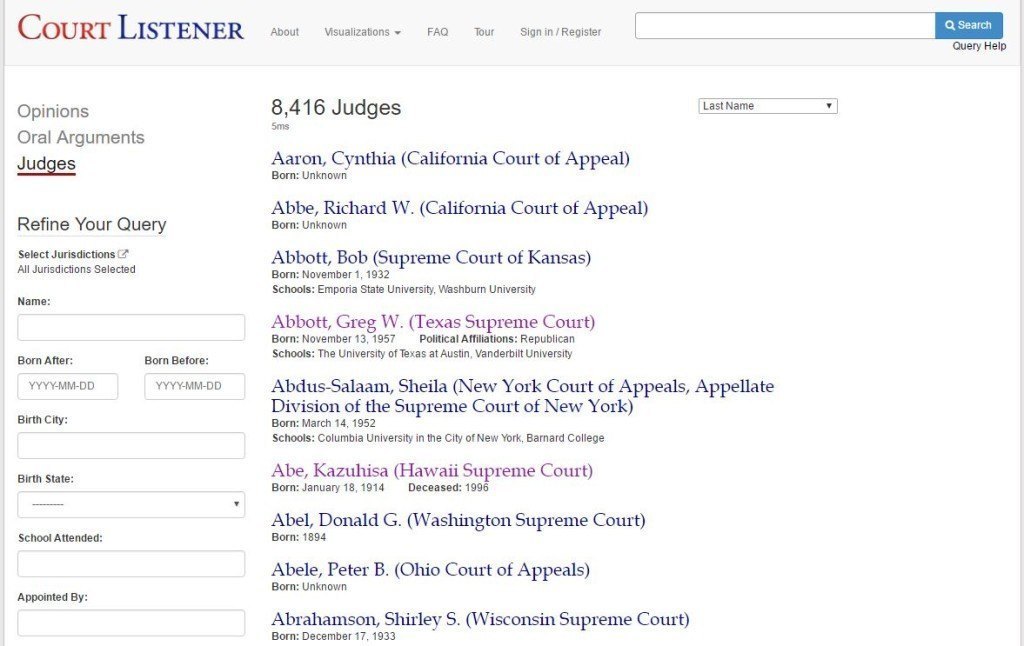 Free Law Project has launched a database of biographical information on some 8,500 federal and state judges. The database can be searched through Free Law Project's Courtlistener. It also can be downloaded as bulk data or accessed via APIs (application programming interface, for interacting with other software applications).
Free Law Project is a nonprofit devoted to providing the public with free access to primary legal materials on the Internet. It developed this database with support from the National Science Foundation and the John S. and James L. Knight Foundation, in conjunction with Elliott Ash of Princeton University and Bentley MacLeod of Columbia University.
In announcing the database, Free Law Project said that it is intended to provide as many facts about judges as possible. At this point, the database is collecting:
Biographical information including their full name, race, gender, birth and death dates and locations, and any aliases or nicknames that a judge may have.
Educational information including which schools they went to, when they went, and what degrees they were awarded.
Judicial positions they have held, showing not just courts and dates, but also details such as how they were nominated or elected, what the voting outcome was, who appointed them and the clerks they supervised.
Non-judicial positions they have held, both before and after being a judge.
Any ratings that a judge has been given by the American Bar Association.
Political affiliations of judges, based on ballots for elected judges and nominators for appointed judges.
The plan is eventually to link these judges' profiles to the opinions they have written in the Courtlistener collection of cases. That will occur gradually over the next few months, according to the announcement.
Sparse Information
After exploring the database a bit, I found many of the listings to be sparse, especially when compared against the judicial biographies in Ballotpedia.
Consider, for example, Robert Cordy, a justice of the Massachusetts Supreme Judicial Court. This is the highest court in Massachusetts and so an important court. Cordy has been in the news for announcing that he will take early retirement this summer, presumably to allow Republican Gov. Charlie Baker to make an appointment to the SJC.
Compare the two profiles above. Free Law Project's listing has only his birth date, gender, law school and undergraduate institutions (without dates of graduation), and the dates of his service on the SJC. There is nothing about his work background, who appointed him, political affiliation, or anything else.
By contrast, Ballotpedia's listing details Cordy's career, notable opinions, political outlook, appointment process and even his salary. It includes his recent announcement of his early retirement, as well as links to other references about Cordy.
Not surprisingly, Free Law Project's listing is more thorough for Supreme Court Justice Antonin Scalia. However, there is one glaring error — it shows him as still serving on the court. His term is shown as "September 25, 1986 — ?". It also appears to mistakenly list his education history — it shows him receiving a bachelor of laws from Harvard University in 1960, when that was the year he received his law degree from Harvard Law School.
In fairness to Free Law Project, the announcement describes the database as a work in progress and welcomes users to report errors. It is a good start and will be particularly useful as the judges' profiles are linked to their cases. But there is still a lot of fleshing out and fact-checking to be done. For now, you are better off using Ballotpedia or even Wikipedia for research on judges.
ALM also has a paid service, Judicial Perspectives, for researching federal judges. It provides biographical information, case data and other forms of data and news reports.
Related: In Litigation and Legal Research, Judge Analytics is the New Black.