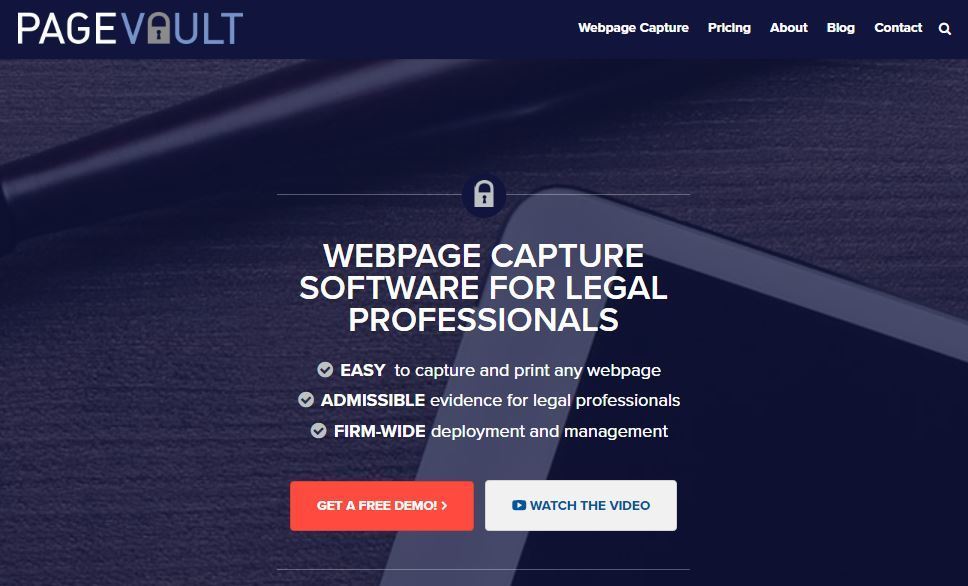 Capturing and preserving web and social media pages as evidence is an increasingly common need for legal professionals. But doing it in a way that is forensically defensible and that preserves the chain of custody is a challenge.
Enter Page Vault, a company whose software accurately captures and archives web pages to be used as evidence by legal professionals. Since its product came out of beta less than a year ago, the company has seen significant growth.
Now today it is announcing that it has closed a funding round of $1.75 million. The money will be used to accelerate marketing and for further technology development, Jeffrey Eschbach, CEO and co-founder, told me. The company previously raised $1.3 million in a funding round in February 2015.
Investors in the current round, which was oversubscribed, include IrishAngels (the lead investor for the round), Pritzker Group Venture Capital, Wintrust Ventures, Foley Ventures, Nelnet Inc., Meridian Street Capital, and Golden Angels Investors.
"Our investors were excited to see strong traction over the past year," Eschbach says. "We now have hundreds of clients ranging from Am Law 100 to small/medium firms to solo practitioners."
Gale Bowman, founding director of IrishAngels, told me that they led this investment in Page Vault because they  think the company has identified a huge opportunity. "Secure, trusted webpage and website captures will become increasingly important within a variety of industries including law and insurance. We initially invested in Jeff and his team last year, and we have been impressed with the progress they have made thus far."
Capture Web Pages
Page Vault's software is designed to enable legal professionals to easily capture and print any web page in a way that is forensically defensible and legally admissible. It archives pages exactly as they appear online, stores key metadata, and creates a PDF output file.
A key feature for lawyers is that Page Vault keeps users out of the evidentiary chain of custody. It preserves a digital chain of custody and backs up captures with affidavits attesting to the authenticity of captured pages.
Recently, the company launched a new feature, Site Vault, that captures entire websites and large volumes of web pages. It also supports requests to capture web pages on a regular schedule, such as once a month.
Among the common areas in which lawyers use Page Vault are litigation and e-discovery, intellectual property and anticounterfeiting, family law, insurance defense and website compliance.
Page Vault now has member-benefit agreements with the state bar associations in New York, Texas, Illinois, Indiana and Nebraska, enabling members of those bars to use its services at discounted prices.
Page Vault was a 2014 graduate of the Pritzker Group Venture Fellows program, which provides mentoring and a $20,000 investment to accelerate promising startups in Chicago.
CEO Eschbach was formerly an engineer at Motorola Research Labs. In addition to a master's degree in electrical engineering from Purdue, he has an MBA from Northwestern's Kellogg School of Management, where he focused on entrepreneurship and tech strategy.