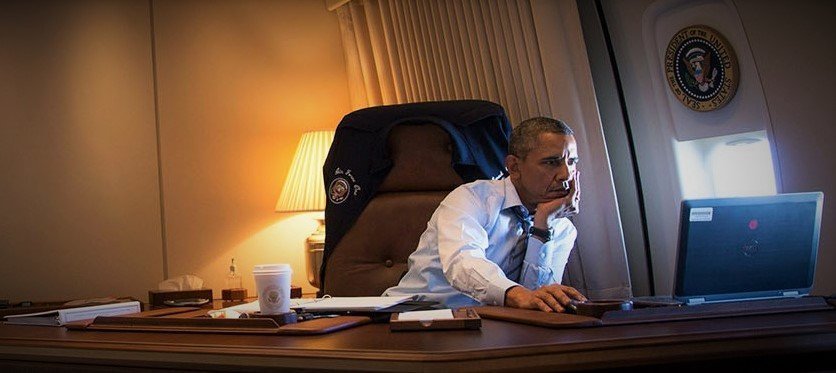 [Editor's note: It was a major milestone in the legal blogging world when President Barack Obama published a guest post Feb. 24 on SCOTUSblog. Just a day later, he also published a post on LinkedIn. Even with the president's seemingly newfound interest in contributing to social media, I certainly never imagined that I would get a call from the White House. But when he wanted a platform through which to speak about legal technology, I am honored that he chose this blog. And what better day to publish his guest post than April 1, National Legal Technology Day.]
Michelle and I recently had the opportunity to speak with a lawyer in a small town in my home state of Illinois. This lawyer is still using Windows XP. His only computer is a 2002 Dell OptiPlex with 512 MB of RAM. He is writing legal documents on WordPerfect. That's right, WordPerfect. The Office 2002 version. His business card still lists a fax number.
Look, in the year 2016, this is unacceptable. As a nation, we must expect more of the legal profession and more of legal technology. This isn't just about having the latest whiz-bang toys. It's about driving our economy. It's about protecting our citizens. It's about preserving our status as a nation of laws.
We have seen encouraging signs that legal technology is taking hold. During my administration, the number of law firms using practice-management systems has grown significantly. We've seen more and more lawyers move to the cloud. Innovative companies are driving advances in how lawyers practice and serve their clients.
But here's the thing. Lawyers' adoption of legal technology is not happening fast enough. Plenty of lawyers are still mired in outmoded office systems. Competition suffers. Clients suffer. Our nation suffers. Our challenge now is to do whatever it takes to accelerate development and adoption of legal technology.
How can we do that? I believe we should provide tax cuts for law firms that demonstrate progress in legal technology. As a nation, we want to encourage our lawyers to invest in technology. Through tax incentives, we can do that.
I will also push for high-speed Internet in every law office in America. Once every law office is wired for superfast Internet, there will be new opportunities for cloud-based innovations that can drive greater efficiencies in the practice of law and greater effectiveness in the delivery of legal services.
There's no reason we can't do these and more. But it's time to take this issue seriously and develop a long-term vision for the law office of the future. Look, in 1957, the Soviet Union beat us into space when it launched a satellite known as Sputnik. For the United States, that was a wake-up call that caused us to boost our investment in innovation. You all know how that turned out. Not only did we surpass the Soviets, but we became the world leader in technology and innovation.
Nearly 60 years later, this is the legal profession's Sputnik moment. Are we going to let the rest of the world's lawyers outpace us in legal technology? If the recession has taught us anything, it's that lawyers need to be more efficient in their delivery of legal services. We've got to build a new and stronger foundation for the legal profession.
Today, here on Bob Ambrogi's blog, in observance of National Legal Technology Day, I am announcing that I have asked Vice President Joe Biden to help lead lawyers into the future. I am asking him to chair a special commission on the future of legal technology and to develop specific policies and recommendations, both for the remainder of my presidency and for future generations.
Here's the thing. Lawyers need to make technology work for them, not against them. With grit and determination, they can do that. They're already starting to make progress. But we've got to build on that progress now, while the economy is still growing.
You can't tell me that we can't find the wherewithal to achieve greatness in legal technology. We have to give every lawyer, every day, the shot at success he or she deserves. If our nation's lawyers are going to remain strong and competitive well into the 21st century, it is time that we as a nation make legal technology a top priority. Together, we can.