As I logged in to Foxwordy, the professional networking site for lawyers, for the first time since it banned me last fall, I couldn't help but conjure up that Groucho Marx quote, "I don't want to belong to any club that would have me as a member."
Last September, I discovered that Foxwordy had banned me from membership. The ban came nearly a year after I'd written a review of the site in which I concluded that "I was not bowled over" by it.
Foxwordy CEO Monica Zent told the ABA Journal that she had banned "a very small sector of the legal tech blogging community whose sole purpose for joining Foxwordy is to blog about Foxwordy and its members' activities."
As best as I could determine, that meant me and me only.
Then, in February, Zent emailed me to say that Foxwordy had issued a major new release that she wanted to demonstrate for me. Due to our mutual scheduling conflicts, that demo didn't happen until last week. At the end of the demo, I asked Zent if I was now welcome back in.
I was. And thus I found myself logging back in to the site that formerly had kicked me out.
The New Foxwordy
Zent describes the new release of Foxwordy as a "complete refinement of the product" intended to make it easier to use and to enhance the productivity of its members.
"We burned it to the ground and rebuilt it," she says, "not just to improve its aesthetics, but also its ease of use."
When Foxwordy launched in February 2014, it described itself as a social network for lawyers. (In fact, I gave it grief for claiming to be the first private social network for lawyers when it wasn't.) It is still intended to be a social network for lawyers, but now Zent characterizes Foxwordy more as a "social productivity" platform for sharing and collaboration among lawyers.
At the same time, she stresses that she has no intention of developing it into a law practice management platform. "We're not going there. We're really looking at the collaboration space."
As I watched Zent's demo of the new Foxwordy and then explored it for myself, the comparison that came to my mind was with Slack, the messaging app for team collaboration that is all the rage of late. (If you're not familiar with Slack, read the Law Technology Today review by Larry Port, CEO of Rocket Matter, How Slack Eliminates E-Mail for Law Firms.)
In fact, much like Slack uses channels to organize team and workplace conversations, Foxwordy has its own, similar take on teams. Foxwordy's Teams feature is designed to facilitate collaboration among a defined group of members. Team members can easily share virtually anything and have threaded conversations among themselves.
Members can create as many teams as they want and control who is on a team. For lawyers, use cases for this Teams feature could include the participants in structuring a deal, members of a bar committee, or even just the members of a small firm.
I should note here that, while basic access to Foxwordy is free, the Teams feature requires a premium membership. More about that below.
Exploring Foxwordy
Joining Foxwordy as a new user (my pre-ban log-in credentials no longer worked) required me to give my name and email address and, optionally, my state and bar number. Once I submitted that information, I got a message telling me, "Thank you for signing up! We'll get back to you as soon as we review your information." My log-in credentials came the next day.
Foxwordy's central interface is a messaging stream, similar in concept to a social networking site such as Facebook. Within the stream, a member can perform four functions:
Post a status.
Ask a question.
Publish a clause.
Get a referral.
When they do any of these, they can select who the posting is seen by. It can be published to everyone or limited to just the member's connections, a member-defined group, a team to which the member belongs, or the member's practice segment (more on this below). Other members can like, bookmark or comment on posts and follow the threads of comments specific to a post.
A key feature of the platform, in Zent's opinion, is the "publish a clause" option. It is deceptively named, because while it certainly can be and is used to publish specific clauses, it can be used to publish any kind of text, complete with formatting and hyperlinks. If you copy something out of a Word document and post it here, the post retains all the original formatting.
Some members use this to share something unsolicited to the entire community that they think is worthwhile. Others use it to respond to a specific request from someone looking for particular contract language. Anything you post, you can return to and edit further.
In the Teams feature, team members can not only share text but also collaboratively edit it in real time.
Anonymity and Connections
When I first reviewed Foxwordy, I noted a feature that I had not seen elsewhere – the ability to post anonymously. This new version of Foxwordy retains that feature. Whenever a member posts something, he or she has the option of checking a box to make the post anonymous.
That could be useful for a lawyer who either doesn't want to give away too much or who simply doesn't want to appear ignorant in asking a question. (I am a member of a lawyers' listserv that allows anonymous posting, and based on my experience there, I'd caution lawyers to be careful of what they say even in an anonymous post, because you never know who's listening and what details they might recognize.)
A member also has the option to be completely anonymous on the site – not just in a single post. For members who choose to go dark in this way, all their posts and interactions are anonymous. However, they lose the ability to connect with or message other Foxwordy members.
Foxwordy also differs from other social and professional networks in its handling of connections and groups. When you "connect" with someone, that person doesn't have to accept your connection, like they would on LinkedIn, for example. Instead, the person is notified that you've connected to them and that they have a new follower. If you choose to disconnect from someone, he or she is not notified. In this way, connections operate more like filters, letting you choose the people you'd like to follow in your connections stream.
The same is true of groups (not to be confused with teams). Groups are another way of filtering Foxwordy's content stream. People you add to a group do not know they are in it. It is simply a way for members to organize groups of other members they want to follow for whatever reason they want to follow them.
In addition, Foxwordy has its own master groups by segment. There are four such segments: solo, law firm, in-house and academic. When you first sign in, you are given the option of identifying with one of these segments. You can then follow that segment's stream but no other segment's stream.
Member profiles are bare bones. Instead of having members fill out detailed profiles, Foxwordy lists links to their LinkedIn and social media profiles. Members can also provide summaries of themselves and list where they work, their job title and education. This minimalist approach is fine, but I would like to see a bit more information, such as members' cities and states. Another problem with this approach is that many members don't provide their social media links.
Some other features of Foxwordy:
Members can "vouch for" other members, a function similar to endorsements on LinkedIn.
Clauses can be locked so they are viewable only by the person who posted them. This lets Foxwordy be used as a kind of storage bank for clauses.
The site, including all of the posts and clauses, is searchable.
Pricing
Foxwordy is free to join. Many of its most useful features, however, require a premium membership. "Introductory pricing," which will be in effect at least through June, is $15 a month per user.
Law students and faculty with a ".edu" email address are eligible for free premium membership.
The following shows what each membership level includes.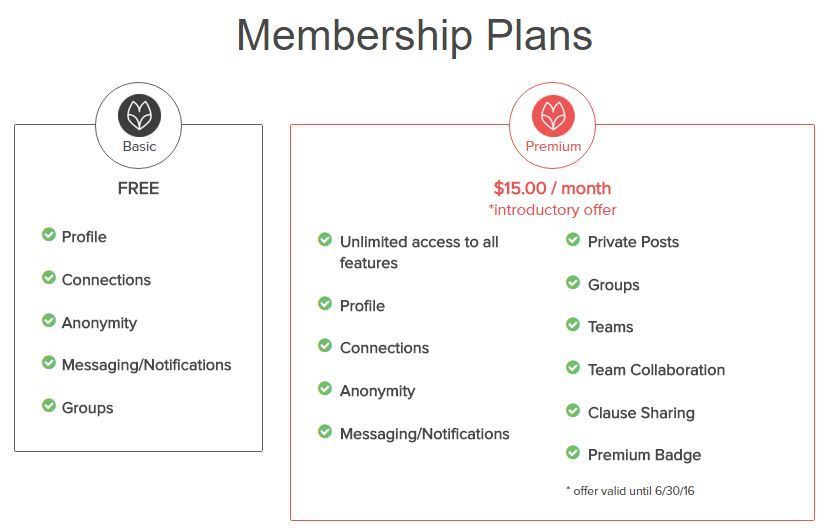 The Challenge for Foxwordy
As I am writing this, I have been a member of the redesigned Foxwordy for only a day. I plan to give it some time and revisit it here in a follow-up post. But with that disclaimer, I do have some thoughts.
As a professional networking site, Foxwordy faces challenges. I say that not to pick on Foxwordy. History has not been kind to the various networking sites that have attempted to establish themselves within the legal vertical. A 2014 San Francisco Chronicle story about Foxwordy accurately summed up my perspective:
Massachusetts attorney Robert Ambrogi, who also writes about the Internet and technology, said there is a long list of "now-you-see-them, now-you-don't" networking sites designed for the legal profession, including a high-profile site started by the American Bar Association that "just crashed and burned."
And as I said in my own 2014 review, the irony is that I see the value of a "walled garden" network for lawyers, where they can share and discuss more openly than on a public network. The problem so far has been that these closed networks never develop a sufficient level of active participants to make them worthwhile.
Slack for Lawyers?
Given that, I think Zent is on the right track by repositioning Foxwordy as a collaboration and social productivity platform. As I noted above, Foxwordy has parallels to the popular collaboration tool Slack. When I mentioned that parallel to Zent, she said that she'd heard that from others as well, including people she knows who work at Slack. "Our teams feature is the answer to Slack for lawyers," she said.
"Our teams feature is the answer to Slack for lawyers," Zent said.
I think Foxwordy has potential to prove useful to lawyers as a standalone tool for sharing and collaboration, especially among teams. What would ultimately make it even better, in my opinion, would be tight integration with a practice management platform.
And while Zent says she has no plans to make this a practice management platform, she does foresee such integrations coming down the pike. "We'll probably integrate with a practice management company."
So will lawyers use it? Zent believes they will.
"Lawyers are naturally great collaborators," she says. "Our product is designed to draw from that natural tendency and make it simple to engage. It's taken us quite a while to get here."