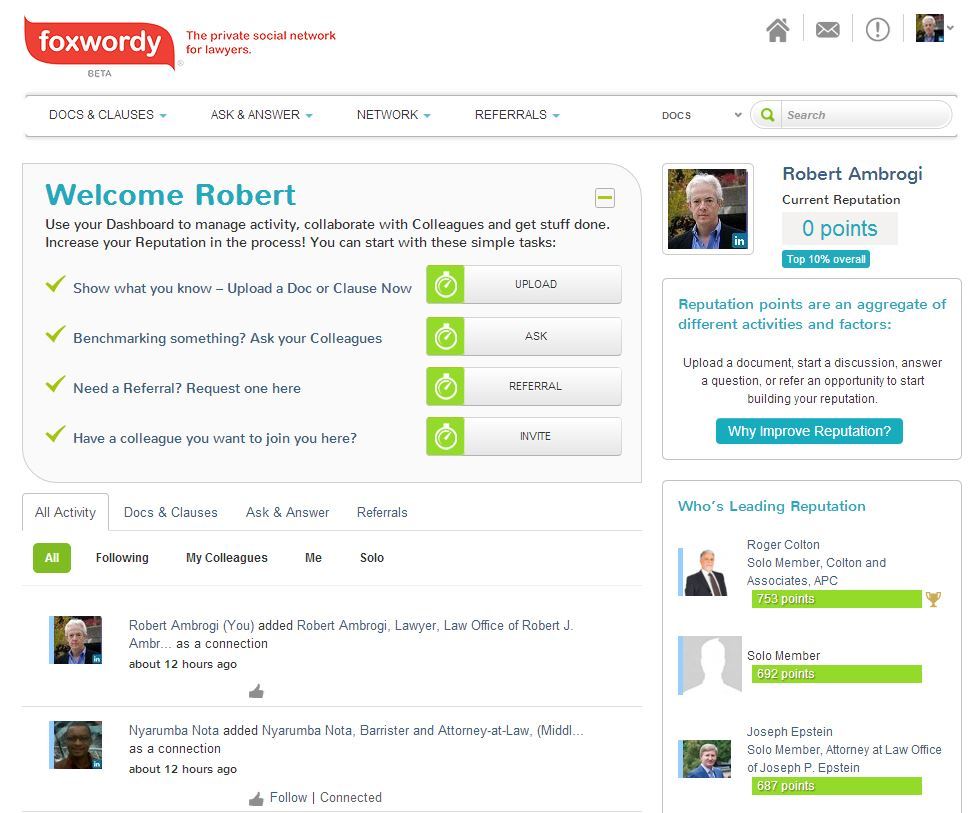 When Foxwordy launched in February, I gave it some grief for claiming to be "the first private social network for lawyers." Needless to say, it wasn't the first. It strikes me as a bad move for any company to start out by claiming to be something it isn't.
On top of that, I've grown skeptical about the likelihood of success of any legal-vertical network. I was recently interviewed for a San Francisco Chronicle story about Foxwordy, and I think reporter Benny Evangelista accurately summed up my perspective:
Massachusetts attorney Robert Ambrogi, who also writes about the Internet and technology, said there is a long list of "now-you-see-them, now-you-don't" networking sites designed for the legal profession, including a high-profile site started by the American Bar Association that "just crashed and burned."
As I wrote back in 2012, on the occasion of the launch then of two lawyer networking sites, "Any site that sets out to become an exclusive online community for lawyers has a tough row to hoe." We have seen too many of these come and go — or if not go, simply wither from inactivity.
The funny thing is, I'm a fan of the concept of a "walled garden" network for lawyers. In concept, it is a great idea for lawyers to have a place where they can share documents and research, discuss legal issues, and network with others who have shared interests, without having to worry about the ethical landmines of doing that sort of stuff in a public-facing site. (That's not to say there aren't ethical pitfalls to watch out for in a closed site, just fewer of them.)
The problem is that the concept never seems to bear fruit. These closed networks never develop a sufficient mass of active participants to make them worthwhile. Some seem able to pump up their membership numbers, but the members never do anything. Too often, logging into a private legal network feels like a visit to a ghost town.
Checking Out Foxwordy
Perhaps it was all that experiential baggage that kept me from ever actually signing up for and logging into Foxwordy when it launched in February. This week, I finally did join and check out the site. You will probably not be surprised to learn that I was not bowled over.
When I initially check out a new site of this sort, my first question is, "What's different, how will this site distinguish itself from those that came before it?" For example, when EsqSpot (now Libra Network) launched last year, I noted that one way it sought to distinguish itself was by combining online social networking with offline live networking. That, at least, was an interesting twist.
As far as I can see, Foxwordy's one "twist" is selective anonymity. Like pretty much all of the networks that have come before it, Foxwordy enables and encourages lawyers to share documents, post questions and answer questions. These activities are supposed to be helpful and also allow lawyers to boost their visibility and maybe even pick up new business.
What Foxwordy does differently — at least I can't think of another legal network that did this — is to let you choose the identity under which you post. In the posting form, there is a drop-down box labeled "You will appear as" that gives you three options. For me, these options are:
Robert Ambrogi, Lawyer, Law Office of Robert J. Ambrogi.
Lawyer, Greater Boston Area.
Foxwordy Member.
So if I want to post a document, a question or an answer anonymously or with only a geographic identifier, I can. That's a nice feature, I guess, at least for posting questions. But lawyers would have to be careful not to let the presumed anonymity make their lips get loose, lest they reveal something they shouldn't. And it's important to remember, even with a private forum, that you don't know who is lurking out there. It could be your adversary.
The two activities I've just mentioned — sharing documents and asking and answering questions — make up half of what you can do on Foxwordy. The Q&A forums showed a modest level of activity. In the last week, two questions had been asked, with one receiving one answer and the other two answers.
The documents and clauses section indicates that it includes a little over 400 items, many of which are agreements of one sort or another. Almost all of them are tagged as from California, the home state of the lawyer who founded Foxwordy, with most other states showing one or no documents.
Another section of Foxwordy is for posting and responding to referral opportunities. This section had a smattering of postings, including someone looking for an immigration attorney in Miami and a trademark attorney in Belgium.
A Networking Function that Fails
The final section of Foxwordy is labeled "Network." Here is where it is supposed to function like LinkedIn or Facebook in enabling you to connect with other members and build your network.
Unfortunately, I found Foxwordy's networking functionality to be frustrating. For me, it offers no intuitive way to find other Foxwordy members with whom I might want to connect, with the exception of showing you your LinkedIn connections who are also on Foxwordy members.
When you first join Foxwordy, you are prompted to import your LinkedIn profile and connections. You do not have to do this, but it saves time by replicating your LinkedIn profile to create your Foxwordy profile.
Then, when you go to the "Add Connections" page, you see tiles displaying "Your Relevant LinkedIn Connections" and your "LinkedIn Colleagues on Foxwordy." Connections shown in the first sit are not Foxwordy members, so if you select them you are sending them a message inviting them to join Foxwordy. The second set shows your LinkedIn connections who have already joined Foxwordy. Although I have roughly 2,000 connections on LinkedIn, only three are on Foxwordy.
The Add Connections page also suggests members you might want to connect with. But the suggestions struck me as random. It offered suggestions based on three characteristics: other members at my same subscription level (free), other recently joined members, and other members with the "same expertise" as me.
You would think suggestions based on "same expertise" would be helpful,  except that after reviewing several of them, I was hard pressed to see any similarities in our expertise other than that we were all lawyers. These suggestions reminded me of the ABA's ill-fated LegallyMinded professional network, which tried to "automatically" match members based on their professional interests. In fact, for each of the three categories, the people being recommended were largely the same.
This would not bother me much if there were at least some other way to find Foxwordy members with whom I actually might share interests, but there is not. The Add Connections page has a search box, so I tried a simple search for "Boston," hoping to find other members from my neck of the woods.
The search box searches the entire site, showing everything that matches the search term. The search results can be refined by various filters, so I clicked on the People filter. I got no results. I presume that means there is no one from Boston on Foxwordy, but I don't know why I wouldn't have shown up, at least, because my profile shows me as in the "Greater Boston area." I tried searching cities I found in other members' profiles — in other words, cities that I knew were represented on Foxwordy — but came up empty when I searched for them.
There are various filters for states, titles, practice areas and the like, but you cannot use them without first entering a query. In other words, you can't simply apply a filter to find all Massachusetts members or all in-house members.
I tried various other searches of terms that appear at least in my profile — such as Boston College, my law school — and kept getting no results. So I was left to conclude that, except for my three LinkedIn connections, there is no way for me to search for others I would want to connect with.
Foxworthy was started by Monica Zent, a Silicon Valley lawyer whose firm provides outside corporate counsel services. The Foxwordy blog features a post by Zent introducing Foxworthy and explaining why she started it.
Standard membership is free, although the site says that free membership is an introductory offer that will be closed at some point. Thereafter, standard membership will be $9.99 a month. The site also offers premium and group memberships starting at $34.99 per person a month. The difference is that premium members are not limited in posting questions, referral opportunities and the like, while standard members are limited.
As I said at the outset, I am not bowled over by Foxwordy. It is similar in most respects to other legal networks that have come before it. Its one distinguishing feature is anonymous posting. But unless it can come up with a better way for users to find potential colleagues and connections, it is falling short in its basic purpose.