Twenty years ago, I published an article, Cyberspace Becomes Forum for Resolving Disputes, about the promise and potential of online dispute resolution (ODR). Someone active in the field recently told me that mine was the first published article about ODR. I don't know about that, but I do know that, two decades later, ODR remains largely a fringe form of resolving any types of disputes, with the exception of the one place where it has been hugely successful, eBay.
ODR may, however, be at a turning point. Several recent initiatives are pioneering the use of ODR to resolve a broader spectrum of disputes — ranging from property tax appeals to marital break-ups. Most of these initiatives are taking place outside the United States. In the UK, even the courts are beginning to drive the use of ODR. Generally speaking, the U.S. lags well behind Europe in adoption of ODR.
Yet even where ODR is expanding, it does not involve lawyers. From eBay to the more-recent ODR initiatives, the programs that do well are those that help individuals resolve disputes without lawyers. In fact, these programs are typically explicitly designed to exclude lawyers. eBay's program resolves more than 60 million disputes a year — and 90 percent of those are resolved through the ODR software alone, without human intervention.
As for ODR programs designed to resolve more sophisticated disputes where lawyers are involved, any number of such initiatives have come and gone over the years. I am not aware of one that can be considered a resounding success.
At the recent ABA Techshow, I co-presented a program on ODR with Colin Rule, founder and COO of Modria, a technology company that sells a cloud-based ODR platform. Colin is a true trailblazer in this field who was eBay's director of ODR from 2003 to 2011 and was key to building it into the successful dispute-resolution program it is.
For ODR, A Checkered Past
In my part of the Techshow presentation, I gave some of the history of ODR and an overview of where it is today. In researching and presenting that history, I could not help but recount how many ODR sites had failed along the way.
One of the first ODR sites, created in 1996, was The Virtual Magistrate, a pilot project of the National Center for Automated Information Research, the Cyberspace Law Institute, the American Arbitration Association, and the Villanova Center for Information Law and Policy. It provided online arbitration of disputes involving trademark infringement, trade secrets, defamation, fraud and other such topics.
Its launch was much heralded, but its first decision — an unenforceable default judgment against the non-participating America Online, in favor of a complainant who was affiliated with the site — drew controversy, and the program subsequently became dormant.
Soon other ODR programs began to spring up in its wake. One of the earliest was Cybersettle, an automated double-blind bid system for resolving insurance claims that was started by two former trial lawyers. It had some success. A 2003 press release announced that it had achieved the largest "cyber-settlement" ever, resolving a $12.5 million lawsuit. Today, however, a visitor to its website finds only the message, "Cybersettle is down for maintenance." I am not sure how long that message has been there, but it has been for at least the last three months.
Another ODR site, iCourthouse, founded in 1999, still exists, but is dormant. The idea of the site is that anybody can file a case here, and the case is then decided by a "jury" of the site's visitors. A review of the site's "docket" shows that, although there have been some spam and junk cases posted here in 2016 and 2015, there hasn't been a case of any "substance" (I use that word generously) since 2011 or 2012. I emailed the site's operators to ask about its status. but never heard back.
Another that appears to be struggling is VirtualCourthouse.com, founded in 2001. In 2014, it launched a crowdfunding campaign to raise money to support its operations. "We were way ahead of our time," the campaign page said. "Even though most folks said we had a brilliant idea, the market was not ready.  So we have patiently conserved our resources to be ready when the time was right. Many factors tell us that the time is right now!" I do not know what became of the campaign. I emailed the site's operators but heard nothing back.
Some others that have come and gone:
eQuibbly. Once hailed as an example of disruptive innovation in legal technology, this online mediation and arbitration site recently shut down, as I reported here last month. Its founder told me that he shut it down because there was insufficient demand for online arbitration.
ZipCourt. In 2011, I wrote about the launch of ZipCourt, an "online courtroom service," by the former general counsel of Tesla Motors. It no longer exists and I cannot find what became of it.
ClaimSettle.com. This was an automated settlement program that worked by splitting the difference between two settlement offers. I wrote about it back in 2001 but can find no trace of it now.
Michigan Cyber Court. In 2011, Michigan enacted a law to create a cyber court to allow "business or commercial disputes to be resolved with the expertise, technology, and efficiency required by the information age economy." It was to be for business or commercial disputes over $25,000. The court was never funded and a year later the law that created it was repealed.
Recent Developments in ODR
Over the last year or so, there have been a number of developments that suggest the beginning of a new era for ODR and an increasing recognition that ODR can be an important vehicle for enhancing access to justice.
I wrote about one of these developments for the ABA Journal last year: the expanding use of ODR to resolve property tax appeals. It started in British Columbia, where the government adapted Modria's ODR platform to manage appeals of property tax assessments. It has since been replicated by property tax assessors in several U.S. states.
One ODR program that has garnered broad acclaim is the Rechtwijzer program in the Netherlands, developed by HiiL and the Dutch Legal Aid Board — and, once again, using Modria's platform. It provides dispute resolution for relational disputes — meaning divorce and separation, landlord-tenant disputes and employment disputes. The platform helps people learn about their legal options and then engage in a dialogue with each other. If they are unable to resolve the matter on their own, Rechtwijzer provides mediation, adjudication and neutral review of any agreements.
A similar platform is slated to launch this spring in the UK. It is being developed by Relate, a UK provider of relationship support and counseling, in conjunction with Modria. Based on the Rechtwijzer platform, it will be designed to help resolve disputes for couples who are going through divorce or separation.
In the UK, even the courts are developing ODR programs to help resolve disputes. Last year, an advisory group chaired by legal futurist Richard Susskind issued a report, Online Dispute Resolution for Low Value Civil Claims, calling for "radical change in the way that the court system of England and Wales handles low value civil claims." It recommended that the HM Courts & Tribunals Service establish an Internet-based court service to be known as the HM Online Court.
In December, a committee that reviewed the civil courts structure in the UK issued a report, written by its chair Lord Justice Briggs, judge of the Court of Appeal and deputy head of Civil Justice, recommending the formation of The Online Court. It would be the first UK court ever to be designed, from start to finish, for use by litigants without lawyers and would be intended for simple, low-value disputes. The Online Court would involve a three-tiered process of triage, conciliation and judicial determination. "In my view it offers the best available prospect of providing access to
justice for people and small businesses of ordinary financial resources," wrote Lord Justice Briggs.
The UK courts already have in place another form of ODR, Money Claim Online. It is intended to provide a simple way to resolve claims for fixed amounts of money less than £100,000 and against no more than two defendants.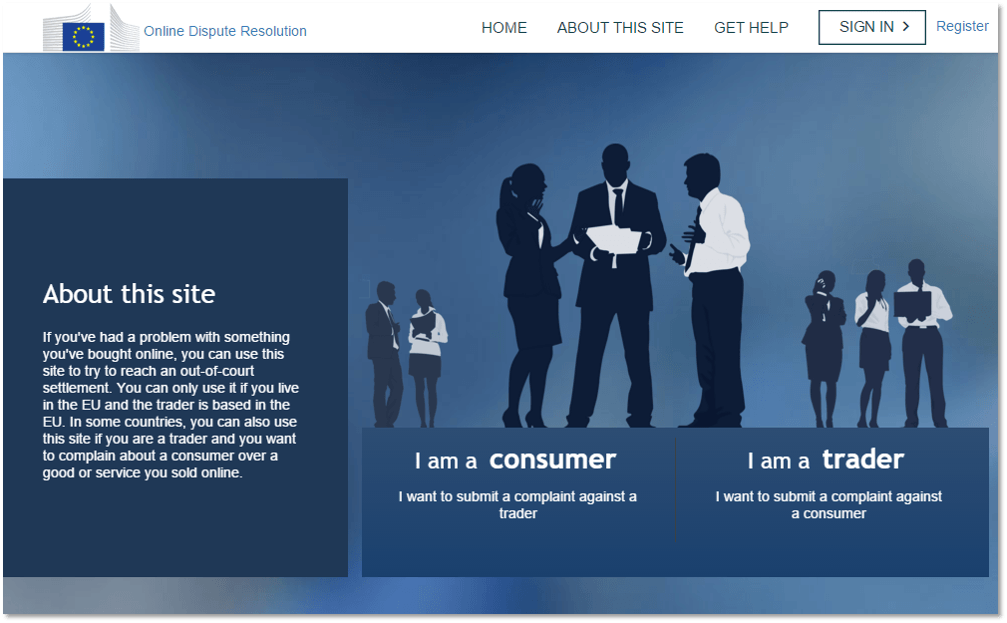 Also just launched on Feb. 15 is the European Commission Online Dispute Resolution portal. Through the Regulation on Online Dispute Resolution, the EU is now mandating that all e-commerce retailers must provide consumers with an option for ODR for purchases made online. This portal will provide links and access to all the ADR entities approved to provide services under the EU directive.
Meanwhile, British Columbia is preparing to launch the Civil Resolution Tribunal sometime this spring. When it opens, it will have authority to handle small claims up to $25,000, including contract, debt, and personal injury disputes, as well as many strata (condominium) disputes.
ODR is even going mobile. An app called Youstice is trying to make it easy for customers and retailers to resolve shopping complaints.
So What is the Future of ODR?
Coming up next month is the 15th ODR Conference, held in The Hague May 23 and 24. The theme will be ODR and the courts and the potential impact on access to justice.
To my mind, this is the future of ODR. As eBay has proven, ODR is well suited to smaller disputes where the amount in controversy does not warrant a full-blown legal action, especially when the disputants may be in geographically disparate locations.
ODR offers many advantages, including:
Informal, flexible and not bound by strict rules of procedure and evidence.
Low or no cost of participation; any costs shared by parties.
Well suited to low-dollar and high-volume transactions.
Well suited to geographically disparate parties.
Well suited to disputes where parties may not emotionally be able to be in the same room.
Well suited to accommodating physical disabilities.
Process is confidential.
Lawyers often not required.
There are also disadvantages:
Requires access to and familiarity with Internet technology.
Can be intimidating for people with language or communications issues.
Lacks personal interaction.
Not necessarily binding or enforceable.
Poorly suited to complex matters.
Poorly suited to cases requiring non-monetary remedies.
Lawyers often not required.
If you're paying attention, you noted that I included "lawyers not required" as both an advantage and a disadvantage. Clearly, the ability to resolve simple disputes without a lawyer is an advantage in many situations. But the more complex the dispute, the greater the need for legal guidance.
Unfortunately, ODR's track record has not shown it to be successful for sophisticated or complex legal disputes. The future of ODR, it seems, is a future that will not involve lawyers in any substantive way. Rather, as ODR is now evolving, it is proving to be most effective as a gateway to justice for those who cannot afford a lawyer or a lawsuit.