While catching up yesterday with Casemaker CEO David Harriman about his company's litigation with Fastcase, I also had the chance to ask him about Casemaker's acquisition of the Rulebook app.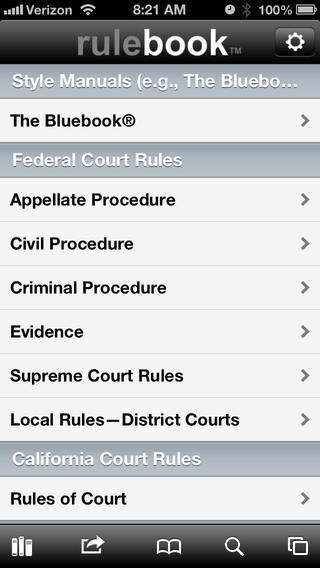 Rulebook is an app for iPhone and iPad. The app is free and, once installed, it can be loaded with various sets of court rules and other books. Some of these can be added free while others are available as in-app purchases.
Rulebook is the official app for the mobile version of The Bluebook. It also the app that publishes the mobile version of The Rules of Golf in Plain English, by lawyers Jeffrey S. Kuhn and Bryan A. Garner.
Among the rule sets it offers are most federal court rules and the rules of 22 state courts and the District of Columbia. A few sets are free — such as the Federal Rules of Evidence — but most cost $1.99 or $2.99 each.
Casemaker quietly acquired Rulebook sometime last year and now plans to expand its coverage of court rules to all 50 states.
"We liked what they'd done with the rules apps for a number of jurisdictions," Harriman said. "Our plan is to expand their offering of court rules to all jurisdictions."
Harriman said that the pricing will change so that the rules sets will be sold on a subscription basis. The subscriptions will include all rules updates as they come out.
New titles will begin to come out sometime in the next couple of months, he said. In addition to rules, they will include materials from Casemaker Libra, Casemaker's library of treatises, practice guides, deskbooks and other materials.
"We've been busy working on making improvements," he said. "We're getting ready to launch."