In 1926, the editor of the Harvard Law Review, Erwin Griswold, produced a pamphlet covering proper forms of legal citation. Originally published with a brown cover, the cover was changed to blue for the sixth edition in 1939 as a patriotic gesture to get away from a color associated with Nazi Germany. Now in its 19th edition, the pamphlet, A Uniform System of Citation, is more commonly known by the name derived from that cover, The Bluebook.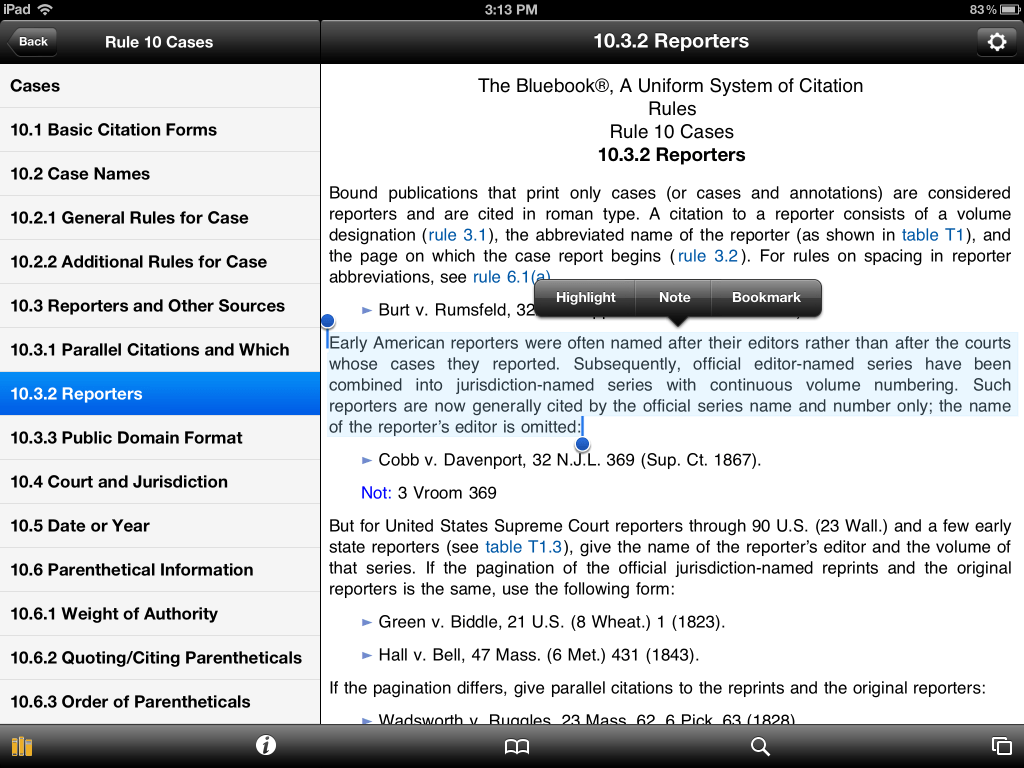 You can still buy The Bluebook in dead-tree form, of course, and a Web subscription version was introduced in 2008. This week, the first mobile edition was introduced. The mobile version of The Bluebook uses an existing app, rulebook, as its platform. Rulebook is an app for iPhone and iPad from which you can purchase and download federal and state court rules. (No Android version is available.)
The rulebook app has a number of useful features, including full-text search, highlighting, annotations, bookmarking and hyperlinking.
The app is free to download, but The Bluebook and other legal content must be purchased separately. The cost to purchase The Bluebook for use within rulebook is $39.99. That is more than the cost of the print version, $34, or of a one-year online subscription, $32. Law firms, court systems and other large organizations can purchase bulk licenses to the mobile version of The Bluebook.
The Bluebook is published as a joint venture of the Columbia Law Review, the Harvard Law Review, the University of Pennsylvania Law Review, and The Yale Law Journal. The rulebook app is a product of Ready Reference Apps.
The Free Downloads
For one day only, on Wednesday, Aug. 22, anyone with the free rulebook app will be able to download the Federal Rules of Appellate Procedure, Bankruptcy Procedure, Civil Procedure, Criminal Procedure and Evidence at no charge. Normally, these rule sets cost $1.99 each. All you need to do is have the app installed and download these rule sets. Their price will be set as free.