I am very pleased to announce the launch of our new podcast, Law Technology Now, co-hosted with Monica Bay, longtime editor of Law Technology News now a fellow at CodeX, the Stanford Center for Legal Informatics, and produced by the Legal Talk Network.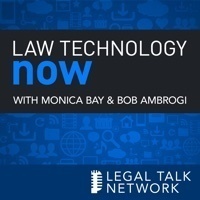 In each episode, Monica and I will explore the latest in legal technology. We'll be joined by key players in the legal technology community to highlight the top trends and developments in the legal world.
This is actually a relaunch of the podcast, which Monica hosted until 2013. We are now reviving it, with Monica and I alternating monthly hosting duties.
We've just posted the first three episodes:
All three are embedded below or you can listen at the Legal Talk Network.
I hope you'll listen and let us know what you think.