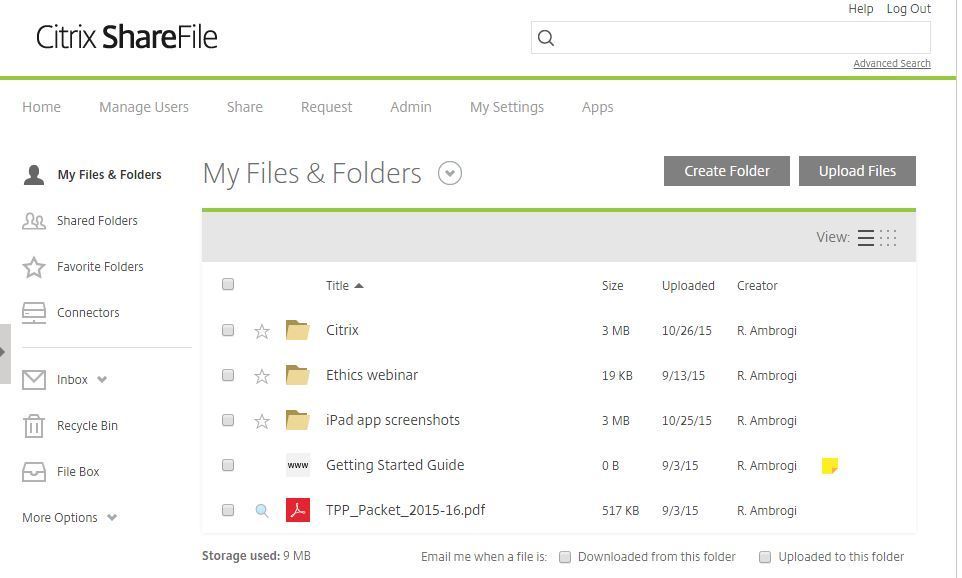 Many lawyers these days use cloud-based services such as Dropbox and Box for document storage and sharing. But there are always concerns about the security and ease of use of such services.
One of the best of these – with regard to both security and ease of use – is Citrix Sharefile. ShareFile is a highly secure, cloud-based file storage, file synchronization and file-sharing platform that can send encrypted files and emails from the cloud or directly from Microsoft Outlook. It is suitable for law firms of any size, from solos on up.
ShareFile has apps for iOS, Android, Windows and Blackberry devices, so that users can access and send files from any smartphone or tablet.
Data security is a key selling point for ShareFile. Your files are encrypted both during transfers and when they are at rest on ShareFile's servers. It has a number of user-configurable settings and administrative controls to enhance security. And you can set up multi-factor authentication for logging in to your account.
[Note: Citrix ShareFile provided me with a free review account.]
Using ShareFile on the Web
I find that I use ShareFile more through its desktop integrations than through its Web application. More about those below, but I'll start with the Web application, because that's where new users will begin.
Like Dropbox and Box, ShareFile's Web application organizes your files in a folder structure. When you log in, the default starting point is a section called My Files and Folders, where you can add and organize your own folders. There are separate sections for shared folders and those you mark as favorites.
Sharing files with clients and colleagues through the Web application is easy. For files you've already uploaded to ShareFile, right click on the file and select whether you want to share it by email or by sending a link. For a file on your computer, click Share in the Web application's menu bar, select email or link, and then drag the file onto the ShareFile interface.
Any file you email is encrypted and sent through ShareFile, not through your own email account. If you choose, you can also encrypt the email message itself (in addition to the attached file). You can also set an expiration date for the email and limit the number of times the attachment can be downloaded.
An option unique to ShareFile is the ability to request files from others and have them delivered to you securely. You do this by sending the person either an email through ShareFile's email system or a secure upload link through your own email. The email directs the person to a web page to upload the file. It is then securely delivered to your account.
Using ShareFile from Outlook and Desktop
One of the most useful features of ShareFile is its integration with Microsoft Outlook. With the ShareFile add-on installed, virtually all the sharing options of the Web application are available directly within Outlook. Securely send and request files, set expiration dates for emails and attachments, and revoke access to files you've previously shared.
Included with the Outlook add-on is the ability to easily encrypt any email message. While all files sent through ShareFile are encrypted, this option also encrypts the body of the email. ShareFile adds an encryption button to Outlook's ribbon bar. Just click it and your message is encrypted.
ShareFile also lets you set up desktop synchronization on both Windows and Mac computers. This creates a ShareFile folder on your computer that has two-way synchronization with the Web application. A second desktop option, only for Windows, is the ShareFile Desktop App. It does not synchronize your files, but it lets you upload, download, request and manage files in the same way that you can through the Web application.
E-Signing and Integrations
ShareFile can be integrated with RightSignature, an e-signing platform that Citrix acquired in 2014. The integration allows you to send documents for e-signatures and monitor their signing status directly from your ShareFile account. It requires a separate RightSignature subscription, which costs from $11 to $99 a month.
ShareFile also integrates with two document management systems, iManage WorkSite – using an add-in developed by DocAuto – and Worldox. In both cases, you can securely share files through ShareFile from directly within the DMS. It also integrates with ScanSnap scanners, so that you can save scanned documents directly to ShareFile.
What it Costs
ShareFile offers several subscription tiers. The lowest, a one-person account, is $20 a month ($16 a month if paid annually). But that price does not include the Outlook plugin or allow you to encrypt the body of email messages (files are always encrypted).
The next tier, the Team plan, is $75 a month ($60 if paid annually) and covers five employees. Each additional employee is $10. For that, you get 1TB of file storage, the Outlook add-on and e-signature integration, but still not the ability to encrypt email messages. For that, you need the business plan, which is $125 a month ($100 if paid annually) for five employees and includes unlimited storage and an array of options.
To put that in perspective, Box's lowest-priced Starter business plan is $15 a month for three employees and comes with 100GB of storage. Its Business plan is $45 a month for three users and unlimited storage. Dropbox's business plan is $75 a month for five users and unlimited storage. Neither Box nor Dropbox offers email encryption.
Given that many lawyers will want the encryption option, they would have to buy at least the five-person business plan at $125 a month (or $100 a month if paid annually). That does not make sense. I would hope that Citrix would revisit its pricing and offer solos and duos a lower-priced option that includes full encryption.
That said, ShareFile is a great choice for any lawyer who is in the market for secure and easy-to-use file storage, sharing and encryption.