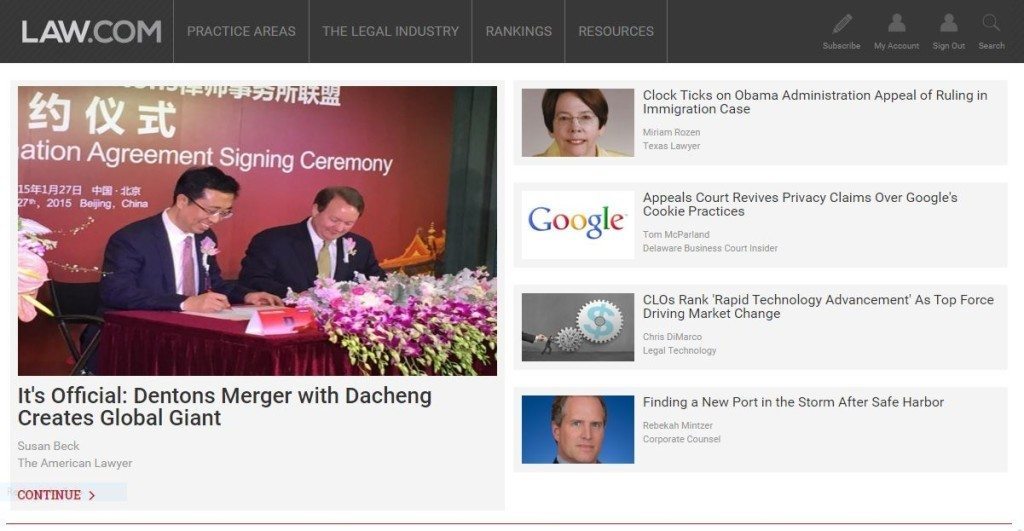 Legal news company ALM and legal research company LexisNexis this week announced an expansion of their content licensing agreement that is good news for LexisNexis subscribers but not so good news for the rest of the legal community.
Since 2011, LexisNexis has had the exclusive license to archived content from all ALM publications, which include The American Lawyer, Corporate Counsel, The National Law Journal, Legaltech News, the Law.com website, and a number of other regional and specialty publications.
Yesterday's announcement extends this relationship for an unspecified term and also opens opportunities for direct integration of ALM content into LexisNexis legal research products. According to the press release, the way ALM content is delivered through LexisNexis Newsdesk will be streamlined so it is delivered directly from ALM.
Direct integration will also mean that case law references within ALM online publications will link directly to the actual cases in Lexis Advance, according to the release. LexisNexis users will be able to use a single password to access all LexisNexis and ALM content.
All of which is good news if you happen to be a LexisNexis subscriber. However, if you are not, it means that you will be shut out of the archives of the most extensive legal news organization in the country.
Even ALM's own paid subscribers will not have access to ALM content after it has been online for 180 days. Any legal news reported in an ALM publication will effectively disappear after six months to anyone who is not a LexisNexis subscriber.
According to Lenny Izzo, president of ALM's Legal Media Division, LexisNexis gets all the ALM content as it is published on ALM's sites. The content remains available on ALM sites for 180 days, after which only a brief abstract is viewable with a referral link to the full text in LexisNexis. LexisNexis is the exclusive provider for ALM archived content older than 180 days.
This is true even for paid subscribers to ALM products. For example, The American Lawyer's website offers a one-year subscription at the price of $431.88. If I purchase that subscription, I will have access to past issues up to 180 days. After that, I can no longer access back issues except through LexisNexis. If I am researching an issue and want to check back on a story published a year ago, I am out of luck, even as a paid subscriber. (Of course, I could subscribe to the print edition and keep the back issues in my office. But who does that anymore?)
What I've just described is not new. This is essentially the same arrangement as ALM and LexisNexis have had since their 2011 licensing agreement. Still, one could hope that it would change.
I have no doubt that this arrangement is lucrative for ALM. As a former ALM employee, I don't begrudge the company any opportunity to bring in revenue. I want ALM to survive and thrive so that it can continue to put out some of the best legal journalism available anywhere.
But it bothers me no end when that superb legal journalism effectively disappears to large segments of the legal community because it is hidden behind the LexisNexis paywall.
It is also a loss for the writers who contribute to ALM to have their work effectively disappear off the Web. In my case, I wrote the Web Watch column for Law Technology News for 15 years. Now, when I click on the links that used to lead to those columns, all I get is a "page no longer exists" message. It does not even link into LexisNexis, which is supposed to be the way it works.
Look, I understand paywalls. I represent the newspaper industry in my legal work. But there are ways to structure them that provide general access to older stories while still enabling the publisher to earn revenue. Like many other publishers now do, ALM could offer all its archives online but impose a cap on the number of articles an individual could view in a month.
The other big unknown here is cost. It's one thing to pay roughly $200 a year to subscribe to a publication such as The New York Times or even $400+ to subscribe to The American Lawyer. It is quite another to have to subscribe to a LexisNexis research service just to get access to news stories.
I asked Izzo what the minimum cost would be for a lawyer to access ALM's archived oontent on LexisNexis. I wanted to know what level or type of LexisNexis subscription would be required to access ALM's content and what it would it cost. He replied that he would have to refer that question to LexisNexis and would send them a note and let me know when he hears back.
I also sent that question to LexisNexis and, as of yet, have not received a reply.
Access to news — not just current news, but also historical news — is important for any community. The legal community is no different. ALM and LexisNexis should offer an affordable option for lawyers who want legal news and news archives only, without having to buy everything else that comes with a LexisNexis subscription.
[Disclosure: I long ago worked for ALM and was editor-in-chief of The National Law Journal.]