Lawyers spend an average of 20 percent of their work time conducting legal research, and when they start a research project, they generally turn first to free online research services before using fee-based services or research materials in print or on CD-ROM.
However, with respect to online research exclusively (excluding books and CD-ROMs), lawyers are more likely to start a research project using a fee-based service than a free one. Thirty-eight percent of lawyers say they go first to a fee-based resource, while 37 percent say they start with a general search engine such as Google or Bing. Fourteen percent say they start with a bar-sponsored research service such as Fastcase or Casemaker.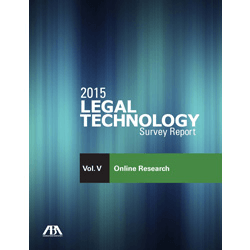 These are among the findings reported in the 2015 edition of the annual Legal Technology Survey Report, compiled by the American Bar Association's Legal Technology Resource Center. These findings are from Volume 5 of the report, covering online research.
Not surprisingly, younger lawyers are more likely to use free services first, while older lawyers are more likely to use paid services first. Lawyers aged 50 to 59 are the most likely to report first going to fee-based online services for legal research. Virtually all lawyers — 95 percent of them — conduct research online at some point.
And if you are wondering whether any lawyers still use research materials on CD-ROMs, turns out they do. Fewer than 1 percent of lawyers begin their research using CD-ROMs, but 6 percent use them regularly and 19 percent use them occasionally. Solos are most likely to use them, followed by lawyers in firms of 2-9 attorneys.
One interesting question asked lawyers which format they turn to first (CD-ROM, online fee-based, online free or print) when performing research in 23 different topics. For 16 of the topics, lawyers named online free as the format they use most often, followed by online fee-based. Here are the topics for which lawyers first use free services to research, followed by the percentage of lawyers who say they use them  first:
Case dockets, 50.3%.
Companies/corporations, 69.3%.
Experts, 48.4%.
Federal administrative/regulatory/executive, 42.9%.
General news, 80.2%.
Judges, 53.8%.
Jury verdicts/settlements, 29.1%.
Lawyers, 77.1%.
Legal forms, 44.2%.
Legal news, 73.2%.
Practical guidance, 35.4%.
Public records, 71.2%.
Other state administrative/regulatory/executive, 51.2%.
Other state legislation/statutes, 45%.
Your state administrative/regulatory/executive, 48.3%.
Your state legislation/statutes, 51%.
Here are the topics for which lawyers first use fee-based services to research:
Federal case law, 54.8%.
Federal legislation/statutes, 43.9%.
Law reviews/legal periodicals, 39.9%.
Legal citators, 43.7%.
Legal treatises/secondary materials, 46.2%.
Other state case law, 51.8%
Your state case law, 53.9%.
All volumes of the survey are available for purchase through the ABA.