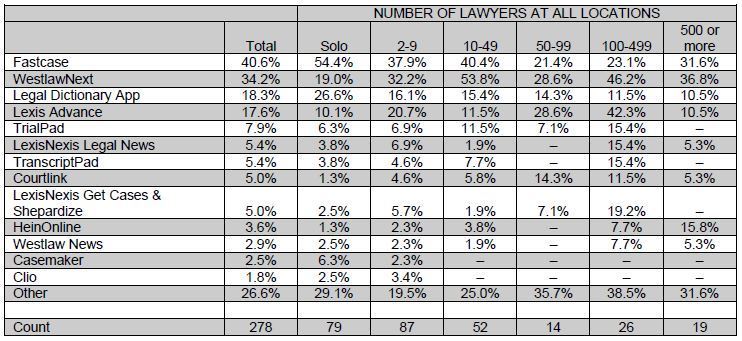 For the third year running, the Fastcase legal research app is the most popular legal app among lawyers, according to the 2015 edition of the annual Legal Technology Survey Report compiled by the American Bar Association's Legal Technology Resource Center.
Among lawyers who reported having downloaded a legal-specific app, 41% named Fastcase. It was also the most popular app in the survey in 2014 and 2013, while the percentage of those who say they have download it is up from 36.5% last year and 26.5% in 2013.
(For prior years' results, see these posts from 2014 and from 2013.)
Other top legal-specific apps mentioned by lawyers in the survey were:
WestlawNext, 34%.
Legal Dictionary App, 18%.
Lexis Advance, 18%.
TrialPad, 8%.
Courtlink, 5%.
LexisNexis Legal News, 5%.
LexisNexis Get Cases & Shepardize, 5%.
TranscriptPad, 5%.
HeinOnline, 4%.
Westlaw News, 3%.
Casemaker, 3%.
Clio, 2%
When asked in the survey about general business apps they had downloaded, the most popular was LinkedIn, named by 71% of respondents. LinkedIn was also most popular last year.
Other popular business apps among lawyers this year were:
Dropbox, 62%.
Evernote, 38%.
GoodReader, 18%.
QuickOffice, 17%.
DocsToGo, 14%.
LogMeIn, 13%.
Box, 6%.
Notability, 5%.
There are a couple of problems with these results, from what I can see.
For one, in its questionnaire to lawyers, the survey lists the names of specific apps and then includes an umbrella "other." That means that respondents are selecting from a list that is not all-inclusive. There may be other apps that are popular among lawyers but that are not listed here.
For another, the third most popular legal app is "Legal Dictionary App." To my knowledge, there is no app by that name. There are several legal dictionaries available in app form, from free ones to the $55 Black's Law Dictionary.
And another: I could find no app in either the Apple store or Google Play called "Westlaw News." Maybe it exists, but I could not find it.
The information about mobile apps is contained in Volume VI of the survey, covering mobile lawyering.