Among the Am Law 200 law firms, 163, or 82 percent, now have blogs. And it is not just one blog. All but 27 of them have multiple blogs and one firm, Fox Rothschild, has 39.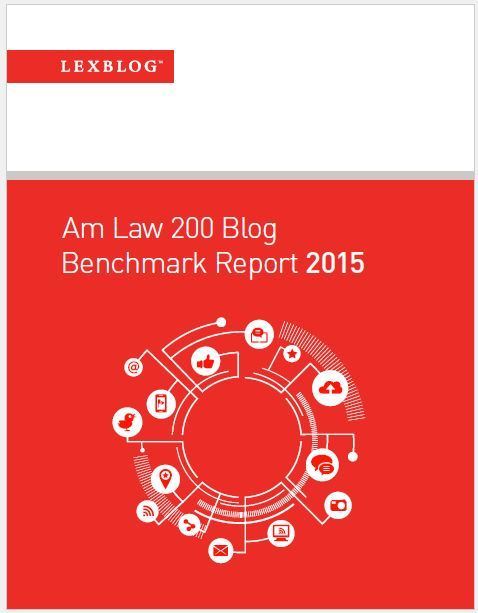 These are among the findings of the 2015 Am Law 200 Blog Benchmark Report, a report on large law firm blogs prepared periodically by the blog company LexBlog.
Since LexBlog first began compiling the report in 2007, the number of Am Law 200 firms with blogs has risen 315 percent, from 39 firms to today's 163. The number of blogs at these firms has done from 74 in 2007 to 962 today.
At the same time, the number of firms with blogs has not grown significantly since the report was last compiled early in 2013. The increase is either four firms or seven firms, an increase of either 3 percent or 4.5 percent.
(The discrepancy comes from the fact that this year's report says that four additional firms are blogging since 2013. But the 2013 report said that 156 firms had blogs, which would mean the increase is seven.)
While the number of firms has not increased dramatically since 2013, the number of blogs has. The current total of 962 blogs is a 46 percent increase over the 2013 total of 660. Part of the reason for that is that firms are publishing multiple blogs:
Four firms have more than 20 blogs.
Four firms have 16-20 blogs.
19 firms have 11-15 blogs.
33 firms have 6-10 blogs.
75 firms have 2-5 blogs
27 firms have just one blog.
The firms with the most blogs are:
Fox Rothschild, 39 blogs.
Sheppard Mullin, 29 blogs.
Womble Carlyle, 22 blogs.
DLA Piper, 21 blogs.
Duane Morris, 20 blogs.
The report also ranks the most popular topics of large-firm blogs. Employment and labor leads the way with 132 blogs, followed by corporate and commercial (104), financial (100) and intellectual property (73).
Of the 302 new blogs launched since the 2013 report, the most popular topics are IP (62 percent), insurance (58 percent), technology (58 percent) and food, drug and agriculture (56 percent).
A final section of the report lists the top 30 Am Law 200 blogs by traffic and also top trafficked blogs by blog topic. The report does not give actual traffic numbers, which would have been enlightening, but lists the top 10 as:
Lest we forget, LexBlog concludes the report by reminding us that it is in the business of building blogs for law firms. It created and maintained more than half the blogs covered in this report and was behind 65 percent of the top 30, it says.
You can download the full report for free (after filling out a registration form) at the LexBlog website.