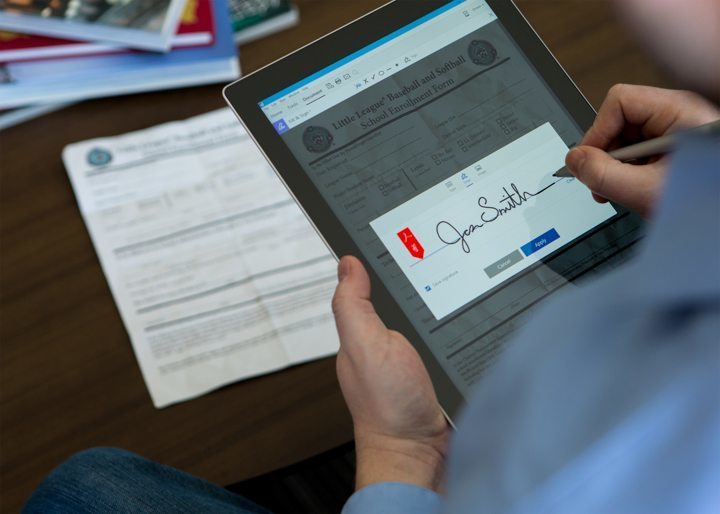 I wrote last week about Adobe's impending release of an all new version of its Acrobat PDF software, Acrobat DC, and of the broader Adobe Document Cloud with which Acrobat DC will be tightly integrated. Yesterday, the new products officially launched. Here's the announcement:
Adobe (Nasdaq:ADBE) today announced the availability of its newest cloud offering, Adobe Document Cloud, a modern way to manage documents at home, in the office and across devices. Document Cloud addresses the waste and inefficiency associated with document processes. Whether it's school permission slips, health insurance forms or complex enterprise document workflows, Adobe is transforming how people and businesses get work done. At the heart of Document Cloud, and also available today, is the all-new Adobe Acrobat DC, the world's best PDF solution taken to an entirely new level. With a stunning, touch-enabled interface and powerful companion mobile apps, Acrobat DC delivers free e-signing with every subscription, now included as part of both Document Cloud and Creative Cloud.
As I wrote last week, Document Cloud is similar to Adobe's Creative Cloud and Marketing Cloud, services that package related tools in an integrated cloud platform that can be accessed across any device. Document Cloud allows users to create, review, approve, sign and track documents from any device, mobile or desktop. A user can start working on a document on one device and then move seamlessly to finish it on another.
The new Acrobat DC includes e-signing that allows users to sign and send documents from any device. The pro version of Acrobat DC includes all the features that have been important to lawyers in past versions of Acrobat Pro, such as Bates numbering, redaction, and compliance with PDF/A and PDF/X.
Acrobat DC with Document Cloud can be purchased on a subscription basis at $12.99 a month. The Pro version is $14.99 a month. The software can also be purchased for a fixed price but not including Document Cloud services.
See my prior post for more details and watch for a hands-on review coming soon.