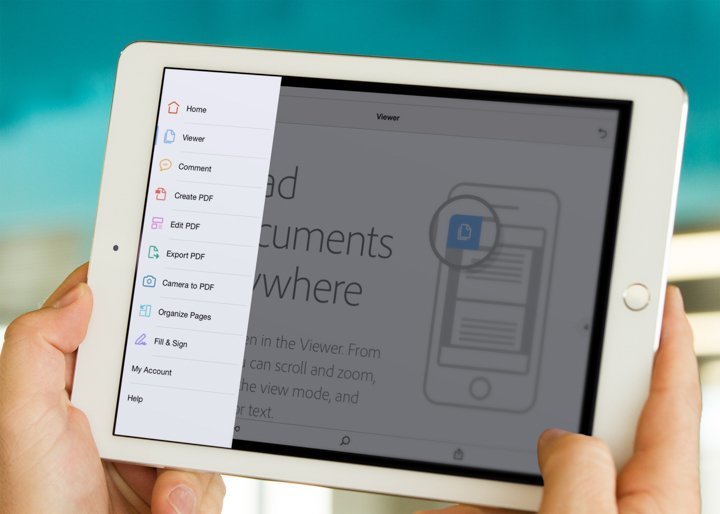 Sometime in the next 30 days, Adobe will launch the latest version of its popular Acrobat PDF software, and it will be notably different from prior versions. The new Acrobat DC, as it will be called, will be part of a broader offering, Adobe Document Cloud, all aimed at reducing the waste and inefficiency of working with paper documents.
Document Cloud will be similar to Adobe's Creative Cloud and Marketing Cloud, services that package related tools in an integrated cloud platform that can be accessed across any device. Document Cloud will allow users to create, review, approve, sign and track documents from any device, mobile or desktop. A user will be able to start working on a document on one device and then move seamlessly to finish it on another.
Adobe's general counsel and senior vice president Mike Dillon, who have me a preview earlier this week, says the goal is to eliminate the hassle and clutter of dealing with paper, whether it is for a multi-million-dollar legal transaction or your child's school permission slip, and to make the product easy and intuitive to use.
"I can start to work on something from my desktop here in the office then go home and finish it," Dillon says. "I'll edit it on my tablet and then sign it on my mobile phone."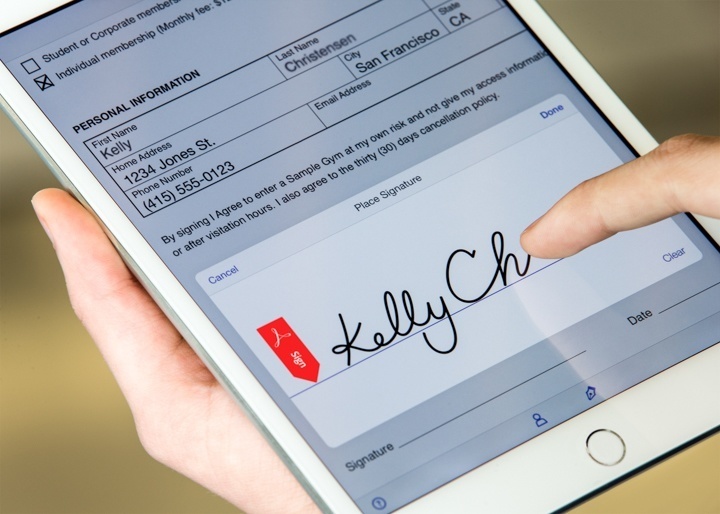 Document Cloud will include:
Acrobat DC. It will retain all the features legal professionals expect in Acrobat Pro, but will present them in an all-new, touch-enabled user interface that Adobe says is simpler and more intuitive to use. It includes a new Tool Center that allows users to customize quick access to the tools they use most often.
E-signing. All subscriptions to Acrobat DC will include eSign Services, formerly called Adobe EchoSign. Users will be able to sign and send documents from any device. A new feature, Fill & Sign, will turn virtually any document into a fillable form that can be completed and signed from any device.
Mobile Link. All of your files, settings and signatures stay with you, no matter what device you work from. Two new mobile apps, Acrobat Mobile and Fill & Sign, will allow users to create, edit, comment and sign documents directly on their mobile devices and use their cameras as a portable scanner.
Document management and control. Document Cloud will include tools for managing, tracking and controlling documents. You will be able to know where documents are in the signing process, who has open them and when. This will include control over document permissions, including the ability to revoke permissions.
Document Cloud will be sold on a subscription basis at a cost of $14.95 a month. That will include the desktop version of the Acrobat DC software. The software will also be available for one-time purchase but will not include the cloud features. An enterprise version will be available later this year.
Subscribers will get 20GB of cloud storage. Users of the free Acrobat Mobile or Reader mobile apps will get 5GB for free.
The service will be agnostic with regard to cloud storage. The product will ship with a connector to Sharepoint and will be adding connectors to OneDrive, Box and Dropbox, as well as a set of APIs that will allow other products to set up integrations.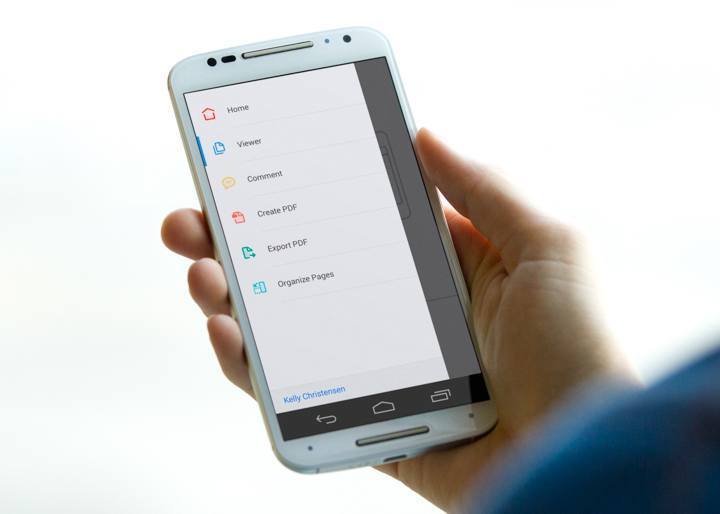 Scan, Sign and Manage Documents
Dillon and Chris French, senior product manager at Adobe, showed me some of the new capabilities. Using the Fill & Sign app on an iPad, French took a picture of a hard-copy non-competition agreement. The app uses technology derived from Photoshop to clean the image and adjust its lighting, cropping and orientation, and then converts it into a usable digital document.
Then, French was able to simply tap on fields that he needed to complete. The system saves a user's frequently used information, such as company name and address, so that it can be inserted with just a couple of taps. A signature can be added from a saved image or by signing directly with a stylus or your finger.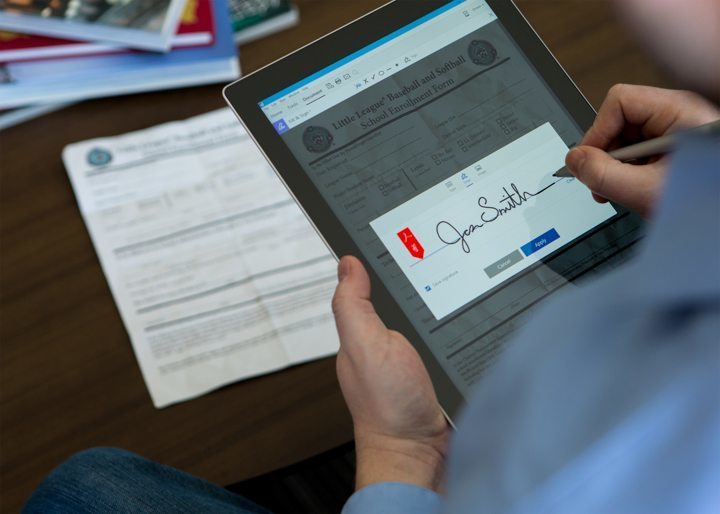 Everything you could do on the desktop can also be done on your iPad or Android device. Select and open documents, edit PDFs and organize pages within a PDF, for example.
The process is much the same on the desktop. The software will automatically recognize fields within a document that need to be filled in and will even label them as "name," "address" or whatever. To send the document out for signatures, click a send for signature button. The file is uploaded to the server and an email is created with an encrypted link to the document to send to the person who must sign. If multiple signatures are required, they can all be scheduled at once and in a specific order.
The recipient of the email clicks the link to be taken to the document and is then walked through each of the fields that must be completed.
Dillon wrapped up the demonstration with a recap of what Adobe sees as key benefits of this new product for the legal profession:
It uses a trusted PDF platform to manage document-intensive work.
It offers the ability to digitize the entire document process, from creation and editing to sharing and approval.
It provides a documented audit trail of who viewed the document and when.
It tracks the document workflow status in real time.
It includes secure e-signing to finalize documents and more efficiently get approvals.
It provides the ability to remix documents and contracts.
Dillon, who was formerly the GC at Sun Microsystems and was one of the first GCs in the U.S. to have his own blog (and who still has a personal blog), says he is really excited about the capabilities this new release will provide to legal professionals. It will, he believes, enable lawyers to spend less time managing and tracking documents and thereby deliver greater value to their clients.