Here are some of the interesting items I've taken note of this week.
The most successful legal apps. You can find any number of articles out there summarizing lawyers' favorite legal apps. But over at the iBraryGuy blog, Stosh Jonjak, a research services librarian with Reed Smith, decided to analyze the popularity of legal apps from a different angle — their rankings by downloads and gross earnings. In a two-part post, he first compares the rankings of the WestlawNext and Lexis Advance apps and then looks at a range of legal apps to identify "the success stories." You might not be all that surprised by his findings but his analysis is well worth reading.
New York puts attorney discipline records online. The New York court system has added attorney discipline records to its official attorney database. Now, attorneys' online listings indicate whether they have been disciplined. If they have been disciplined, then (at least in some cases) there is a link to the order imposing discipline.
A productivity suite for solos. At her Legal Ease Blog, Allison Shields writes about a new productivity tool built specifically for solo service providers that could be useful for solo lawyers. Allison says that the product, called 17 hats, "is a cloud-based tool that combines basic CRM (customer relationship management, including contacts), project management, calendaring, quotes, contracts, invoicing, time tracking and bookkeeping all into one integrated program, eliminating the need to subscribe to several software services and purchase different apps and programs."
Top podcasts for the busy lawyer. Law360 writer Erin Coe interviews various legal experts and gathers their recommendations of podcasts that lawyers should check out (registration required, free trial offered).
TIG conference materials. Presentations and materials from the annual Legal Services Corporation Technology Initiative Grants Conference are now online.  This is the leading annual conference on the use of technology in the delivery of legal services to the poor. Materials posted here cover a range of topics, from expert systems to security basics.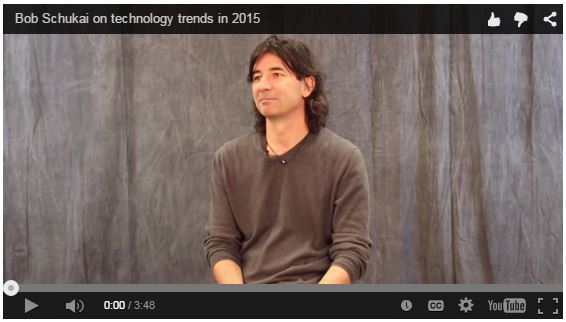 Key legal trends for 2015. Bob Schukai has what sounds like one of the coolest jobs in the world: head of advanced product innovation at Thomson Reuters. At the Thomson Reuters Legal Current blog, Schukai is featured in a video interview discussing key tech trends for 2015 and how they will shape the projects he and his team are working on. Will you be accessing WestlawNext from your Apple watch or your car's display screen? "If it has a screen, it's fair game," says Schukai.
Rocket Matter lauded for customer service. Rocket Matter, the cloud-based practice management company, has won a Bronze Stevie Award for "front-line customer service team of the year" in the 9th annual Stevie Awards for Sales & Customer Service.  Rocket Matter won the award in the category of computer software companies of up to 100 employees. The Stevie Awards for Sales & Customer Service recognize the achievements of contact center, customer service, business development and sales professionals worldwide.
Scanning the list of Stevie winners, I noticed at least two other law-related companies. LawLogix, a provider of software for electronic I-9 compliance and immigration case management, won a bronze prize in the category of innovation in customer service. Legal Resources, a group legal services provider, won a silver award in the "all other industries" division of the front-line customer service team of the year category.