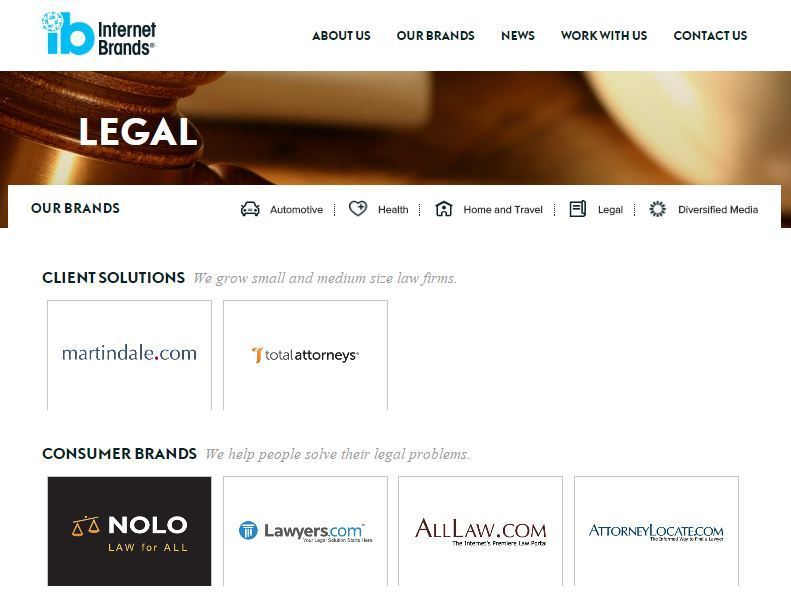 Internet Brands, one of the world's largest operators of websites that serve targeted vertical markets, this week widened its footprint in the legal industry with the purchase of the law practice management and marketing site Total Attorneys.
Internet Brands already operates the Martindale-Hubbell lawyer directory; the Nolo legal self-help site; and the Lawyers.com, AllLaw and  AttorneyLocate.com sites for helping consumers find lawyers and legal information. (Internet Brands operates Martindale.com, Lawyers.com and Nolo through a joint venture with LexisNexis Legal & Professional.)
Internet Brands also operates branded consumer websites for automotive, home and travel, health, and a variety of more narrow categories. One of its sites, Model Mayhem, was in the news this week after the 9th U.S. Circuit Court of Appeals set aside its earlier ruling allowing a woman to sue the site for failing to warn her that known rapists were using it to find victims.
Last June, the global investment firm KKR purchased Internet Brands for $1.1 billion. The company says that its combined sites serve more than 100 million monthly visitors.
Total Attorneys would seem to fit well within the company's legal portfolio. Focused on small and medium law firms, it specializes in delivering leads to attorneys derived from nationwide marketing to consumers. It sells leads for bankruptcy, divorce, criminal defense, DUI, Social Security and personal injury cases.
Total Attorneys, which was founded in 2002, will continue to operate under its brand name and from its headquarters in Chicago.
What Does this Mean?
So what does this mean for attorneys? According to Compete.com, Internet Brands' main legal sites had the following numbers of unique visitors (AttorneyLocate had a negligible number):
Lawyers.com, 1.1 million.
Nolo, 3 million.
Martindale.com, 351,000.
Alllaw.com, 351,000.
Total Attorneys, 23,000.
That is total monthly traffic across all its sites of roughly 4.8 million unique visitors. For the same month of January 2015, according to Compete.com, the other leading lawyer directories had the following numbers of unique visitors:
Avvo, 2.6 million.
Findlaw, 2.7 million.
Justia, 1.5 million.
In total market share, that gives Internet Brands a big lead. But no single one of its sites is dominant and, in fact, its main consumer directory site, Lawyers.com, gets less than half the traffic of Avvo and Findlaw.
Apart from traffic, a key question for lawyers is whether it is a good thing or a bad thing to align with a company that specializes in building web brands across multiple verticals. The advantage, of course, is that the company has extensive experience and proven success in building traffic. But is traffic all that matters? For legal marketing, certainly not. It is equally important that the company be sensitive to the unique ethical and confidentiality issues involved in lawyer marketing.
Is a company that focuses exclusively on the legal vertical more apt to have that sensitivity than one that spans multiple verticals? It is a rhetorical question, perhaps, but one any lawyer should ask before working with any legal referral or directory company.