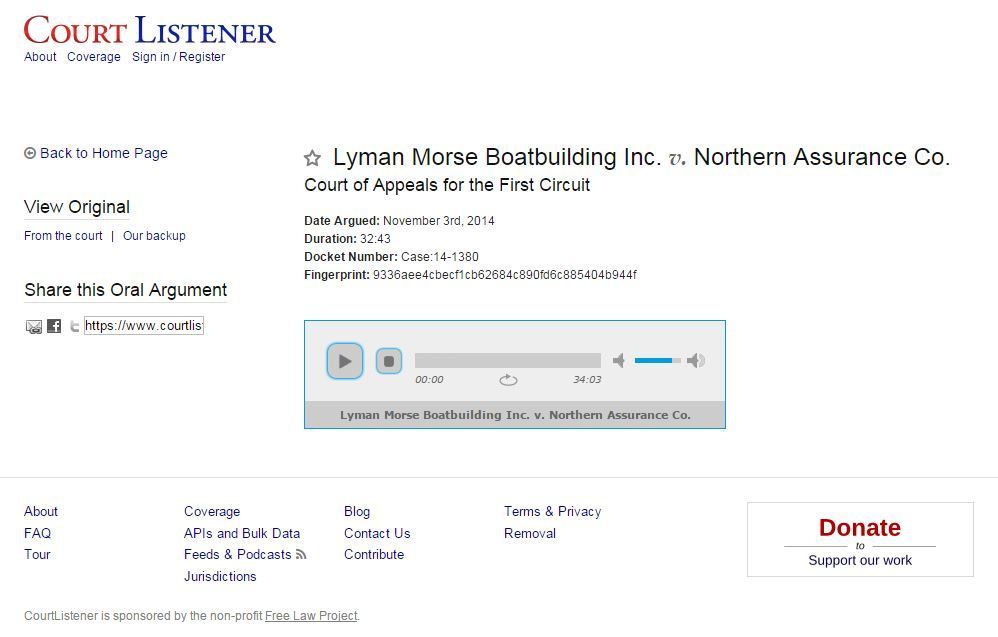 The free legal research site CourtListener rolled out a notable enhancement this week, adding oral arguments from the Supreme Court and nine federal appellate courts to its collection of primary legal materials.
Now, when you conduct a search on CourtListener, the search results page includes matching oral arguments. You can toggle the results page between matching opinions and matching oral arguments.
Alternatively, you can simply browse the latest oral arguments added to the site. Browsing can be refined by jurisdiction, case name, judge, date range and docket number.
In addition, you can create a podcast feed of oral arguments along virtually any parameter you want. For whatever query you enter, you have the option of subscribing to it as a podcast. For example, if you want to receive all oral arguments in the 1st U.S. Circuit Court of Appeals involving a particular party, you can do that.
Another option is to set up an email alert for any search. Whenever you conduct a query, the results page gives you the option of creating an alert for that query. Thereafter, you will receive emails alerting you to new arguments that match your query.
So far, CourtListener's oral arguments cover 10 courts: the Supreme Court and the federal courts of appeal for the 1st Circuit, 3rd Circuit, 4th Circuit, 5th Circuit, 7th Circuit, 8th Circuit, 9th Circuit, D.C. Circuit and Federal Circuit. Arguments are loaded to the site at the end of the day in which they occur.
Searching the arguments is limited to the metadata provided by the court, such as case name and docket number. You cannot search the full text of the spoken arguments — although CourtListener would like to add this ability.
Started in 2010, CourtListener is part of the broader Free Law Project, a non-profit devoted to providing free online access to primary legal materials and to developing legal research tools.
For prior posts of mine about CourtListener, see: