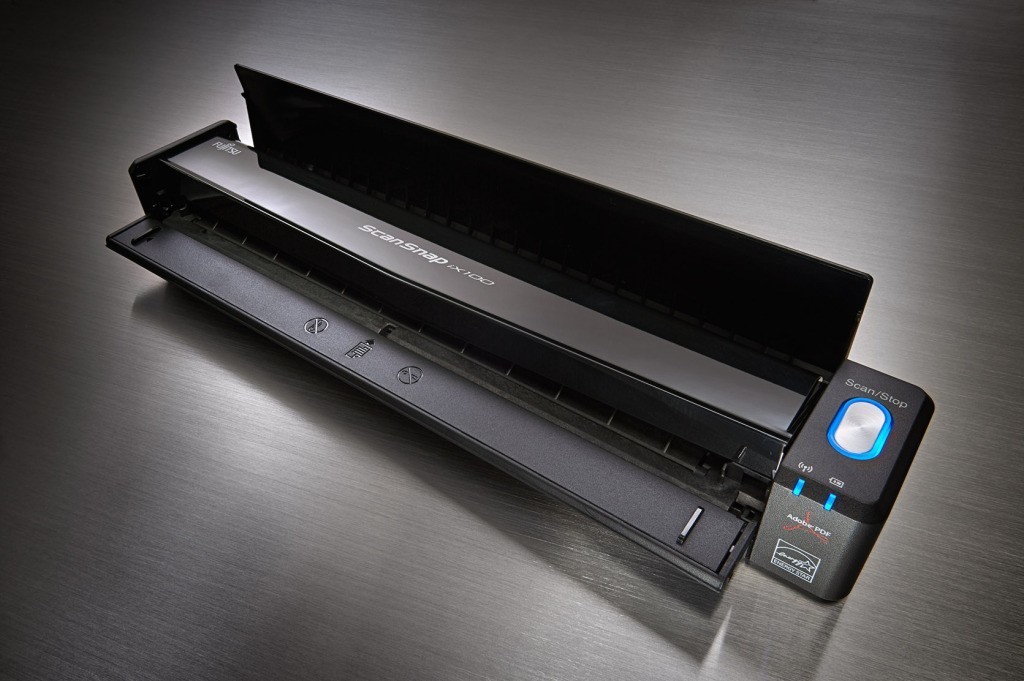 Fujitsu today is releasing its newest scanner, the ScanSnap iX100, and it is a mobile lawyer's dream. Lightweight and battery operated, it scans wirelessly to any computer, iOS or Android device, producing high-quality scans at a fast speed.
Wireless scanning is nothing new, of course, but what distinguishes the iX100 is that it doesn't even need a Wi-Fi network to do it. It has its own built-in WiFi transmitter. If you are somewhere without an available Wi-Fi connection, connect to the iX100 using its direct Wi-Fi signal. You can do this from either a computer or a mobile device. You can also scan to a computer via a USB connection.
I had a prerelease model to test for the last couple weeks and I've just written a review that will appear in an upcoming issue of the ABA Journal. I don't want to crib my own review, so I'll keep my comments here short.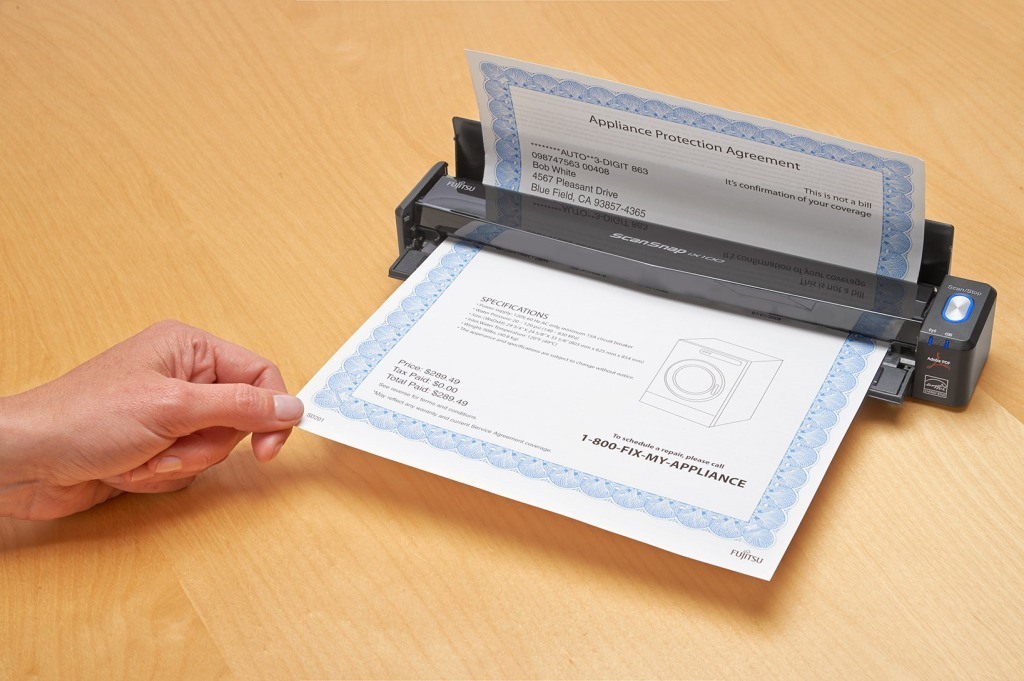 The ScanSnap iX100 is designed for mobility. It weighs less than a pound, fits easily in a briefcase (10.75 x 1.87 x 1.42 inches), and has an integrated lithium battery.
Even though it is small, it performs well. Its performance is helped by a built-in microprocessor that enables it to create PDF and JPEG files and correct the images internally. This is the same processor used in the desktop ScanSnap iX500. The iX100 scans at a rate of 5.2 seconds per page for up to 300 DPI resolution. (It can scan up 600 DPI for color and 1200 DPI for black and white, but 300 is all you would need for documents.)
Operation is easy. To turn it on, just fold down the page feeder. Then insert a document and press the button. To scan multiple pages, just keep feeding them. Although the iX100 has no page feeder like a desktop scanner would, you can fairly quickly get through a small stack of documents.
For scanning business cards, a dual scan feature lets you feed in cards as fast your hands can move. Even with multiple cards moving through the scanner at once, it will recognize each separately.
Scanning to a mobile device requires that you first install a free app, which is available for both iOS and Android. Once the app is installed, you can scan documents directly to your mobile device in the same way you would to a computer. Simply load the document and press the scan button, either on the scanner or in the app. To switch between scanning to a computer or to the app when both are in range, simply start or close the app.
When scanning to a computer, the software lets you choose whether to save the scan locally or to a cloud service such as Dropbox, Google Docs, Evernote, SugarSync and SharePoint.
The MSRP of the iX100 is $229. If you often have a need to scan away from the office, this is the ideal device for you. In my testing, I found it handy even in the office for quick desktop scanning of documents and receipts.