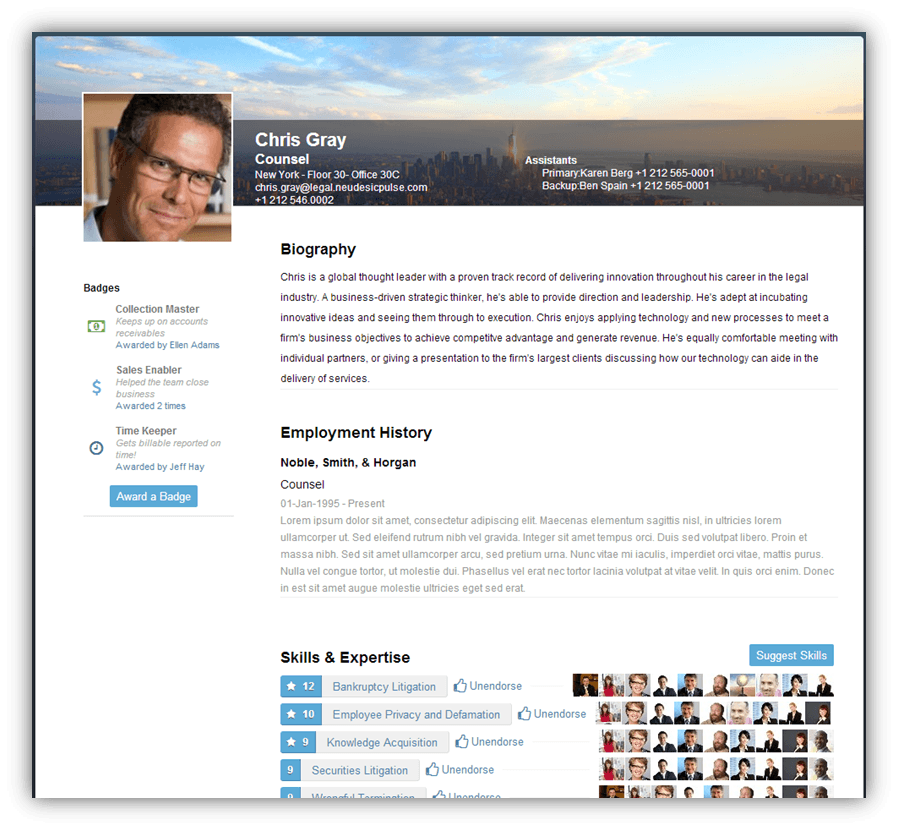 A challenge for large law firms is keeping tabs on their talent. Which lawyers have which skills and knowledge? Who are the go-to partners or associates for specific problems or issues? The larger and more dispersed the firm, the more difficult this becomes. Lateral comings and goings only further complicate the problem. A firm may house skills and expertise that others in the firm are unaware of or unable to identify.
What if a firm could have a searchable, LinkedIn-like directory, accessible only internally, as a way of capturing and managing information about its lawyers' skills and proficiencies? That is the idea of a new product, The Firm Directory, introduced earlier this month at LegalTech New York by Neudesic Pulse. (I was given a demonstration of The Firm Directory but have not directly used the product.)
Much like LinkedIn, the basic building block of The Firm Directory is the bio. But the template for the bios here is specifically tailored to the legal industry. Lawyers can list their practice areas, legal skills, bar admissions, court affiliations, clients, billing rates, publications, work experience, education and honors.
A firm can configure the template to suit its needs, adding and removing sections, changing the order of sections,  and customizing the data elements that are collected. Permissions can be set so that only certain users can see certain parts of a profile, such as billing rates.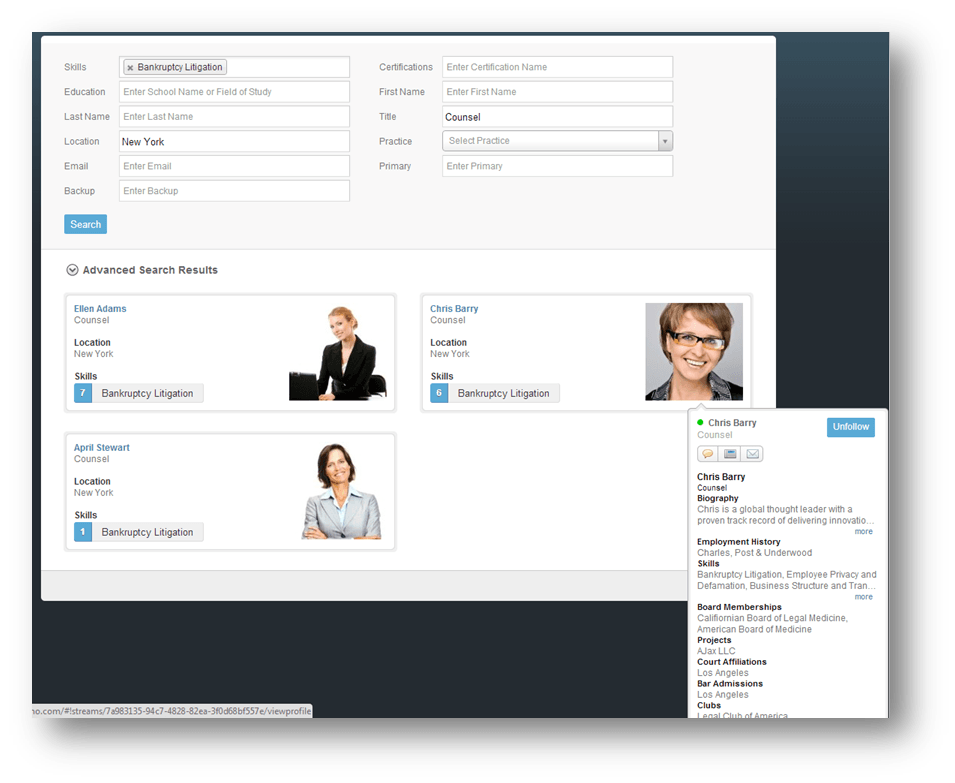 Also like LinkedIn, The Firm Directory permits endorsements. But unlike on LinkedIn — where endorsements from those unfamiliar with a lawyer's skills can raise ethical concerns — endorsements here come from other lawyers in the firm, colleagues who have worked with a lawyer and have first-hand knowledge of the lawyer's skills and abilities. Firms can also add "badges" to profiles. In the image above, you can see that the lawyer have been given badges for "Collection Master," "Sales Enabler" and "Time Keeper."
In addition, The Firm Directory allows the firm to designate specific lawyers as the go-to experts for a given skill or subject area. Firms can customize the skills that are listed within The Firm Directory.
This approach allows a firm to capture all of this information in a way that is at once accessible to all of its professionals and staff, but securely housed on its own servers or in the cloud. The Firm Directory can be searched using multiple criteria, so if a member of the firm needs to find someone with specific skills who is also in a specific office, that can be done. Built-in instant messaging enables immediate contact with those who match a search. If the person is offline, you can send an email.
Neudesic has identified one major law firm, Reed Smith LLP, that is using The Firm Directory. The product's web site features a quote from Reed Smith's chief knowledge officer, Tom Baldwin:
We expect that Neudesic Pulse will allow us to capture and share knowledge and expertise across our firm in a way that email or traditional communication channels have not allowed. This in turn will help us identify synergies across our different practices and industries. Additionally, the ability to secure all data behind our firewall and configure our network according to our firm culture and security preferences will help the adoption of Pulse at Reed Smith.
The Firm Directory is preconfigured for Microsoft SharePoint, Microsoft Outlook and Microsoft Lync. That allows it to be accessed via a firm's intranet, extranet or portal, and allows attorneys to access information in The Firm Directory from within Outlook and Lync.
So what does it cost? All a company spokesperson would tell me is this: "We don't generally provide pricing as it varies based on a number of factors."