An update from LinkedIn this morning indicated that a connection of mine had endorsed me as being skilled in litigation. The person who endorsed me is someone I know only through the Internet. We have never met or spoken, that I can recall. That means that the person has no first-hand knowledge of my skill in litigation. I do sometimes write about litigation-related topics, here and elsewhere, and arguably that could provide some basis for this person to decide that I am skilled in this area. But, frankly, it happens with some frequency that I receive an endorsement from someone I have never met.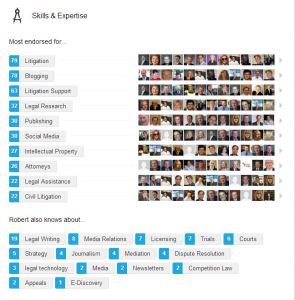 That got me wondering about the ethics of these LinkedIn endorsements. Under ABA Model Rule 7.1, a lawyer is not to make any false or misleading claims about his or her services. If a lawyer permits an endorsement to remain on the lawyer's LinkedIn profile that the lawyer knows to be misleading, even if someone else posted the endorsement, that would seem to be a problem under Rule 7.1.
Turning to Google in search of an answer, I discovered that smarter people than I had already considered this question. Their answers, however, are not in agreement.
LinkedIn introduced endorsements in September 2012. Now, users' profiles include a "Skills & Expertise" section where you see all the rows of tiny faces representing the people who have endorsed you for various skills.
Last January, Andrew Perlman wrote a thoughtful post about this at Legal Ethics Forum. In addition to teaching professional responsibility at Suffolk University Law School and directing its Institute on Law Practice Technology and Innovation, Perlman was chief reporter for the ABA Commission on Ethics 20/20. Here is what he says about the scenario I described above:
[L]et's imagine that someone offers to endorse me who has no basis for assessing my skills in a particular area. Perhaps the endorser is a friend who has never worked with me. Or imagine that someone offers to endorse my skills or knowledge in an area I know very little about. For example, one of my contacts offered to endorse me in the area of "International Law," even though I know very little about the subject. If I accept endorsements of this sort (i.e., endorsements from people who have not worked with me or endorsements of skills/knowledge I don't have), it seems to me that my acceptance of the endorsement and making it visible to my contacts would be misleading and violate Rule 7.1.
Perlman goes on to say that it would be OK for a lawyer to accept an endorsement from someone who actually knows the lawyer's skills and abilities and assuming the lawyer actually has those skills and abilities. (Some states, however, prohibit testimonials of any kind.) One other issue to be wary of, he adds, is the reciprocal endorsement (or the quid pro quo endorsement), which could violated Model Rule 7.2(b).
In an article in the Illinois Bar Journal, lawyer Adam W. Lasker interviews Michael P. Downey, the former chair of the Illinois State Bar Association Standing Committee on Professional Conduct, on the ethics of LinkedIn endorsements. Endorsements are OK, Downey says, provided they contain no false statements and are not given as a quid pro quo. Just because the endorser does not know you directly does not make it a false statement, he argues.
[H]e feels justified accepting some endorsements from strangers who may have indirectly come to honestly appreciate his abilities and integrity as a lawyer.

"I've written about 60 or 70 articles on legal ethics, so maybe they've endorsed me because they've read my articles," he said.
In comments posted to Andrew Perlman's post, Joshua M. King, general counsel for Avvo, takes a somewhat contrary view. He argues, first, that lawyers cannot be held liable for endorsements posted by third parties, because any ethics restrictions would be preempted by Section 230 of the Communications Decency Act. He further argues that the endorser's actual familiarity with the lawyer's skills does not matter, provided the lawyer actually has the skill. He also notes that if someone endorses you for a skill you do not have, it will not appear on your profile unless you allow it to.
At High Tech Intellectual Property Legal Blog, California lawyer Judith Szepesi takes the position that these endorsements do not violate Model Rule 7.1 because they are not statements by the lawyer about his or her own skills. She adds, however, that under California's rules, these endorsements may constitute testimonials and require the lawyer's LinkedIn profile to carry a disclaimer.
I am no ethics expert. However, I think it is significant that LinkedIn provides the ability to "hide" endorsements others have given you. (You can hide any single endorsement or choose to hide all endorsements by default.) If someone gives you an endorsement that you believe is false or misleading, and if you do not remove it, then you are effectively accepting it and allowing it to be communicated to anyone who views your LinkedIn profile. To my mind, that brings it within the purview of Model Rule 7.1.